It's a beautiful sunny day and I'm sitting under a shady palm, book in hand, a cold drink in the other. There's a gentle breeze coming off the blue-green water, and the soft chirping of sea birds is the only noise disturbing my afternoon reverie.
I could almost be on a tiny South Seas island, hours away from civilization but in reality, I'm on a tiny, tiny piece of Florida called Palm Island.
Palm Island is located about 9 miles south of Englewood, Florida, off the coast from Cape Haze. Not really an accurate name as it is made up of 4 interconnected islands.
It's accessible only by boat — you have to take a short car ferry ride to reach the island. And once across, guests and visitors leave their vehicles in the resort's parking area because once you're on the island, the only means of transportation will be your feet, bikes or golf carts.
The island hosts about 200 private homes, and a few private homes located within the resort. Resort guests stay in villas, the first of which opened in 1983.
Located along the Intracoastal Waterway on Florida's Southwest Gulf Coast, the resort encompasses a two-mile portion of private, pristine beach on the northern end of Knight Island or Palm Island.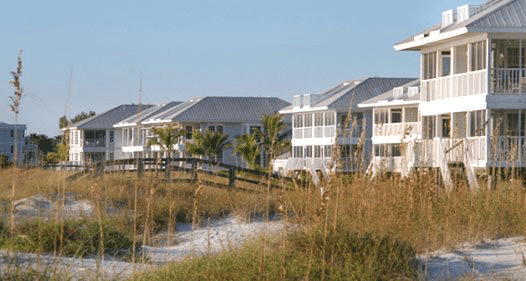 The island itself comprises Knight, Don Pedro and Gasparilla islands, and is approximately seven miles long and 700 yards acrross at the widest part. The property is located in Cape Haze, which is just south of Englewood and north of Boca Grande.
This is a place to forget the stresses of one's life. A place where life comes down to T-shirt and shorts simplicity.
The notebooks and laptop I brought with me lay unopened in the villa as I spent my first day wandering along the shoreline watching the sandpipers and pelicans.
Here for a stay of three days, the first two on the island were spent without purpose or planning. I enjoyed time to unwind; a time to disengage from my usual routine and discover the pleasures of the island along with my family.
Unlike a typical resort hotel, Palm Island resort comprises elegant beach villas on stilts that blend in harmoniously with the natural surroundings of the island. Our spacious villa had a fully equipped kitchen, living and dining room, laundry facilities and a screened porch overlooking the Gulf of Mexico. Each group of villas enjoys its own swimming pool, surrounded by tall palm trees and hibiscus bushes.
Palm Island Resort is dedicated to continually preserving the natural environment, the marine life and wildlife that is an important part of the island.
Sea turtle programs, canoeing through mangroves and manatee awareness programs are among the eco-adventures offered.
The island boasts a naturalist that leads the resort's nature education programs. They include special events and programs to educate guests of all ages on the importance of preservation, marine life and wildlife. Sea turtle awareness walks begin in mid-June when hatchlings first appear and continue until the nests disappear, usually in October. Guests meet early to comb the beaches in search of the loggerhead sea turtle nests. Then the nests are marked and monitored so they are not disturbed.
In addition, the resort presents a twice weekly, hour-long Sea Turtle Nature program. Slides depict the various types of sea turtles, their eggs and the hatchlings.
Regular manatee and dolphin sightings are common, as are sightings of tropical birds such as heron, osprey and pelicans. Manatees hold particular appeal for adults and children who enjoy watching the slow-moving mammals meander through their native habitat.
The resort has its own general and gift store offering a unique selection of essentials and indulgences. Canned and frozen foods, grocery staples and deli items are sold at convenience store prices. The island's chef cuts fresh meats and fish daily. Also available are picnic baskets, champagne, wine and liquor, casual clothing, sundry items and much more.
Restaurants include the Rum Bay Restaurant, Leverocks and the Coconuts Cafe.
If you'd like long, lazy days, a private, unspoiled and shell-laden beach and sipping champagne on the porch, I can definitely recommend a trip to Palm Island.
If you go:
Follow the signs for Interstate 75 South to Exit 191 (old 34) to Englewood, North Port. Turn right on River Road. After crossing US41 continue about 7 miles to the second traffic light at Pine Street. Turn left on Pine Street and continue for 7 more miles to Panama Blvd. Panama Blvd is just before Johnny Leverock's Seafood House. Turn right onto Panama Blvd. Drive to the end of the road to board the car ferry to Palm Island.