It was an impulsive decision. I frequently get homesick and long to be back home in Europe, so I chose to fly across the pond to meet friends and relatives and explore a small part of Europe in a short six-day visit.
Airline ticketing can be complex but I opted for Delta Airlines via Atlanta to get to my destination of Dublin. As a frequent traveler, I invariably choose Delta Airlines to go to Europe; firstly, because they've always been reliable and partly in honor of my late husband who flew for Delta out of JFK.
I booked a price of $848 return (but there are cheaper options) and selected a Delta Comfort seat. For just a few more dollars, Delta Comfort+ gives you space, and up to four more inches on long-haul flights. You're also allowed priority boarding, which means you can board directly after the first-class passengers and settle in sooner. There's also other benefits like a dedicated overhead bin, complimentary drinks, a headset, and a toiletry kit, plus all the HBO and Showtime movies. I can even stream entertainment on my personal device.
I indulged myself as soon as I reached the airport. I have Global Entry and TSA Pre-Check so breezed through security and then enjoyed some shopping and a pre-flight cocktail before boarding.
It's a very short flight of about 7.5 hours from Atlanta to Dublin so I was perky on arrival. And, as a previous longtime inflight attendant, I had prepared myself in the days before my flight by altering my timeclock and eating habits.
Before traveling, I booked a car online at Europcar.com at a rate of $128 for 6 days with unlimited mileage, although I did have to pay extra for GPS navigation. My car was a stick shift, but if you want automatic transmission then expect to pay considerably more to rent. I chose to hire a car because it would give me so much freedom to go to the places I wanted to visit, but public transport and trains make anywhere in Ireland very accessible.
My car, a BMW Series 3, was ready and waiting and I set off to Dublin City Centre on the first leg of my trip.
It was still early morning so I checked into the Fitzwilliam Hotel straight away. I was lucky and my room was available immediately. All freshened up, I later set off to explore Dublin. I boarded the"hop-on, hop-off" bus so I could absorb the city.
My first stop was the Guinness Storehouse. I confess I like Guinness so took full advantage of the lots of complimentary beverages on hand on the rooftop bar that has a wonderful 360-degree view of the city. Other stops included the Jameson Whisky Distillery, the Museum of Modern Art and Trinity College.
I returned to the hotel and went to it's Inn on the Green restaurant to unwind and have afternoon tea. Savory or sweet, it was difficult to choose from tea-smoked duck, Bailey and Kish Smoked Salmon with Guinness penny loaf, horseradish and lime crème fraiche, Bloody Mary Jelly as well as a selection of assorted scones and preserve for those who have a sweet tooth. For dessert, I chose Lemon Posset made from an ancient recipe of lemon set cream with a seaweed shortbread biscuit. All of this was beautifully presented and washed down with an exclusive selection of fine Chinese teas.
After a wee rest upstairs in the hotel, I met up for reunion drinkies with my old university friends in the very special ambiance of The Brazen Head pub.
Dating back to 1198, The Brazen Head is Ireland's oldest pub. If you want to experience a true Irish pub experience then this is the one to make a note of. There's a lot of history within this pub's walls and although it's a veritable rabbit's warren of rooms, I chose to meet up with old university pals outside in the courtyard — if it's not raining of course!

Waterford to the Wild Atlantic Way
Rising early the next morning, I departed for Waterford and the House of Waterford Crystal. It was only a couple of hours drive south from Dublin and well worth it.
Waterford is Ireland's oldest city, founded in 914AD by the Vikings. It has long stretches of beautiful beaches, just as beautiful as those in Florida though a lot chillier.
My visit though was all about the House of Waterford Crystal. Founded in 1783, it is a crystal lover's dream. Tours cost from about $25 and private tours are available.
From Waterford County and in awe of the glittering displays of Waterford Crystal, I took a leisurely drive westwards across Ireland to Loop Head — a slender finger of land pointing out to sea from the most westerly point of County Clare, on the Atlantic coast.
I climbed to the top of the lighthouse and took in splendid views that stretch from County Kerry to the Cliffs of Moher. This area is a wildlife haven too, with thousands of seabirds making their nests on the rock ledges and an estimated 160 bottlenose dolphins living in the mouth of the Shannon River.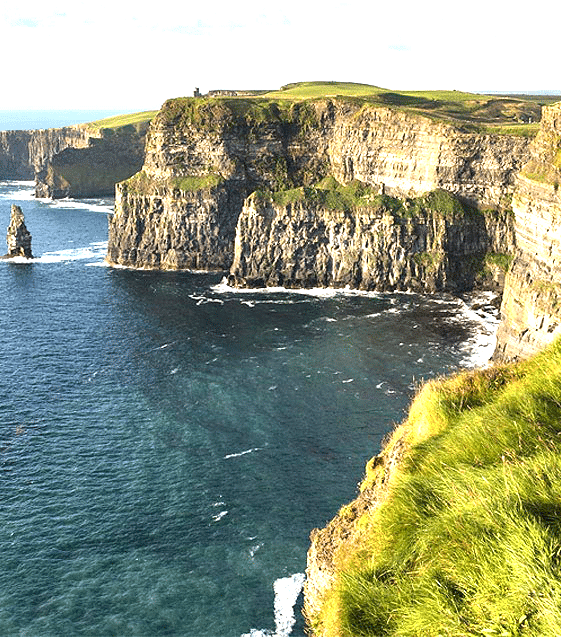 Doolin, a local village, is known as the gateway to the towering Cliffs of Moher and Doolin Cave, with its huge free-hanging stalactite. Farther north and east, there's an area called Burren — a stark area of limestone beds, where several species of orchids grow. But it's the Cliffs of Moher that take your breath away. These are spectacular sea cliffs that run for about 20 miles and as high as 120 metres above the sea. Special is O'Brien's Tower – the highest point of the Cliffs of Moher, and a hugely popular tourist destination.
Before tackling the view of the cliffs, I stayed at the charming Stella Maris Hotel in Kilkee, a village just a short distance away. Breakfast was a delight with freshly laid eggs, rashers of bacon, homemade soda bread and homemade preserves.
North to Donegal, Derry and Scotland
Setting off northwards, I take a leisurely drive northwards to Donegal Town. The landscapes, ragged coastlines and vast seascapes in this corner of Ireland are just stunning and Donegal was named as the Coolest Place on the Planet by National Geographic Traveller in 2017.
Donegal has its own castle from the Jacobean period and also a daily heritage center that's worth a visit. But I wanted to see the seal colony that resides there, dolphins and cormorants and cranes.
Another reason to visit Donegal is because I have in-laws biding there. Angelo, my brother-in-law, is the local barber and has been there …forever……
We met up at the Abbey Hotel bar, just a few steps from his barber shop, located in the center of what the locals call the Triangle. After a swift half (beer), we make our way to Lough Eske Castle Hotel for dinner and where I shall be staying that evening. Lough is pronounced just as 'Loch' in Scotland.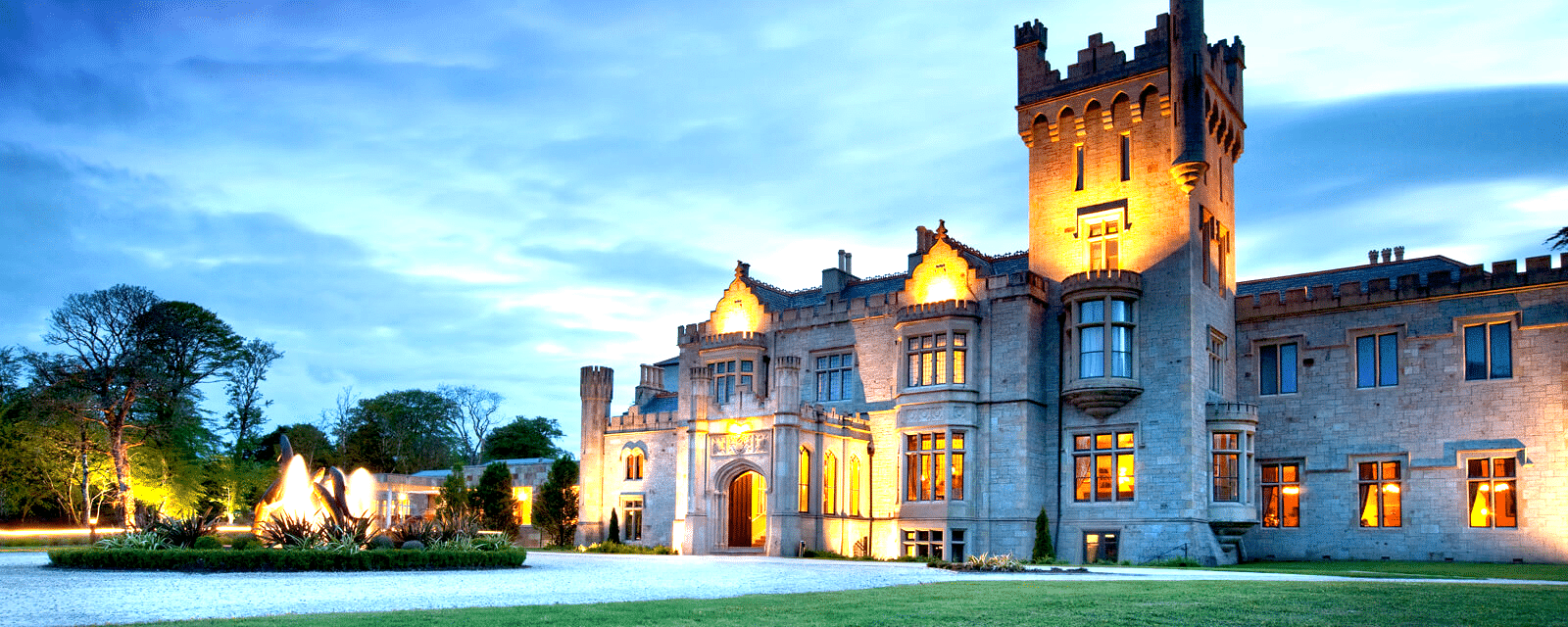 Lough Eske Castle Hotel is something else! Reached by a sweeping driveway through 40 acres of mature woodland and gardens, Lough Eske Castle lies on the shore of Lough Eske — Lake of the Fish, popular for fishing spring salmon, sea trout and char.
It's a gorgeous, meticulously restored, historic castle, originally built in 1474 by the O'Donnell clan and the hotel's restaurant uses locally sourced ingredients, especially fresh seafood caught daily from nearby Killybegs.
I opted to stay in a Courtyard Room, one of 14, set in the original castle stables. I'm glad I did. The room opened up through patio doors to delightful gardens in the old castle courtyard.
"The Castle," as the locals call it, is also Angelo's watering hole. A rather luxurious one at that. It boasts the original castle flagstones, a wood fire, and black and white photos of times gone by. It's a truly cosy place to spend a leisurely evening with a drinks and friends, or just your newspaper. We lounged in soft leather chairs for a while and then went through for dinner at The Cedars Restaurant located on the other side of the castle.
The food is simple, with exquisitely fresh ingredients cooked without any fuss or show, but with superb results. This is the food of Donegal and the Wild Atlantic Way at its very best. And this is new, if you check at the front desk, you can get a list of all the food allergens used in the preparation of their food. How brilliant is that?
Dinner was superb. For starters, I chose Black Pudding and Mango. Black Pudding, I know doesn't sound the best but it's really tasty, with an oat crust, mango puree and espelette pepper. Angelo had Sweetcorn Velouté; a dish of slow roasted garlic, smoked gubbeen chorizo and brown butter. My entree was duck & hibiscus; Anna potato, rhubarb, celeriac puree and hibiscus broth. Angelo had Irish lamb, pomegranate, yoghurt, mint and almond. Total cost without wine was roughly 50 Euros each.
The entrees did take a while to come but that was because I've become used to American restaurants. It's hurry, hurry, hurry! But dining in Europe is a whole different scene to relax, savor and enjoy the ambiance.
The next morning, I drove about 20 minutes and reached the twin towns of Ballybofey and Stranorlar which face each other across the River Finn. There are no schools or churches in the town of Ballybofey itself. They are only located across the bridge in Stranorlar or outside the town limits. This is due to laws during plantation times when certain Catholic buildings were not allowed within a specified range of Protestant towns, in this case Stranorlar.
The plantation of Ulster took place between 1609 and 1690 when the lands of the O'Neills, the O'Donnells and any of their friends were taken away and given to English settlers.
The Plantation Laws had profound effects on Ireland. They resulted in the removal and/or execution of Catholic ruling classes and their replacement with what became known as the Protestant Ascendancy — Anglican landowners from England — and was reinforced by penal laws.
My next stop was in Letterkenny for refreshment in a small, quaint tearoom and then on to the Rosguill Peninsula to see the particularly beautiful Murder Hole beach. Ireland has tons of spectacular beaches, some even have palm trees, made possible by the Gulf Stream.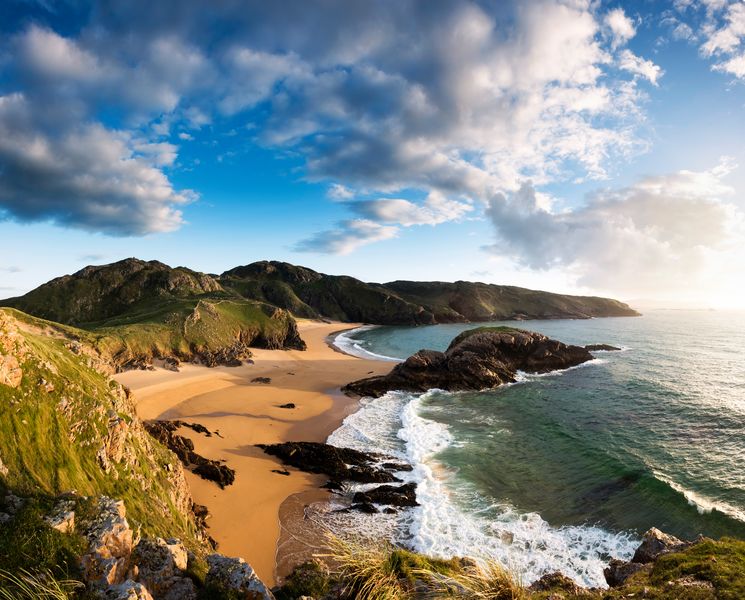 To reach the private beach, l had a twenty-minute walk across fields, but to see the secluded beach was well worth it. After a short descent, I got to see beautiful caves and cliffs and crashing waves for a while.
After enjoying the beach views and clambering up the hill and across the fields again, it was time to head off to Derry in the north of Ireland to catch my flight to Scotland.
Another half hour drive and I arrive at Derry Airport where I boarded the cheapest airfare ever to Edinburgh, Scotland.
I kid you not, the no frills, one hourlong, Ryanair flight cost me GBP 9.86 — approx. USD 14.
But that's another story.
Join me in my next article about my trip to Scotland.