Thursday night October 25, 2018, the fourth grade classes of Chocachatti Elementary School for the Performing Arts and Micro Society took their audience on an adventure around our solar system in a 'stellar' performance of The Solar System Saga.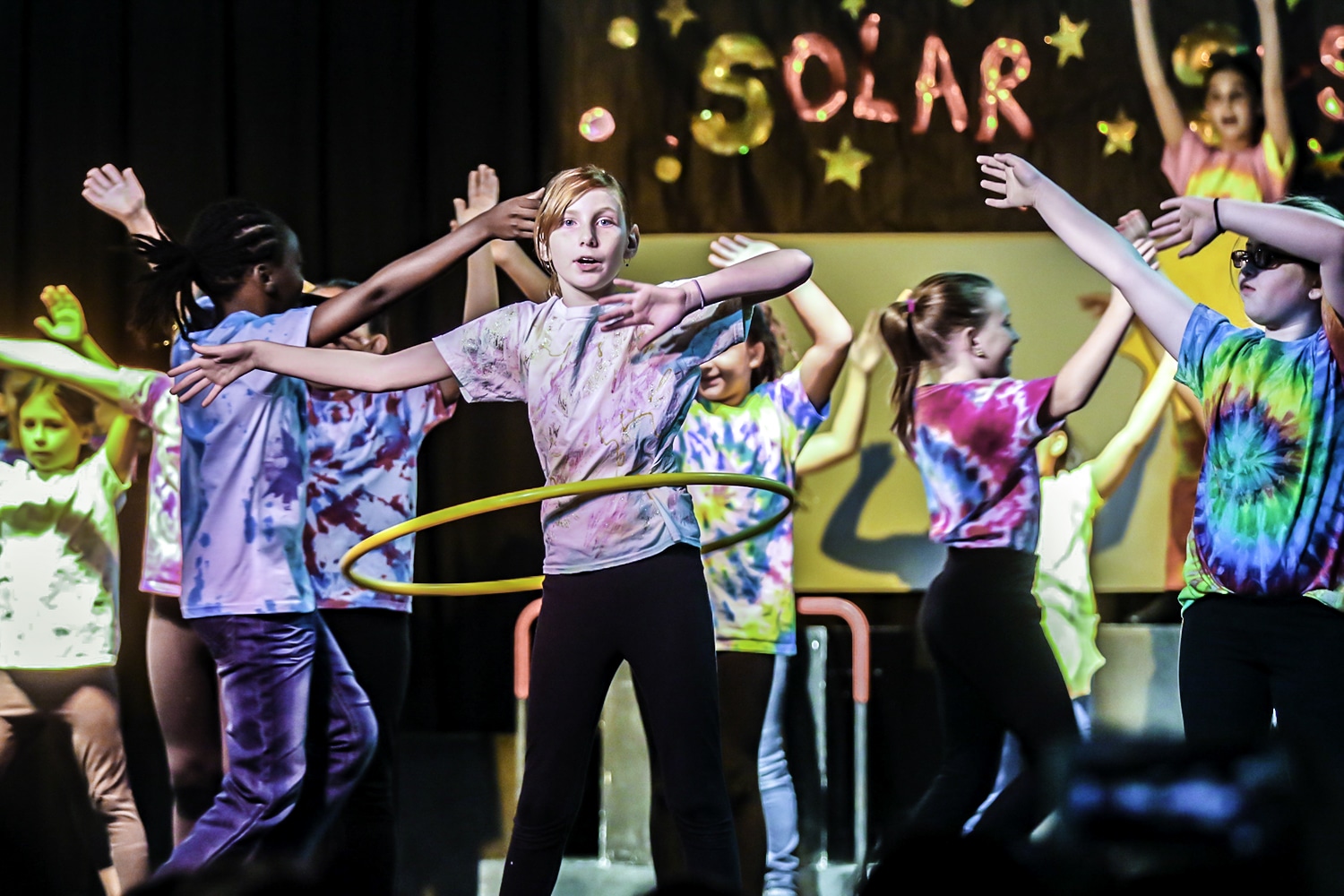 In the play, the planets and other astronomical features had to convince the egotistical Sun they were also important in our solar system. Students portraying each planet used educational facts, singing, dancing, instruments, jokes, to prove to the Sun they are special and unique. An Earthling named Annie assisted in the task of changing the Sun's mind about her over exaggerated self-worth. All the characters involved in the play learned a valuable lesson that everyone is important.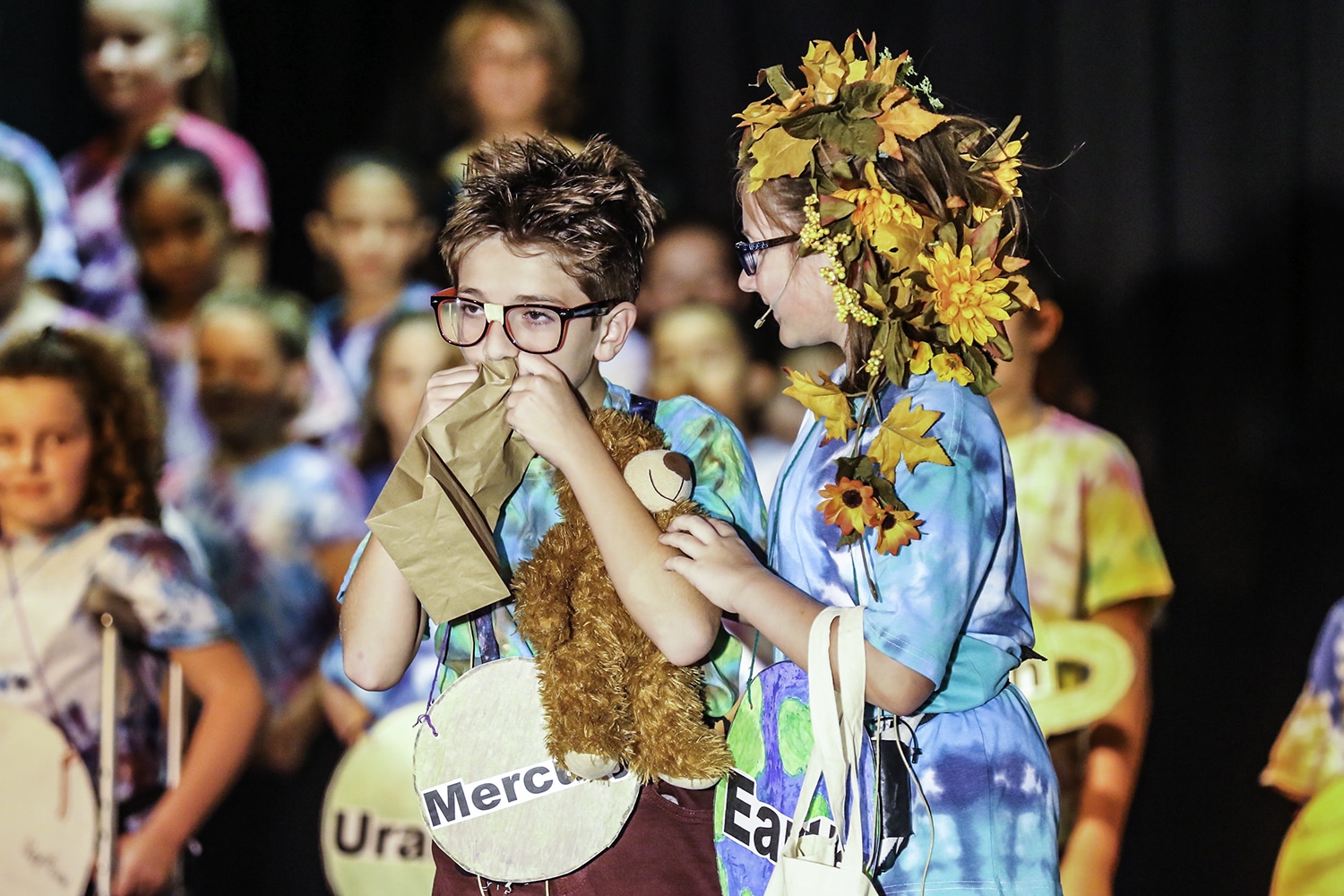 The students rehearsed for ten weeks in order to prepare for the performance. The costumes were tie-dyed shirts- some made by some students and others purchased. The play was directed by Mrs. Kraft Drama. Several other teachers helped out in various capacities- Miss Bowers: Choreographer, Mrs. Kraus: Music Director, Mrs. Poholek: Scenery and Mrs. Flaherty: Stagecraft.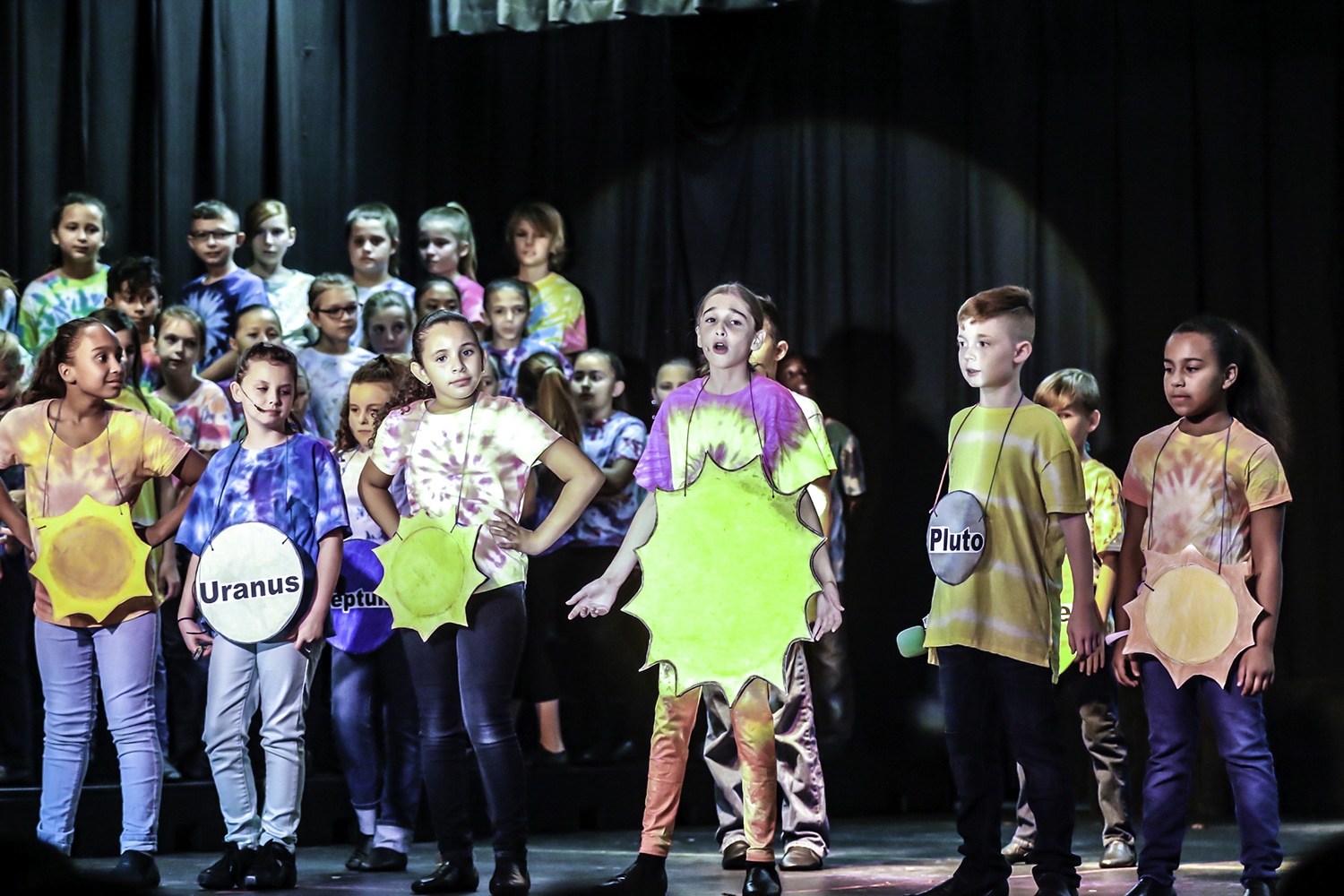 There were thirty five main characters and thirty five understudies along with twenty dancers, seven musicians, eight singers and eleven stagecraft. The children have been learning about theater production here at Chocachatti Elementary since kindergarten through their fine arts program.
Irmarie Kraft, Drama teacher said she was so proud of our fourth grade students and they put on a very powerful performance that made such an impact on the children in kindergarten, who were able to recall the facts about the show. Rhonda Bowers, Dance teacher stated that all of the dancers were very versatile with the wide variety of music they had to perform to with different styles of dance to acrobatic skills. The students had captured the audience's attention with a wonderful performance.
Dancers:
Zoey Alicea, Savannah Aponte, Haylee Brown, Rose Carpenter, Joseph Chesko, Dylan Cooper, Bella Flareau, Clare Hansard, Aliyah Johnson, Rebecca Keck, Ryanna Lee, Emma Medina, William Mobley ,.Alexys Ontiveros, Kayla Pirolo, Robert Rodriguez, Hailey Sanders , Olivia Strate, Rylan Widner, Aubrie Williams
Xylophone Players:
Carolos Rebollar-Perez, Dallas Marcus, Aiden Cruz
Marimba Players:
Rhett Williams, Zaria McKenzie, Eamon O'Murchu
Drums:
Riley Darby
Aquarius Soloist:
Rebekah Ladines, Lincoln Morris, Jasmine Stevenson
Venus Singers:
Iyla Henkin, Bella Basso, Rebekah Ladines, Lincoln Morris
Rainy Days and Mondays:
Maia Kohlas, Zoey Baker, Mariana Ocampo Zapata
Stagecraft:
Logan Boyle, Jenna Brown, Nick Gifford, Cayden Hohman, Kaleb Hodges, Holden Huffman, Damon Johnson, Andy Lawson, Lylah Nugeness, Caleb Sarkes, Dexter Bates Mendonca
Character / Actor / Understudy
Narrator 1/ Jackson Weston / Liberty Weinstein
Comet 1/ Mason Farrell/ William Figueroa
Comet 2/ Eirinn Farrell/ Morgan Carley
Comet 3/ Gavin Oddo/ Jaelyn Barror-Flores
Asteroid 1/ Christian Carollo/ Christian Garrett
Asteroid 2/ Caleb Carollo/ Bryce Brown
Asteroid 3/ Jackson Patterson/ Seldon Skidmore
Narrator 2/ Kevin McIntosh/ Anasofia Espinosa
Narrator 3/ Cadence Gretka/ Selena Ruggieri
Sun/ Alyssa Chiusa/ Abby McAuley
Venus/ Alexus Rittweger/ Aaliyah Francois
Mercury/ Christopher Kraft/ Liana Brown
Neptune/ Zoey Baker/ Mariana OCampo
Earth's Moon/ Jacob Marko/ Gabriella Boyle
Narrator 4/ Kathryn Warren/ Jael Pierre
Narrator 5/ Leah Gentry/ Ilya Henkin
Moon 1/ Maia Kohlas/ Jayden Stack
Moon 2/ Victoria Wadsworth/ Avery Brewer
Moon 3/ Josiah Ojeda/ Olivia Walz
Earth/ Abby McAuley/ Lillian Frazier
Halley's Comet/ Adriana Gallagher/ Elly McCormack
Narrator 6/ Jashuan Contegiacomo/ Isaiah Hale
Mars/ Jake Loeffler / Brenden Aponte
Jupiter/ Tanner Bishop/ Nicholas Gifford
Saturn/ Asher Pepi/ Dylan Miller
Uranus/ Lillie Garrett/ Xavier Figueroa
Ceres/ Haylee Hulsey/
Pluto/ Demetrios Thomas/ Harrison Hohman
Eris/ Eric Perez/ Samuel Novick
Anne/ Maya Lenamon/ Zoe Acevedo
Sun Posse 1/ Anasofia Espinosa/ Jasmine Stevenson
Sun Posse 2/ Aaliyah Francois
Sun Posse 3/ Liana Brown
Venus Posse 1/ Liberty Weinstein/ Jael Pierre
Venus Posse 2/ Jayden Stack / Iyla Henkin