BLUES BASH at the Ranch, March 15 – 17, 2019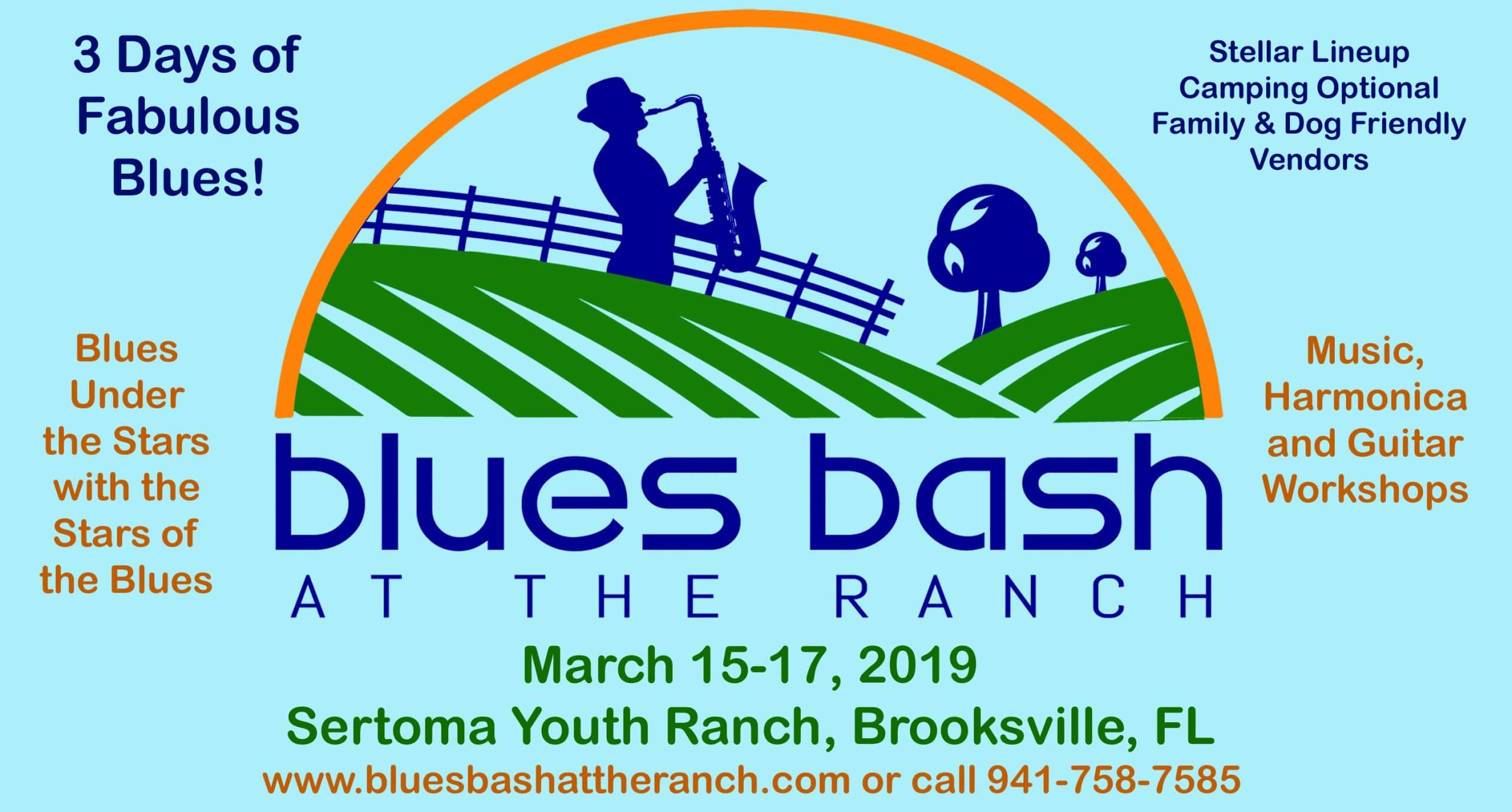 WHERE: Sertoma Youth Ranch Inc
85 Myers Rd, Brooksville, FL 34602, USA
3 Days of Amazing Blues
Camping is Optional. Come for the day or whole weekend. Event is Rain or Shine. All Sales are Final. No Refunds or Rollovers. Times are approximate, please see website for details https://www.bluesbashattheranch.com/
Blues Bash at the Ranch came about after the success of Camping with the Blues, held at Sertoma Youth Ranch in October each year. Greg Herndon and Paul Benjamin felt another blues festival would be the perfect addition to the ranch and would be held in the spring each year.

Camping with the Blues was envisioned by Greg Herndon, a member of the Sertoma Youth Ranch Board of Directors, to create a blues music festival at this amazing venue to help fund and keep operational this campground for our youth to enjoy. For those who do not camp but want to enjoy the great outdoors at our beautiful campground, our sponsor hotel, The Quality Inn, is available nearby. Call them at 352-796-9481.
Can't stay for the whole weekend? Single day tickets are on sale for Friday, Saturday and Sunday. Grab your friends and family and make a day of it. Food, beverage and artisan vendors on site all weekend.
There are RV sites and tent camping available for all ages.
​
An open air covered seating area and stage provides the ​perfect setting for a fun-filled weekend. Great dance floor where you are up front and personal with the bands. Dog friendly.

SHRIMPAPALOOZA
SAT. MARCH 16 9AM-6PM
PARADE starts at 10AM

Thousands of party goers from all over the state attend every year, emphasizing the fun in fundraising. With an awesome Parade, Live music, and Tons of Great Food, there is guaranteed fun for all ages.
The Rotary Club of Homosassa hosts this event annually. Many of the local merchants will be hosting activities on this day that will compliment the festival. All proceeds from this event are redistributed in the community. Music includes: Ladyhawke, a modern Blues/Dance 5 piece band. Strutt Danceband: High energy Top 40 dance rock band doing new rock, metal, new country, blues, pop, classic rock, southern rock and disco hits of the 70s. Cajun Dave Becnel\ Born and reared on the Banks of New Orleans. 9am-Gates open for guests.10am the ShrimpaPalooza Parade (beginning at the Old Mill Tavern heading South on Yulee)Admission is a $3 donation and children 12 and under are free. For more information, www.shrimpapalooza.com.
Homosassa Civic Club is located at 5530 S Mason Creek Rd, Homosassa, FL 34448, USA
THE FLORIDA MERMAID FESTIVAL
MARCH 16 & 17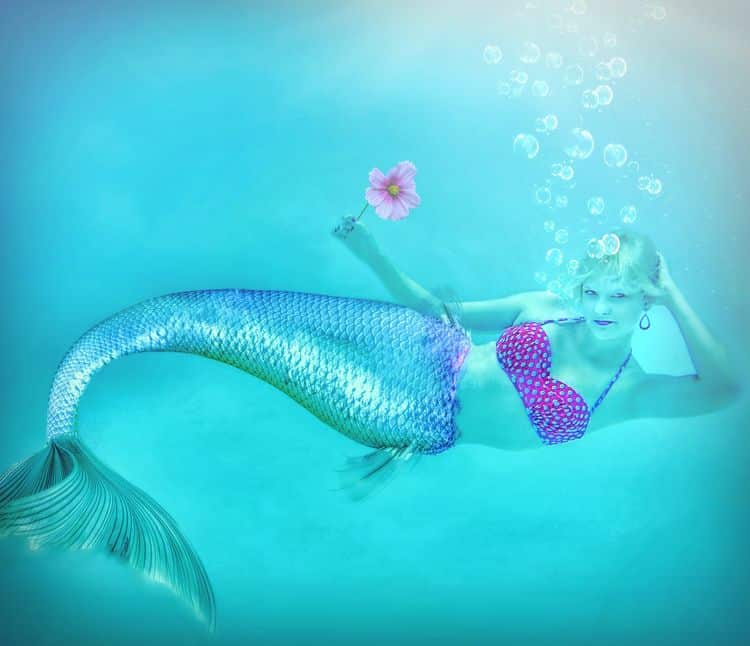 Embrace our regions mermaid heritage at a family friendly festival with a unique twist – celebrating mermaids and their history. This two-day festival aims to please – we have a huge kids play area, a staggering of food vendors, quality craft vendors, live bands, kayak competitions and a mermaid contest. Celebrating community and business with festival profits donated to Friends of Hernando Parks & Recreation, a 501(c)(3). Hosted by Inspire Event Management LLC
Linda Pedersen Park is located at 6400 Shoal Line Blvd, Spring Hill
More info: https://thefloridamermaidfestival.com/
KAYAKING WITH A PURPOSE
March 24, 2019 10 AM-2PM AT WEEKI WACHEE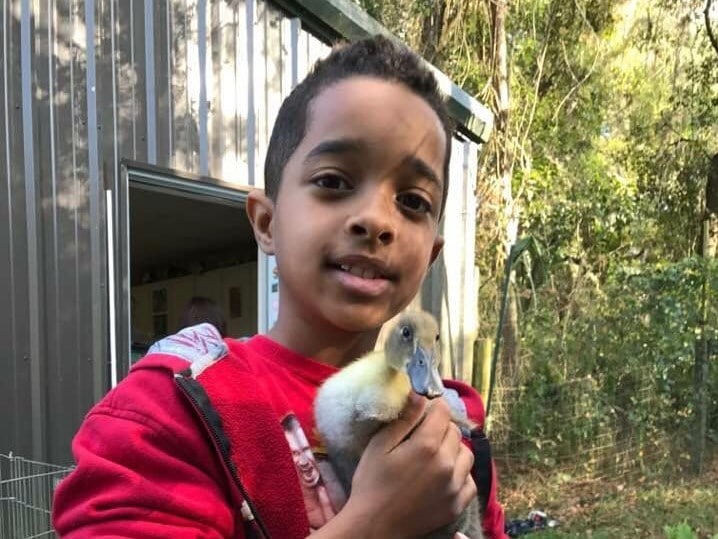 The Hernando County Wildlife Warriors are calling all youth kayakers and their parents to get on the river together and make a difference. The event is being led by Wildlife Warrior Mason Johnson. Mason Johnson is only 12-years old, but he's determined to make a difference in his community and beyond. He spends much of his free time cleaning up parks, beaches and rivers. Mason volunteers his time cleaning along the river banks, and learning more about native Florida wildlife. He hopes to one day become an environmental engineer, and work with the Australia Zoo Wildlife Warriors. Mason is an incredible young man. His objective is to see more youth get involved in cleaning the river. If you do not have children and would still like to to join us, everyone is welcome. Meeting place to be announced. Visit https://www.facebook.com/pg/HernandoCountyWildlifeWarriors/about/?ref=page_internal.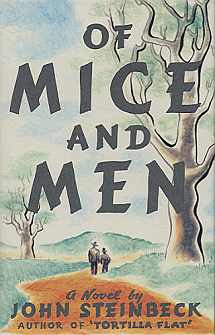 STAGE WEST PLAYHOUSE PRESENT OF MICE AND MEN
SATURDAY, MARCH 23, 2 PM
SUNDAY, MARCH 24, 4 PM
At Stage West Playhouse:Two drifters, George and his friend Lennie, with delusions of living off the "fat of the land," have just arrived at a ranch to work for enough money to buy their own place. Lennie is a man-child, a little boy in the body of a dangerously powerful man. It's Lennie's obsessions with things soft and cuddly that have made George cautious about who the gentle giant, with his brute strength, associates with. His promise to allow Lennie to "tend to the rabbits" on their future land keeps Lennie calm, amidst distractions, as the overgrown child needs constant reassurance. But when a ranch boss' promiscuous wife is found dead in the barn with a broken neck, it's obvious that Lennie, albeit accidentally, killed her. George, now worried about his own safety, knows exactly where Lennie has gone to hide, and he meets him there. Realizing they can't run away anymore, George is faced with a moral question: How should he deal with Lennie before the ranchers find him and take matters into their own hands?
For more information or for tickets:
visit https://stagewest.ticketleap.com. (352) 683-5113
Stage West Community Playhouse is located at 8390 Forest Oaks Blvd, Spring Hill,