Sharks beat East Lake 32-25 in season opener
BROOKSVILLE, Fla. —- It was just another football Friday night!
Friday evening August 23, 2019 at Nature Coast Technical High School, Mother Nature provided a blue sky, complete with soft and fluffy clouds that leisurely drifted across that sapphire sky and with no threat of rain. It was a perfect night for football.
Nature Coast Technical High School opened the 2019 State of Florida High School Football Season at home against Tarpon Springs East Lake High School. The Sharks defeated East Lake High School 32-25, and that was the only attractive thing about this game.
The tempo of the game was interrupted by many timeouts for injuries. At one point medical staff coaches had to run out onto the field to treat an injured player.
The medical staff was permitted to take plenty of time with the injured player to be able to stand up and then be escorted off the field to the bench area to continue treatment.
When football was being played, that action was interrupted by the referees. They called and enforced 24 penalties between the two teams, which did not help with the pace of the game.
The frustration was on display with every aspect of the game and the Sharks offense struggled to execute, looking for any kind of consistency.
According to Nature Coast Tech football coach Cory Johns, some of the defensive players did do the job that they were assigned. He also said that the defensive secondary struggled all night long against the Eagles.
"Our defensive line and our linebackers were great," Johns said after the game. "Our secondary was our weakness, they did not play very well. Our secondary were not able to make plays and got ran by, which is ironic because they are some of the fastest guys I know. We need to fix it to beat the teams we need to beat!"
The pass defense for the Sharks allowed East Lake quarterback Matt Trotto to complete
11 passes for 208 yards. He did throw two touchdowns, but the Shark's secondary also made two interceptions.
The run defense for the Sharks performed strong and did plug up the gaps. The defense was able to contain the rushing attack, only allowing the Eagles 130 yards.
Leading the running attack for the Eagles was running back Ryan Cunningham who carried the ball 10 times for 60 yards and running back Lane Hansen who also ran the ball 10 times for 24 yards.
Special team play is an important part of any football game and many coaches know that this part of the game can change the momentum. Kinyatah Morgan showed his magic with his ability to make the simple kickoff return exciting for Nature Coast Tech.
Last season, Morgan ran back four kickoffs for touchdowns. He started this season by adding another one to his career at Nature Coast Tech. In the third quarter, Morgan ran back a kickoff 88-yards for the touchdown.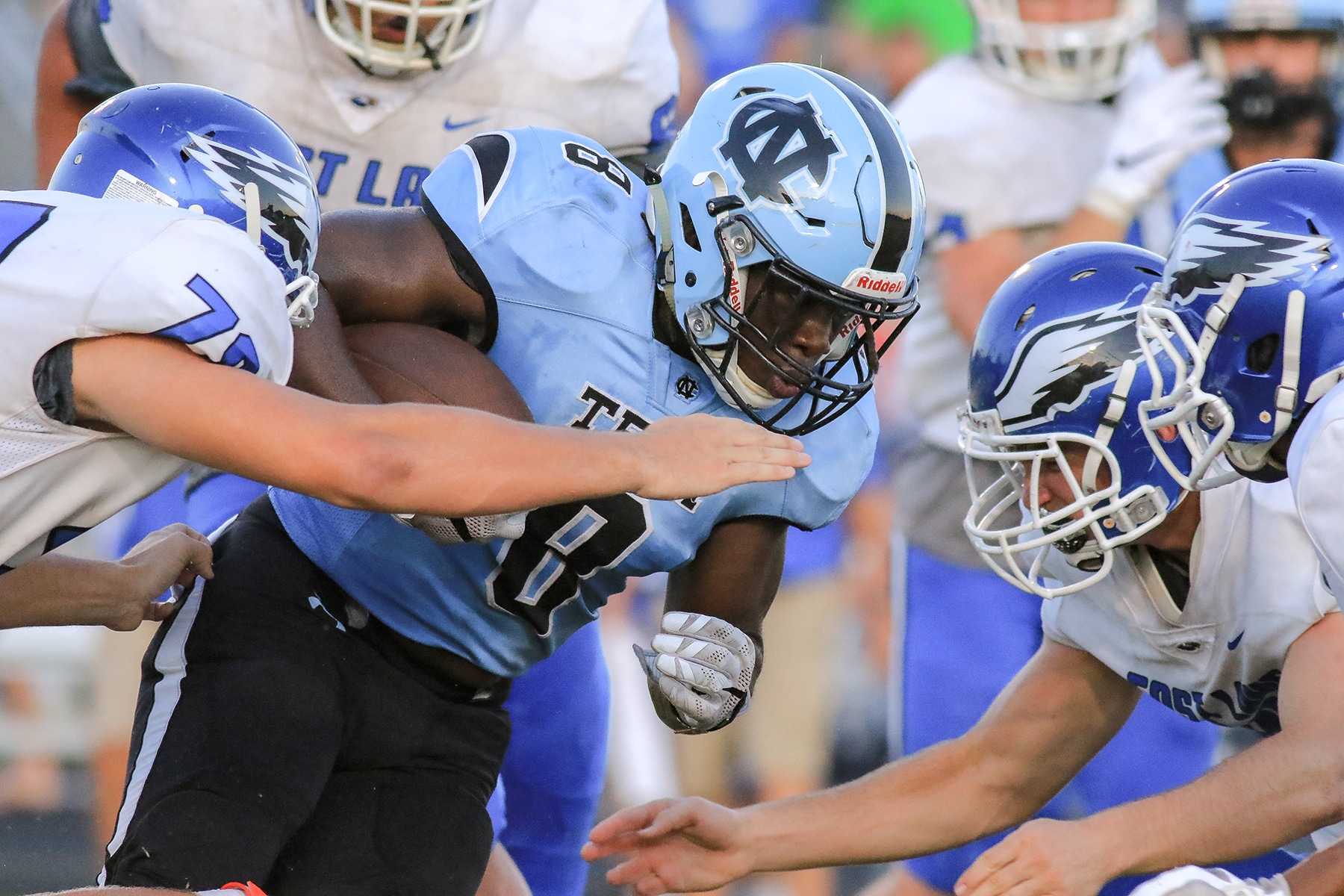 "Kinyatah does that, he had four of them last year," Johns said. "If they kick it to him more than once, he is going to get one, that is what he does. I wouldn't kick it to him."
Make no mistake about the fact, this offense depends on senior quarterback Fabian Burnett to advance down the football field.
Senior transfer from Weeki Wachee, quarterback Vaughn Sykora did make an appearance for the Sharks.
Johns mentioned that this would happen in a game during the early days of football practice. He also said that there would be times in a game, that both quarterbacks would be out on the field at the same time.
That did happen in the second half, with both quarterbacks on the field, it was a pass play and the result was an incomplete pass from Sykora to Burnett.
Burnett finished the game six-of-nine for 124 yards, two touchdowns and he did not throw an interception. He guided the Sharks' offense for 261 yards of total offense and 20 points.
Sykora's limited action allowed him to throw the ball just three times and he completed two passes for 41 yards.
John said after the game, he is looking for a running back to help the offense, somebody to step up, to create a balanced offense.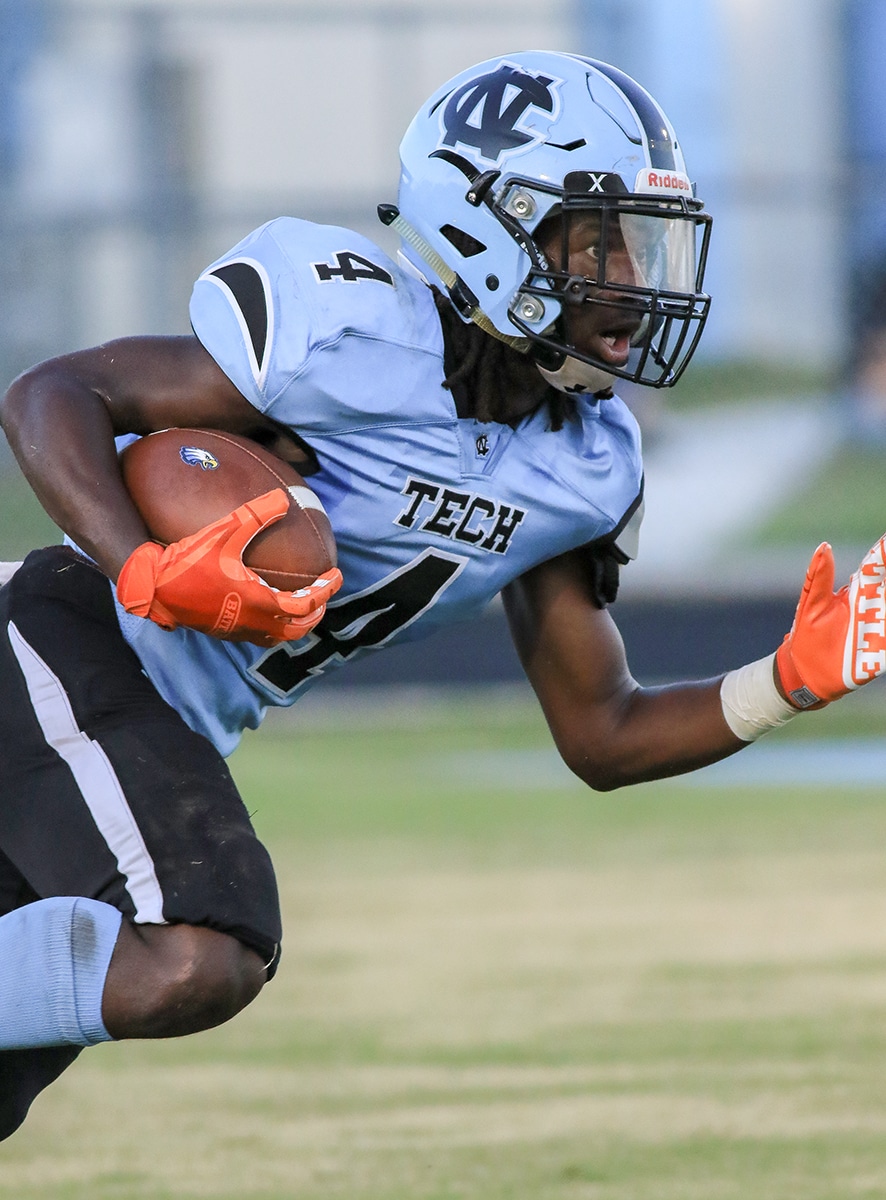 Senior running back Len'Kel Smith led the running game for the Sharks. He ran the ball five times for 81 yards. He did slice through the line of scrimmage for a 65-yard run, that ended when he crossed the goal line in the fourth quarter.
Johns said he appreciated the effort by junior running back Kyle Mcintosh. Johns said, Mcintosh is inexperienced but he was consistent during the game.
"Mcintosh was the difference keeping our offense sustained," Johns remarked. "Nobody else- Mcintosh was the difference, he is young and he has a chance. I do need somebody to step up. It is going to be tough. Kinyatah is our best defender, he is our kick returner, he could be a really good back but he has a back problem. Trying to keep him fresh is tough."
The play of the offensive line according to Johns, did a good job against an unconventional style of defense played by the Eagles.
East Lake defense does not use the typical defense approach at the line of scrimmage. They like to crowd the line of scrimmage with a lot of players and it is described by John as a kamikaze-style of defense.
"East Lake is tough," Johns said about the Eagles' defense. "They crowd the line, they blitz, there is really no rhyme or reason. They are just tough to play against. They really are not a 4-3, 4-4 or 3-3 stack, they just line up and blitz and you got to figure out were they are coming from."
Before boarding the bus for the trip back home, East Lake football coach Robert Hudson said that he was proud of his team's performance and he thought that his team was in the game.
Hudson also said, his team had some opportunities to make big plays, that could've had big results and a chance to win the game.
"They are a good team, we made too many mistakes. We got to work on that, we got a lot of youth so we got to be smarter," Hudson said. "We had opportunities we just gotta be able to capitalize. I am proud of my guys."
There will be some concentrated film study by all of the Nature Coast Tech assistant coaches and by Johns. Finding and correcting those bad habits witnessed by the coaching staff against East Lake, those issues will be addressed during practice.
Johns and his staff will have this team ready for Friday night, August 30, at home under the lights inside the Shark Tank against South Sumter High School starting at 7:30 p.m.
Nature Coast Tech performance against East Lake High School was not picture-perfect and in fact, it was messy.
At the end of any game, no matter what sport that you witnessed, every coach will tell you there is no such thing as an ugly win. For Johns and for the Sharks, victory over the Eagles- was pretty!