Traffic in Hernando County snarled Thursday morning as Florida Highway Patrol (FHP) investigators probed circumstances surrounding a fiery crash on I-75.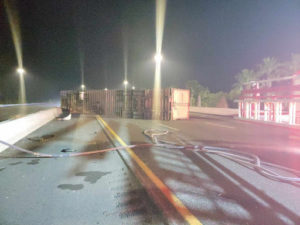 FHP Spokesman Sgt. Steve Gaskins said that just before 2 a.m. on Oct. 7 a tractor-trailer hauling frozen food driven by a 62-year-old Forest City, Georgia man was traveling southbound on I-75 crossing overpass at SR-50 in Hernando County when it overtook slower-moving traffic and maneuvered to avoid a crash.
The vehicle then moved left and hit the roadway's inside concrete barrier wall, and partially traveled over the wall. The tractor subsequently separated from the trailer. Both units overturned until they came to rest along the northbound side of I-75 and caught fire.
Meanwhile, a pick-up truck containing a 28-year-old man from Parrish, Florida, and his passengers, a 23-year-old female, and a 2-year-old boy also from Parrish, were traveling northbound on I-75 when it collided with debris from the tractor-trailer.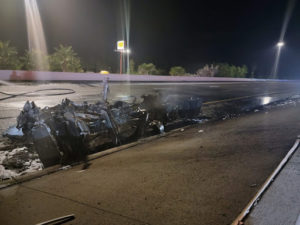 Around 2:30 a.m., a Road Ranger was on foot setting up a northbound detour at Exit 293 connection with the initial crash, when an inattentive 71-year-old Tampa man driving a 2000 Toyota Sienna sedan drove around the traffic cones and collided with the 38-year-old Ranger.
The Ranger sustained serious injuries and was airlifted to an area hospital for treatment.
Meanwhile, the driver of the tractor-trailer sustained minor injuries.
The driver of the pick-up truck and his passengers were uninjured.