By Summer Hampton, [email protected]
As Breast Cancer Awareness month comes to an end, I want to share with you a survivor story from one of the most prominent figures in my life. A woman who is not only intelligent, kind-hearted, and patient, but someone who is so genuine down to her core, truly my backbone in this life. I'm talking about my grandmother, Shayla Tevz. While she's a distinguished member of Hernando County now, when my grandmother was new to the neighborhood, new friends were not the only ones knocking on her door. 
In 2003 my grandparents were planning to move to Florida for good. They'd been doing the "snowbird" thing for a while, but decided Spring Hill would be home now. Just before they made the trip to Florida, she discovered a lump, via a self-exam. But because my grandparents' insurance was set to change with the move, she waited until she arrived in Florida. When her sisters discovered she had a lump, they were petrified. But luckily one of them was very close with a doctor who was able to get her in for a mammogram the next week. "Surprisingly the lump didn't hurt," my grandma said. 
Not long after the exam, she was informed that she had breast cancer. Not only that, but she had stage 3 breast cancer and it was rapidly spreading throughout her body. Naturally, she was devastated. Her gynecologist then immediately suggested she find a surgeon and have a mastectomy done, instead of a lumpectomy, because her cancer was too severe and rapidly moving. "I was especially surprised because, at this point, I had quit smoking, grandpa and I were exercising regularly and eating well. Frankly, I was in the best health I had ever been in. When my gynecologist suggested the mastectomy, right away, I was devastated again," my grandma told me.  
Then she had to find an oncologist, which ended up being Dr. Mary Li, with Florida Cancer Specialists. After having a conference with my grandmother, Dr. Li agreed the cancer was too fast-growing to wait for the mastectomy any longer. For context on how fast this was all moving, She found out she had breast cancer in October, by December of the same year she had the mastectomy. After the mastectomy, she still had to undergo six and a half weeks of radiation and chemotherapy to completely rid her of cancer. She started losing her hair after her second radiation treatment. She wrote in a journal she kept at this time, "Trying to stay upbeat, John (my grandpa) too!" My mom is the one who ended up shaving her head! I have a very fond memory of this time, where I bought my grandmother some beautiful beaded caps, so she could rock her bald head in style. What my child-self didn't realize, is that tan lines are very much a thing, so she ended up wearing those designs for a little longer than expected. 
Dr. Li was kind enough to tell me about her experience caring for my grandma, she stated, "Shayla was very resilient and extremely on the spot with her treatments, she never missed a single bit of anything. She also has a very, very aggressive type of stage 3 breast cancer. Her estrogen receptors were negative, meaning she is not able to take the pill and the chance for recurrence is very high. With both of those factors, her chance for recurrence is very high down the road. But this was almost twenty years ago. She is still doing so well. She beat cancer really because she was working so hard at the beginning with her treatments. She is such a strong woman and she really is our hero." 
During the time my grandmother was receiving treatment for her breast cancer, she participated in a clinical trial that Dr. Mary Li got her involved in. The trial involved 256 women and it was for a drug called Herceptin. According to breastcancer.org, Herceptin can be used to treat HER2-positive breast cancer that is either early-stage or advanced-stage/metastatic. Now Herceptin is included with chemotherapy treatment for breast cancer patients. Cancer cells grow in an uncontrolled fashion. Herceptin works on the surface of the cancer cell by blocking the chemical signals that can stimulate this uncontrolled growth. 
After a long and grueling treatment process, she was successful in beating her cancer. (Yay!) After some time, she then decided she wanted to do a reconstruction surgery. "It's natural to feel less than womanly, after going through a mastectomy," she shared. So reconstruction surgery may seem like a breath of fresh air for some survivors. However my grandma's procedure was not a happy one, but one that left her botched.  
"I didn't have half as many problems with the chemo and radiation than I did with the reconstruction surgery," she told me. She initially tried implants, but her body would not take to a foreign object. Leaving her with the option to do a tram, which is taking the fat from the belly to create a breast. 
Everything seemed fine and well post-surgery, she followed the after-care instructions. She wrote in her journal that she was shocked by the pain she was feeling. Hoping it would get better every day. She was instructed to keep a cover on the breast at all times, so she really didn't know the status of the reconstruction surgery. After some time, the pain and discomfort was becoming extreme. When she went in for a check-up, they discovered she had developed gangrene.  "He talked a good game, I didn't know," she admitted. Her breast skin was black and dead due to the infection. My grandma shared that the plastic surgeon then started cutting off her dead skin, leaving her with half of the breast he originally created. After doing this, the doctor informed her the infection was too advanced and she needed to be rushed to the hospital for treatment. She then spent three days in the hospital trying to get the infection under control. Once released, she had to undergo 16 days of 1-hour intravenous antibiotic from another specialist to completely rid her of the gangrene. 
So where does one go from there? After back-to-back traumatic experiences, feeling drained is an understatement.  "When the infection was finally under control, I decided I didn't want any more surgeries. So I left my breast the way it was after all of this." Not that that matters when her life was on the line, she completely agreed. "When you first get cancer, you know, you're terrified. You think you're going to die," my grandma told me. 
The hospital ended up forgiving my grandmother's bill for the reconstruction surgery. The hospital and the doctor put the blame on each other as to why my grandmother developed an infection. Post reconstruction surgery, she was supposed to be given antibiotics to prevent infection. The hospital said the doctor never prescribed it, he said the hospital never gave her the medication. Whoever's fault it was, the medication never got to my grandmother. Leaving her open to infection, which did happen. Something that could have taken her life.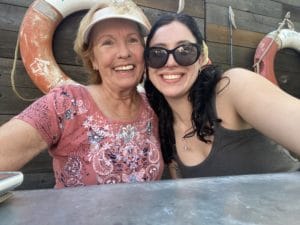 Now years away from this experience, she comes across positive encounters during breast cancer awareness month. The other day my grandmother ran into a woman at the store, the woman stopped to ask her a question. Stating she saw my grandma was wearing a survivor identifier and was asking about her experience with her hair growing back after radiation.  The woman lifted up her cap and showed my grandma what she was "working with" currently. My grandma spoke to the woman for a few minutes reassuring her it does come back, and soon! Her hair started growing back three weeks after her last radiation session. My grandma has full, curly hair now. "This is only the beginning. Look what I've got now. Mine was exactly like yours when it first came back!"