Introduction: My father always aspired to be a writer, but it wasn't until after he died and I was going through some of his mementos that I discovered some of his literary efforts. The following is a story he started to write relating some of his thoughts and experiences prior to being shipped overseas in World War II. These are his exact words, unpolished and unedited, except for a few grammatical corrections and comments on my part in brackets. Blanks indicate where he forgot a name. This story reveals so much about him and reflects his personality so well. His modesty, his faith, his courage, and his sense of humor. I wish that he had finished this story or shared it with me when he was still alive.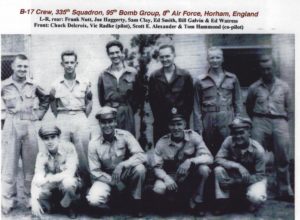 The  _________ Decade
    1943-1953
As 1953 draws to a close, the saga of Edward K. Smith, leaps forward to new heights of glory and after ten years of loafing [my father NEVER loafed], action is being taken to become a writer. Previous aspirations to glory started just ten years ago this November when our hero, much to his surprise, was headed for gunnery school at Las Vegas, Nevada, after a life most prosaic, a clerk, in one guise or the other, suddenly to become a man of action, in "aerial gunnery." One ride in the ball turret of a B-17 at gunnery school was enough to convince our hero that he was a COWARD but too late the error of his ways was discovered. 
Gunnery school lasted six weeks covering Thanksgiving at Las Vegas and Christmas. After the New Year and with six weeks pay in pocket, our hero on his first outing since arriving learned to his sorrow the vicissitudes of gambling.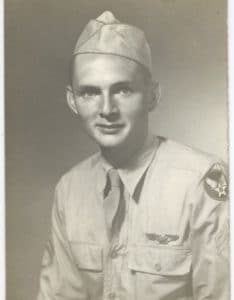 From Las Vegas, then onward with a 15-day delay enroute at St. Charles, Missouri. Never did home look so good. Our hero hung on to every hour, every mood of home, filled with fond memories and quite convinced that he was headed for an eventual death in aerial combat. Thanks be to God, our hero was a pessimist.
All too soon, 15 days delay enroute came to an end and then on to Tampa and the replacement center. By now, every delay was fresh hope that maybe the war would be over soon. "Wishful thinking." A short stopover at Nashville for a visit with an old friend, his wife, and small son, nostalgic thoughts of my speed [speedy] progress to doom with no one to carry on my name, no wife, no child. 
Onward then from Nashville into new states that had never been seen before and cities that had only been names, Chattanooga, Atlanta and finally Tampa, the end of the line. An acquaintance on the train gave an address of a sister in Tampa. Plant Park, winter home of the _____ baseball team in happier times, now an assembly center for the various component parts of a bomber crew. There we all met. Sam from Mississippi, Bill from Pennsylvania, and Joe from Philly, Eddie from New Jersey, by some fate not destined to go over with us, Frank from New York, almost Canada, Vic from Texas, originally Wisconsin, Scotty from Massachusetts, ______ from South Carolina and last, but not least, _______ from Pittsburgh, a motley crew from the far flung spaces of America. 
On to Avon Park, Florida in February 1944. Avon Park, among orange blossoms and jacaranda trees, the red earth. Never did earth look so good in those days after a day of flying up and down around the coast of Florida, the Gulf of Mexico, the Everglades with thoughts of stories heard of aircraft crashing in the swamp and bodies recovered crawling with snakes. 
All too soon the time passing, a final flight to get additional time, June 6th 1944, D-Day in Europe and a flight to Greenville, South Carolina with Joe inviting one and all to his radio room to hear the D-Day broadcast. Momentarily, the martial music calmed the fear and renewed the resolve to go out and get the dirty "Hun," to do or die. 
Entrainment for Hunter at Savannah, Georgia. How lovely to ride a train. Our group, about 50 crews at Hunter, being processed for overseas. Some of the more "fortunate" were assigned aircraft to fly to England. I thought how fortunate, we are going by ship and prayed that we would not be so "fortunate" as other crews were. Hot and sultry in Savannah, the middle of June 1944! 
I had a three-day pass and resolved to strike for the cooler mountains of North Carolina, Asheville, if possible. Hitchhike to Augusta, Georgia and, as it was getting late, a night bus to Asheville arriving there in the cool crisp morning. A very crisp look at Asheville, the town of Thomas Wolfe and then my return journey. Devil's Chimney, North Carolina, the beautiful Appalachian or Smokies, onward back to the sea, this time at the favor of the passing motorists, conversations, Irish descent, not Catholic, sites of battle of the Revolutionary War, Columbia S.C., Charleston and the sea prepared to follow U.S. #1 back to Savannah.
All too swiftly the scene, as in a motion picture, sped before the eye. Charleston, and the waterfront, still retaining the charm of those days. On to Savannah and the date with destiny. My prayers are answered and we have not been assigned a beautiful new B-17 to ferry to England. So at least a month must elapse before we can arrive to carry on the war against the "third Reich."
Another train ride thru the countryside; it does look good; and then arrival at Camp Kilmer. Only a few days, with time for a brief visit one night to New York City, a call home from the Telephone Center, Jack Dempsey's Bar and other sights of New York. 
June 30th, entrainment for ship in the afternoon, a train ride, then the ferry to Brooklyn, a band at the pier, Red Cross coffee and doughnuts and then that heavy barracks bag up the "plank" lungs bursting and aboard the "Monticello", formerly the "Conte Grande." Settling in for the night to bed with no sleep in prospect. 
Five a.m., July 1944, the motion of getting under way…
Postscript: My father's story ends here. He never finished it, that I know of. He didn't talk much about the war to me. Perhaps it was too painful or perhaps he thought I would be bored with "old war stories," but he went on to fly many missions and he survived to live a full life to the age of eighty-two. He met and fell in love with an English woman and they were married in April of 1945. He fulfilled his dream of having a family, as well. 
Reading his brief, incomplete memoirs, inspired me to go out and meet other veterans and tell their stories. These are not the people we see depicted in the movies and in books, but they are heroes of the ordinary sort.  
[The above story is an excerpt from Ordinary Heroes Anecdotes of Veterans, an anthology, published by one of our staff writers, Sarah Nachin.]