Hernando Beach bodybuilder and powerlifting star KC Inlow celebrated her 65th birthday in grand style recently. More specifically, she celebrated by setting a world record in lifting and then breaking her own record, twice.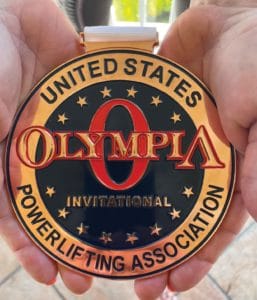 Inlow was a featured competitor at the Olympia Pro Powerlifting event, an International Powerlifting League presentation conducted Oct. 8/9 in Orlando. Through a trio of dead lifts performed at the event in the 60-64 year old age category, she lifted 342 pounds on the first lift, 353 pounds on the second lift, then broke her own record by lifting 369.7 pounds. In essence, breaking and setting three records at the event.
This marks the latest in a career of milestones for Inlow, who has claimed numerous first-place victories in the bodybuilding realm, and for deadlifting, powerlifting and benchwork. She has been featured in Women's Physique World and other magazines, and on industry interview programs. Yet beyond making, and breaking, records, and garnering national acclaim for her efforts, Inlow is all about making a difference. "My whole slogan is 'No Woman Left Behind.' Our society undervalues women, especially older women. I want to help them feel strong and confident. They are visible, they have a place," she said.
Inlow began her own fitness journey in high school, when she worked out and played sports at a time when girls were not widely encouraged to participate in competitive activities. "When I worked out, it released stress and gave me energy," she said.
Inlow later got serious about fitness as an adult, venturing out as a divorced mom to go to the gym early in the morning; every day building her strength and pushing herself to go farther. And one day catching the heed of a coach who invited her to join a women's lifting club. After setting initial records and attaining many competitive victories, Inlow became a celebrity in the bodybuilding world–still, she wanted more. "I asked myself, as I got older, what effect do I want to have?" she said.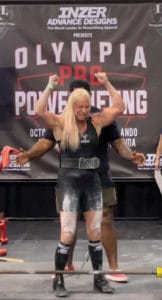 While bodybuilding revolved around posing and display, Inlow felt that lifting allowed her to demonstrate her power and talents and to encourage other women her age to do the same.  She wanted to use her skills to help others; now serving as a physical trainer for medical patients referred by area physicians. "I work with people, some in their 70s, 80s and 90s, helping them stay strong and functional. They're searching for something, and I help them find it,"  she said.
KC Inlow, set to compete again soon, is herself searching for more national and world titles; And every day, she wakes up asking herself one question: Who can I help today? "My life and career are coming full circle," she added.