As the group embarks on yet another winning season of beauty, creativity, and artistic excellence, the Nature Coast Art League has a new place to meet! And many more ways to show and share their collection of self-made and truly exemplary artworks. As of Nov. 1, the arts group that has served Hernando for more than 75 years commenced hosting all activities (Create Alongs and monthly membership meetings) at a new place to create. "We will be meeting at our new location at People Helping People of Hernando County, located at 1396 Kass Circle, Spring Hill," reported NCAL President Linda Graves. "Kass Circle is located on the north side of Spring Hill Drive between Hwy 19 and Deltona Blvd., and is located diagonally across the street from St. Vincent DePaul. Our next membership meeting will be held at our new location on November 15th."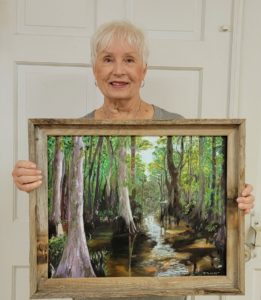 Graves hopes also to expand the ranks of the Nature Coast Art League. "We are hoping to reach out to more artists within the community while enjoying the benefits of this lovely facility. We hope to see you all there!  Happy Painting!" she said.
NCAL's first meeting in the group's new location will take place at 10 a.m. Nov. 15 at People Helping People. The featured guest speaker will be artist and NCAL member Anthony Rizzo, who will speak and demonstrate on the topic of Texture. "Anthony will share each stage he uses to create texture in his work with acrylic and resin," read a meeting notice. At their October meeting, NCAL featured a demo in oil painting followed by a workshop. Johanna Bolton explained how she approached a landscape using oil paint.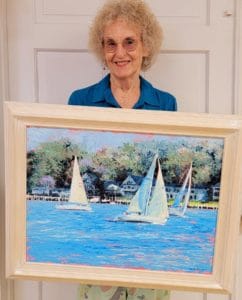 To celebrate the first meeting of the season, in late September, the Nature Coast Art League encouraged members to bring and show their own creative artworks and take center stage as they became the artist presenters of the day. "The meeting was very well attended and several new members joined us. It was the first meeting of the season and it appeared that everyone had a great time," said Graves.
Jana Withers, the administrator of the group Facebook page and a NCAL photographer, supplied a written summary of the meeting. "Today's first meeting of the season to welcome members, new members, and returning members included creative introductions of 2D & 3D Art in all mediums! Special thanks to President Linda Graves and Vice President Anastasia Stavropoulos for a special meeting! Following a brief meeting and the introduction of board members, everyone had the opportunity to announce themselves and their work in a unique way thanks to Mary Ellen Caesar," Withers wrote.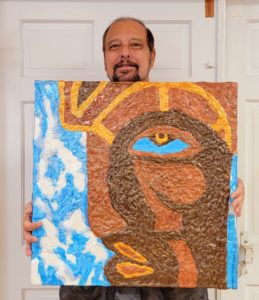 "The creative sparks and laughter lit up the room!" Withers wrote. Join in the laughter and the creativity by joining the Nature Coast Art League.  The meetings are typically held the 3rd Monday of the month at 10 a.m.  NCAL Membership runs September – May. A single membership is $30 and a couples membership is $40.
Checks may be mailed to:
Nature Coast Art League
PO Box 6284
Spring Hill, FL 34611