Over the past couple of years, the Weeki Wachee girls basketball program rostered 11 players or more but starting the 2021-22 season, the roster stands strong at eight. Returning basketball coach Billy Hughes takes on his second season as head coach for the Lady Hornets Varsity team. "We are very fortunate to have these young ladies continue to develop our basketball program, and because of that, I want to continue doing what Coach Munro and I put into motion as well as what we strive to build upon every year," Hughes said.
Hughes explained how detailed Coach Munro was throughout his years coaching the girls' basketball team and how every player improved their skills and ensured those skills followed through at every game. "It was those small little things that you don't think about doing, Munro checked every box off before, during, halftime, and after the game. Overall those details made the big picture," said Hughes. "I was very lucky to learn from him, and he was a good mentor."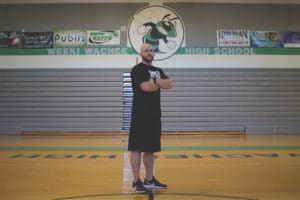 Since 2015, Hughes has shadowed Mike Munro coaching leadership, while assisting the varsity team and using that direction as the head coach for the JV team. The transition of stepping into Munro's position was smooth. What is unique about Coach Hughes' position is how effortless it was to transition the JV players into a varsity position. He has been on the courtside for many of these student-athletes over several years. "I've known coach since sixth grade," said Mya Gomes. "He never did hold me to a low standard; it was always high. He made me feel more than what I felt about myself, mentally and physically." 
"Being on the JV team was a fun experience, but I feel like being on JV isn't all about winning; it's more about improving to get better. When I transferred up to varsity, it felt like my skills upgraded playing with the girls whose post skill levels were a lot better and made me work harder to be as good as they are," Gabby Scott said.
"JV was about fundamentals, and varsity is actually applying them," Heather Loui added. 
As the varsity team's roster only shows eight names, that doesn't mean this team isn't going to fight any less as a family on the court.
November 15 is the first game of the 23 game schedule. They will face Tarpon Springs at 6pm on their home court.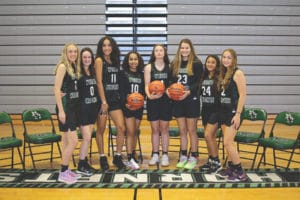 During my interview with these eight young ladies, they showed how true they are to themselves and as a team. They voiced strength and dedication as well as how they are working to be a better version of themselves. They know the importance of a team, which can be defined into one word: family.
 "When I was a freshman, I really struggled with encouraging myself. I definitely want to encourage them (teammates)," said Caroline McArthur. 
"It's all up to them, anything they can achieve is possible," said Hughes.
"The biggest thing is to believe in yourself and don't care what anyone thinks and to push yourself to a really high standard," Princess Hester said.
"This is my family, and this is my happy place. The seniors helped me work harder, and I don't want them to leave."  Junior Rylee Knoblett.
"I think a bunch of us are all so encouraging we don't let each other feel down."  Junior Heather Loui 
"We have a big future for this team, and I want us to be the best we can be, and I want to contribute myself to that victory every time." Sophomore Paige Atwater
"What I love most about this team is this is a family environment and pushes you to be your best self." Senior Princess Hester
"I've been with them for a long time, and I love getting to know Paige and, Linsey. It's really exciting." Senior Caroline McArthur
"We are family." Senior Mya Gomes
"I think this team has a lot of opportunities. By the end of the season, I want to try to be the best that I can be."  Sophomore Gabby Scott
"Being part of this team is very exciting, it makes me push myself harder." Sophomore Linsey Orr