Troopers from the Florida Highway Patrol (FHP) have arrested the owner of a vehicle that was allegedly being used to smuggle five men into the State of Florida. The incident is the fifth to take place at nearly the same spot along I-75 in recent weeks.
FHP Public Information Office (PIO) Sgt. Steve Gaskins said that on Nov. 16 Troopers pulled over a Dodge Journey at the 311 milepost of I-75 in Sumter County on grounds that the vehicle had an illegal window tint and that it failed to stay in its own travel lane.
Troopers subsequently questioned the driver of the vehicle who told them that he had no driver's license, and that he was operating it for its owner who was sitting in the passenger seat beside him.
Troopers also found five other men seated in the back passenger seat.
The men told the Troopers that they had illegally entered the US in Arizona, and were paying to be transported to Florida from Alabama.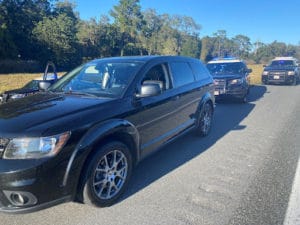 US Border Patrol took custody of the driver and the five passengers at the scene.
FHP Troopers arrested the vehicle's owner, 33-year-old Simon Mendoza Robles of Mexico and charged him with six counts of human smuggling.
He was booked into the Sumter County Jail where he is being held.