During the November 16, 2021, regular school board meeting, Kara Floyd, Chair of Moms for Liberty-Hernando Chapter, addressed the board with concerns over inappropriate content contained in books on the shelves of our school libraries. Floyd read a passage from a book, but the passage she read aloud was redacted for "language and content" from the school board's streaming video meeting.
Later in the meeting, Wendy Porter of Spring Hill also read from "Looking for Alaska," a book found at Fox Chapel Middle School that Chairman Gus Guadagnino later called "quite shocking." Superintendent John Stratton's final words on the matter were that the material was "alarming."
Floyd mentioned two books by Alex Gino, and "The Absolutely True Diary of a Part-Time Indian" (2007) by Sherman Alexie. According to her website, Gino is an "Award-winning author of queer and progressive middle-grade fiction." Alexie's book won a National Book Award for Young People's Literature.
Floyd stated that Alexie's book is currently on the shelf at Spring Hill Elementary, though at the conclusion of their comments, School District Attorney Dennis Alfonso stated that all of the books in question have been removed from shelves in each school's library.
However, a search of Spring Hill Elementary's library catalog shows that "The Absolutely True Diary of a Part-Time Indian" is available as of Nov. 27, 2021.
As of Nov. 28, 2021 a search for author "Alex Gino" in Fox Chapel's library catalog shows the book is "Out" until 9/6/2022.
A search of Fox Chapel's library catalog shows that "Looking for Alaska" is available as of Nov. 27, 2021.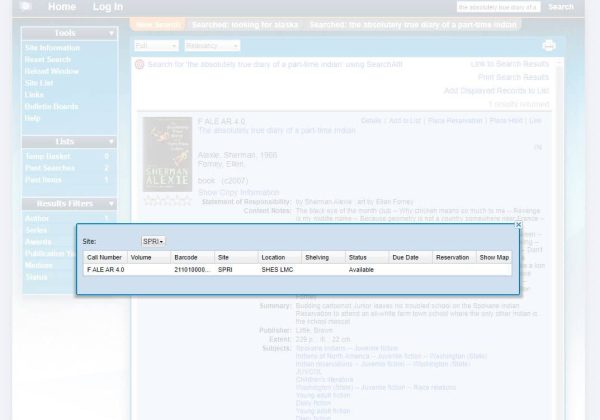 Floyd concluded her comments by saying, "The LA Times calls this a 'must-read for high school students.' Are we actually turning into liberal California now by allowing this and other books like it in our elementary libraries?"
Wendy Porter read from "Looking for Alaska," by John Green — a book that she described as more explicit than Floyd's selections. She read from a sex scene in the book, between the main character, Miles, and his girlfriend Laura.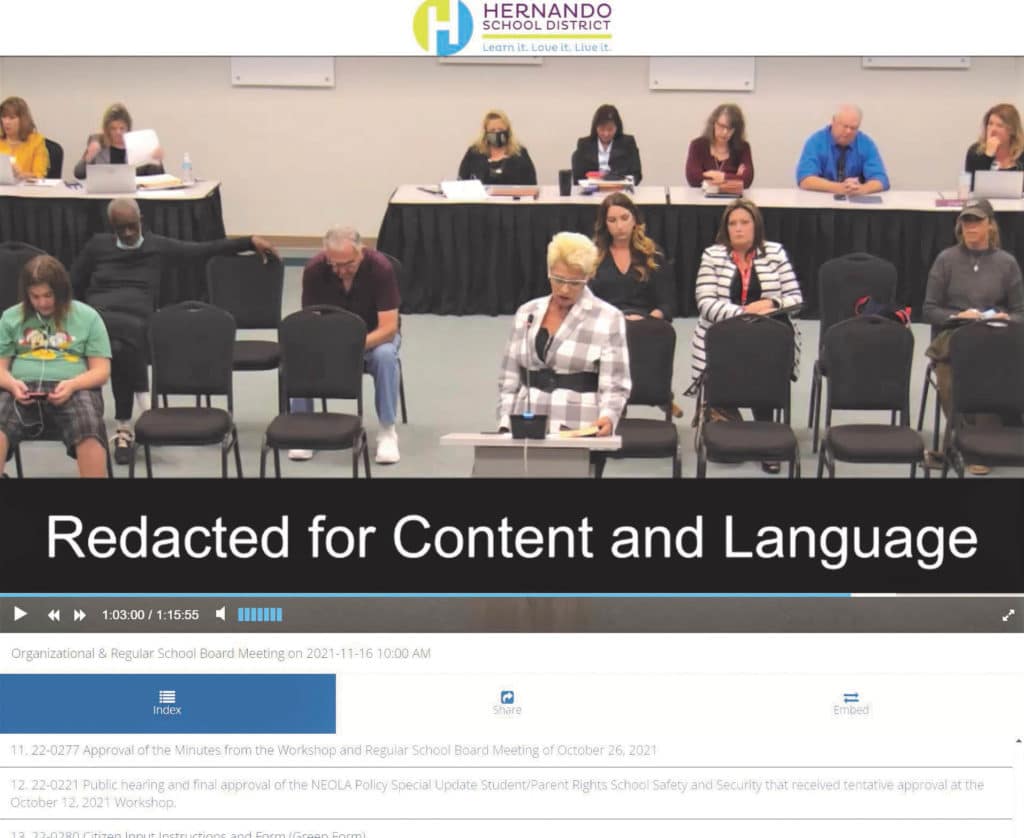 At one point, a member of the audience asked Porter to cease the reading, however, Porter continued.
According to a Wikipedia article, the book led the American Library Association's list of most challenged books in 2015 due to profanity and a sexually explicit scene. The book has been challenged and removed from several schools due to its sexually explicit content, offensive language, and drug and alcohol use, and smoking.
According to Porter, "Every one of the kids in this book partakes in taking drugs, drinking alcohol, buying liquor with a fake ID, watching porn, having sex, and bullying other kids. In fact, Alaska ends up dying because she was driving drunk."
Back at the dais, Chairman Guadagnino said, "Some of it is quite shocking, and I'm sure there are actions being taken already." Addressing a staff member off-camera, he asked if she knew how long the books had been on library shelves, however, this information did not become available during the meeting.
The Hernando Sun has submitted a public records request to the school district for information regarding the circulation of these books in school libraries.
Superintendent John Stratton stated that the books from Fox Chapel that had been brought to the board's attention have already been pulled. Stratton explained that there are policies and procedures that have to be followed when a book is challenged. "With all that said, what you're reading is alarming."
A search of the Hernando County public library system catalog reveals that the books are carried at local public libraries.
A sound recording of "Looking for Alaska" is available at the Spring Hill Library and it is labeled for a juvenile audience. A print copy is listed in the catalog as Not available: In transit and is listed for an adolescent audience.
Two print copies of "The Absolutely True Diary of a Part-Time Indian" are checked out of Hernando County libraries. The title is listed for an adolescent audience. A sound recording is also checked out and is listed for a pre-adolescent audience.
Both books are readily available on Amazon and are marketed for Teen and Young Adults.
In a letter to the Hernando Sun, Floyd stated that members of Moms for Liberty, Hernando County Chapter, are working through a list of 128 books with inappropriate content to determine which ones are on the shelves at school libraries.
Floyd stated, "Hernando County parents, currently, Moms for Liberty, Hernando County Chapter, has found 17 books in elementary and middle schools in Hernando County out of a current list of 128. The remainder are still under review by the chapter. These books have been found in 7 schools in Hernando County and contain material too obscene for minors. Thankfully, when Fox Chapel Middle School was informed of two books by Alex Gino on the topic of transgenderism, they were immediately pulled off the shelf, temporarily, and are under review by the school."
Editor's Note: This article was updated on Nov. 28, 2021, to include the school library catalog search results for author Alex Gino, "Looking for Alaska," and "The Absolutely True Diary of a Part-Time Indian."