A strange weather phenomenon occurred in downtown Brooksville on December 2nd. It snowed! Well, not actual snow. It was artificial snow created for the Brooksville Tree Lighting event. Nevertheless, it put everyone in the Christmas spirit. Crowds started showing up at 5 p.m. for an evening of food, fun, music and other festivities, topped off by the lighting of the Christmas tree in front of the courthouse. According to Brooksville Main Street, approximately 10,000 people attended the event.
Throughout the evening various performers sang religious, as well as secular Christmas songs, and actors from Live Oak theatre put on performances. 100 local vendors sold everything imaginable and, of course, there were several food trucks to make sure nobody went hungry.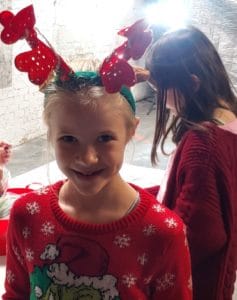 One of the more unusual products on sale were all natural dog treats. Steve Fabretti, along with his wife, Amy, and sister, Christina, started making the treats for their five dogs. Then when quarantine hit last year, they decided to turn it into a business.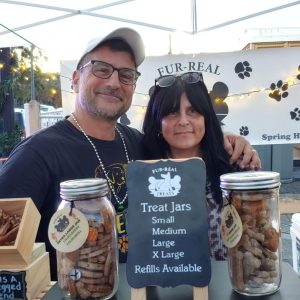 "These treats are freshly baked before we bring them to market. They contain no sugar, salt or preservatives of any kind," remarked Steve. 
Another vendor was Judy Dutka, who makes a variety of items, including wood signs, mason jar tissue holders, lighted wine bottles and microwave pot holders. She has been doing these crafts for four years.  
Near the courthouse steps, Jim Humphrey was busy doing realistic caricatures.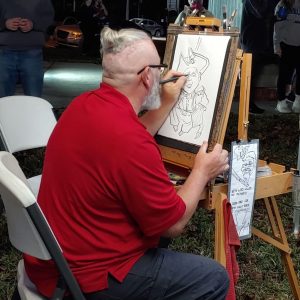 He's been an artist "all his life." When he retired and moved to Florida he continued his art work and expanded it to doing caricatures at private parties and corporate events.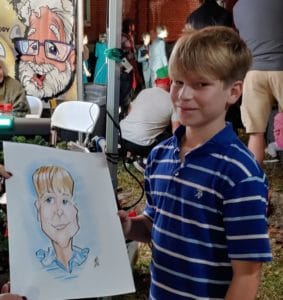 No Christmas event would be complete without an appearance from "jolly old Saint Nick." A line of children waited to tell Mr. and Mrs. Santa Claus, AKA Scott and Jackie Grant, all their Christmas wishes.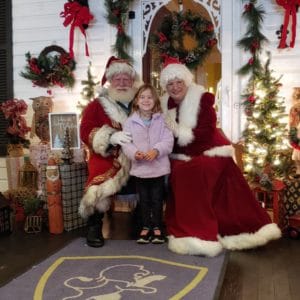 Just off Main Street, young women dressed in evening gowns danced in the window of Patricia's Boutique. It was as if the store mannequins had come to life. 
Across the street from Patricia's Boutique, children made Christmas decorations in the large garage attached to the Hogan Law Office. 
If you happen to have missed this fun event, you still have opportunities to celebrate the Christmas season in downtown Brooksville. 
There will be a continuing Festival of Trees at the courthouse December 10th, 14th, 15th, 17th, 22nd and 23rd at 6 p.m. each evening.  Each night will be a different type of performance, from dancers and bell ringers to jazz and religious music. 
You can step back in time and take a carriage ride through the town from 6 pm to 10 pm on December 14th, 15th and 21st. 
Children who are hypersensitive to stimulation from their environment can participate in a Sensory Inspired Santa Experience on December 20th from 2 pm until 4 pm. This event will take place at the Brooksville Welcome Center Hall, 205 East Fort Dade Ave. 
And you won't want to miss the Kiwanis Club of Brooksville's Christmas Parade on Saturday, December 11 from 10 a.m. to 2:30 p.m.     
For details on these and other events go to Brooksville Main Street's Facebook page or log onto their web page: www.welovebvl.org.  
Just down the road in Dade City, the Pioneer Florida Museum held a Pioneer Christmas and Vintage Market on Saturday, December 3rd.  The complex consists of several buildings, including a citrus packing house, a school and a general store.  Women and men were dressed in 1800's era clothing and the museum was open for people to wander through and look at authentic items from the early days of Florida. 
Docent Cheryl Blakely greeted people outside the museum. She has been a docent for four years.  She "fell in love with the place" and now volunteers four hours a week. 
"My favorite thing is teaching the children about school in the old days – telling them how there was no running water, no electricity or cafeteria, no indoor bathroom and how the children all shared the same dipper for the drinking water," quips Ms. Blakely. 
The event included a demonstration of the blacksmithing trade. Lewis Riggleman gave an interesting presentation on how nails and other articles are made. 
Karen Governale from Spring Hill sold items made from poured resin. She has been doing this craft for about three years. Each item is unique. One of her items – a pyramid takes about a week to create because she pours the resin in layers and has to wait for each layer to dry. She has also been an artist for twenty years, with charcoal as her medium, and does portraits on commission. 
Marilyn and Jack Mullins sat outside one of the buildings and played guitar and hammered dulcimer. They've been playing their respective instruments for more than twenty years. The couple have appeared at the pioneer museum several times over the past four years. 
"I got into playing the hammered dulcimer because my husband saw one at a music festival and bought me one," remarked Marilyn. 
One of the more unusual exhibits was set up by Lisa Judge with Florida Skunk Rescue. Believe it or not, descented skunks make good pets, however, sometimes the owner has to get rid of the skunk. This is where Lisa's organization comes in. For a small fee, people were allowed to hold and pet a skunk. 
Eight-year-old Harlow Marrero, who was fascinated with the creature, remarked, "I like holding the skunk. It feels like a cat." 
Gigi Allison entertained the children with circus tricks and a dog act. Her Habanero/Havanese dog, Super Zeus, is a real ham and seems to enjoy performing as much as Gigi does. This particular breed of dog comes from Cuba and, although not as well-known as other breeds, is playful and popular all over the world.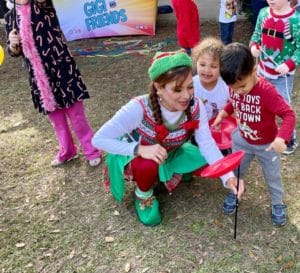 Gigi spent ten years with the Ringling Brothers Barnum and Bailey Circus, starting out as a dancer for two years and then performing as a clown. Gigi encouraged the children to participate in some of the acts, such as spinning plates. 
Now that the Covid-19 restrictions have eased up somewhat, people are enjoying themselves again. The Christmas season is just the right time to get out, have some fun and be a kid again.