So many modern marvels occurred during the end of the 1800's – automobiles and electric lights just to name a few – that it is hard to believe there were skeptics at the opening of the grand hotel in Ormond Beach, just south of St Augustine. However some people believed that building something on a peninsula between the Atlantic Ocean and the Halifax River was a little crazy. The miles of palmettos, sabal palms, and ocean sand were still considered Florida wilderness. Who would come visit that?
A turning point to Florida tourism was the completion of a railroad from East Palatka to Ormond Beach in 1886. Before railroads the only way across from the mainland to the ocean side was a long trip by ferry or sailboat. Two businessmen, John Anderson and Joseph Price, built the Hotel Ormond on land they purchased for $125. They also constructed a bridge over the Halifax River and hoped to make their luxury hotel a winter destination. Grand Opening Day was January 1, 1888 and it must have been quite a sight! The hotel had 75 rooms–each renting for $4 per night. The Atlantic Ocean was at its back. It would be open for guests from January 1 to April 1. Their venture was not the immediate success they had hoped for. For the next two years they struggled just to keep the doors open.
Meanwhile Henry Flagler, co-founder of Standard Oil and an American industrialist, was already familiar with Florida. He had dreams that his Florida East Coast Railway would take travelers from Jacksonville all the way down to Key West. As an investment he purchased the Hotel Ormond from Anderson and Price in 1890. That move eliminated competition with his own hotel in St. Augustine 48 miles away. Flagler also bought the local railroad line as well. He would use it to bring visitors right to his door!
Over the next 15 years Flagler made a series of improvements to the Hotel Ormond. From 1902-1905 he added the north, south and west wings. He expanded the capacity from 75 rooms to 400. He added steam-powered elevators and put in a saltwater swimming pool. Eventually he built a railroad bridge from the mainland directly to the hotel.
The Hotel Ormond resembled a self-contained city. It had its own powerhouse and three large boilers for steam. It had a laundry and large servant's barracks. It had stables, a grandstand, and a greenhouse. The hotel included a casino, motion picture theater, and large ballroom. The dining room was so large it took over most of the first floor. The hotel kitchen had a brick oven and two large walk-in coolers. At the beginning of the 20th century the Hotel Ormond was known as the largest all-wooden structure in the United States! It had over 11 miles of corridors and breezeways.
The early 1900's were a golden era for the Hotel Ormond. The wealthy arrived by train to fill its rooms and spend their winters in Florida's milder climate. They were impressed with the luxurious grand hotel. Some of them even recognized members of the staff. Many of the hired help worked all summer at northern hotels frequented by the same wealthy clients.
The new hotel was a beautiful place. There were large covered verandas perfect for strolling, visiting, and relaxing. On chilly days the lobby was warmed by a big fireplace. Guest rooms offered private baths with claw-foot tubs and radiator heat.
There was plenty to do. The guests could swim, play tennis, play croquet, or take up golf. One of Flagler's improvements was construction of a golf course along the ocean. If desired you could also take a chauffeur-driven tour around the neighborhood in a steam-powered automobile. You were guaranteed to see orange trees, sabal palms and huge oaks dripping with Spanish moss. It was unlike anything up north. However the auto trip was not glamorous. Most of the roads were narrow. They were bumpy one lane dirt paths. It would be 1908 or later that shell pavings were introduced to make travel more tolerable.
A pastime not to be missed was an excursion on the nearby Tomoka River. This was a true 20 mile adventure into the wilderness. The journey took all day by double deck boat. The boats had catchy names like Cherokee, Belle Harbor, and Dixie. At times the river was so narrow the passengers could almost reach out and touch the trees on either side. They saw alligators by the dozens and hundreds of shorebirds. Before the end of the 1800's guests were shooting alligators for sport. The wealthy were allowed to do pretty much what they wanted and were treated well. On Tomoka River excursions they docked at a private cabin and were served a hot lunch. Food was brought over from the mainland and was waiting for them. They even had ice cream for dessert!
Another pastime for the rich involved the automobile. For a while only the wealthy could afford them. It was not until 1913 and 1914 that assembly lines made cars more affordable for the middle class. Ormond Beach is known as the "Birthplace of Speed" because of its early connection with auto racing. The beaches near Ormond were perfect for it. They were 500 feet wide, 27 miles long, and completely flat. In 1902 the first speed racing was done. A one mile speed record was achieved at 57 mph. By 1906 they were drag racing at speeds of 122 mph! Those early men were true daredevils—no one had yet tried going so fast!
In 1903, Flagler built a large garage alongside his hotel. It could accommodate 100 cars and was known as "America's Original Gasoline Alley." It was an ideal location for the early racers to assemble, modify, and service their cars. In the early years drivers were so obsessed that they often slept with or near their cars. Some even slept on the beach! The wealthy loved watching this new sport. Automobile magnate Henry Ford took an interest in the early races of the 1900's. So did his friend Harvey Firestone who would later start Firestone Tire and Rubber. A fellow friend from Fort Myers, inventor Thomas Edison, came to Ormond Beach and added his thoughts concerning the new automobile craze.
Over the years the Hotel Ormond became a winter home for the rich and famous. Their names read like a who's who list. Humorist Will Rogers, Oklahoma born cowboy and actor of film and stage, came in the late 1920's and early 1930's. Also Warren G. Harding, 29th President of the United States, came in the early 1920's. His yacht would dock alongside the hotel bridge.
American author and abolitionist Harriet Beecher Stowe wintered near Jacksonville in the 1870's and 1880's and came as a guest to Hotel Ormond. Already famous for Uncle Tom's Cabin, she continued to write books at the age of 60. In 1873 she published a memoir and travel guide called Palmetto Leaves. Her literary work helped inspire tourists and settlers to come to Florida and it earned her a Governor's Award.
Sports celebrities came– most notably professional wrestler George Zaharias and his wife Babe Didrikson. They were a power couple in the late 1930's. Babe had won two gold medals by then and excelled in every sport around. She later became a top woman golfer of the 1940's and 1950's.
Sharpshooter Annie Oakley came to the Hotel Ormond. She wintered in central Florida while performing shooting demonstrations for Remington rifles in the early 1900's. One of her stops was Palatka, not far from Ormond Beach. In 1918 she and husband Frank Butler were involved in a serious auto accident on the Dixie Highway about 50 miles from Daytona. In later years, wearing a leg brace, she still astonished spectators while attending a Florida spring training game. At age 62 she could still shoot and proved it. She had them toss penny after penny in the air and got them all—over a dozen shots from the bleachers without a single miss!
The list goes on and on. Mobster Al Capone came. He lived not far away, having a winter home on Miami Beach from 1928-1947. Other hotel guests included those from wealthy families such as the Astors and the Vanderbilts. And in 1923 a then unknown 22 year old named Ed Sullivan took a job as golf secretary for the hotel. He had lost his newspaper job in Miami and was just driving around looking for work.
Hotel Ormond's Most Famous Guest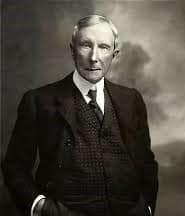 Perhaps the most famous guest of the Hotel Ormond was J.D. Rockefeller. He came from a large poor family in upper New York. He taught himself how to manage money and took business courses. He co-founded Standard Oil with Henry Flagler. As it turned out Rockefeller came to Florida because he was Flagler's friend and a health fanatic. He was in search of a pollution-free place to spend the winters. From 1914 to 1918 he rented an entire floor of the Hotel Ormond. Rumor has it that when rent got a bit too high he went looking for new accommodations.
Rockefeller purchased a three story mansion (9,000 square feet) within walking distance of the Hotel Ormond in 1918. The home was only four years old at the time. He kept it simple and didn't put on many more additions. The place had a lovely yard right on the Halifax River. The impressive mansion was known as The Casements because of its many hinged windows which opened to the outside. They were designed to let in refreshing breezes. It was a house made for the days before air conditioning.
Rockefeller always said he wanted to live to be 100. Deeply religious he didn't drink liquor. He ate carefully and exercised. He wanted to be known as a regular guy, simply "neighbor John." He was often seen around town and had a habit of giving out dimes to adults and nickels to children. He gave them to absolutely everyone. It was a symbol and an opportunity to start a conversation, especially with children. A shiny new dime was a chance to tell them to be thrifty. Someone figured that Rockefeller gave away more than $35,000 in dimes over his lifetime. Just try to do the math and compare depression era prices to today's value and you'll see that was a small fortune, too!
He enjoyed a good game of golf. There are photos of him playing at age 90. He also watched auto racing and cheered on the beach daredevils. He was frequently seen on his daily automobile rides around the neighborhood.
Rockefeller became the first American billionaire. Over his lifetime he gave much of his fortune away. He gave away an estimated $550 million dollars. To this day he is considered by some as the richest man who ever lived. Rockefeller spent nearly twenty winters at The Casements, until his passing in May of 1937. He died less than two months away from his 98th birthday.
One thing residents remembered about Rockefeller was that he loved to host elaborate Christmas parties. The Casements were something to see in holiday splendor—elaborate decorations, beautiful trees, fragrant flowers, and twinkling lights. A large tree with ornaments and garland filled the center atrium and towered upward. Archive photos show crowds gathered around that tree. There were often 100-150 party guests. Rockefeller was very generous and gave every guest a gift. It was a great time Holiday songs were sung around the piano with Rockefeller taking the lead. His Christmas parties were well known and mentioned in the New York Times. Today we are fortunate that The Casements is owned by the city of Ormond and under its care. The public is able to tour this grand old mansion. At Christmastime volunteers decorate it lavishly much as Mr. Rockefeller would have done.
Sadly the Hotel Ormond did not fare so well. The number of wealthy winter visitors declined dramatically by the 1940's. In the late 1950's it was no longer a hotel but a retirement home. Then it went through a series of owners. A 1986 fire caused severe structural damage and closed the place for good. The landmark hotel was later demolished in 1992. Only one decorative tower, or Cupola, from the roof, was saved and is prominently displayed in nearby Fortunato Park. You can stop there and read a historical marker about the grand Hotel Ormond. Just imagine! A century ago Ormond Beach was a winter playground for the rich and famous. It was a golden time. And now it is only a memory.
Places of interest:
The Casements, "The Jewel of Ormond Beach"
25 Riverside Drive, Ormond Beach Florida 32176
Phone 386-676-3216
Offers guided tours Monday thru Friday, 8 am.-5pm and on Saturdays from 8am-noon. Tours on the hour. No entry fee. Donations recommended. There is a gift shop with interesting items such as local books about Ormond Beach and about JD Rockefeller. You can also do a self guided tour during business hours and pair the tour with your mobile device. Masks are not required. Check ahead to verify all current tours and events.
There are many interesting exhibits–one room is furnished in period pieces of Rockefeller's day. Another is devoted to early beach auto racing— photos and memorabilia. Still another room–has family photos, news clippings, letters, and even film clips of Rockefeller himself.
Check out the 3rd floor, the old servants quarters. It currently contains a large Boy Scout exhibit. More of the 3rd floor is devoted to a Hungarian cultural exhibit.
The Casement Guild volunteers spend a whole week preparing the house inside and out for the Christmas season. Each year they chose a new theme. The first weekend in December (this year it is Dec 3-5) they hold a special Christmas Gala where the public is invited to the side lawn for food and fun. There are visits from Santa and from the Snow Queen. Then December 16 at 6 pm there is a special Open House and desert social. All holiday decorations stay up from late November until the first week of January.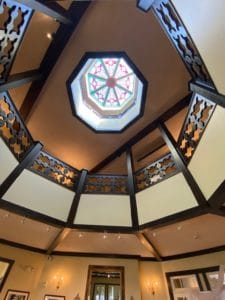 Fortunato Park
This 2.6 acre park is just east of the Granada Bridge and can be reached on foot by walking past the gardens leaving The Casements. You can walk directly under the bridge to the other side. The park is home to the remaining Hotel Ormond Cupola and historic marker and offers beautiful views of the Halifax River.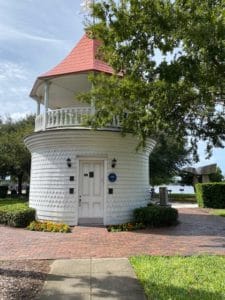 St. Augustine Lights Now Until January 31, 2022
The entire city is decked out in over 3 million lights. Much of the historic district is covered from end to end with lights. There are special boat tours and trolley tours available. Businesses are open extended hours. Shops on St. George Street are open late. A downtown parking facility offers safe, convenient parking for $15 per vehicle. During the holidays please note the Spanish tradition of candles burning in the windows. A light in the window—- to remind you to leave room in your heart and home for Jesus.