Offering their own colorful interpretations of Santa's beachside retreat, eight Hernando elementary school students have won the honor of seeing their artwork on the covers of mass-distributed holiday cards. All these students are winners of the United Way of Hernando County 7th Annual Holiday Card Coloring Contest. 
Hernando County students enrolled from kindergarten through 5th grade had the chance to color a holiday beach-themed coloring sheet. Students were encouraged to submit their finished artwork to United Way, where winners were chosen because their work creatively embraced the "Live United" spirit. Their artwork is featured on the cover of United Way's 2021 Holiday Cards that have been sent out to more than 200 community partners, the board of directors, local businesses, partner agencies, and more.
A total of 150 children entered this year's coloring contest. "Our team looks forward to this every year," said United Way's Executive Director, Angie Walasek. "Our students and even the art teachers get into it every year! We made a tough decision narrowing down all of the beautiful artwork to only 8 winners. We were just so impressed by the effort from these hard working students, as young as 2nd grade! So much so that we also awarded the winner's classrooms and teachers free school supplies as an end of the year gift." United Way delivered stuffed backpacks loaded with these supplies to each of the winners' classrooms as a thank you for being so creative.
United Way would like to congratulate 2021 Holiday Coloring Card Contest Winners: Payton C., Lyla B., and Kira L. from J.D. Elementary, Sai A., Makenzie G., Alexis C., and Catalina M. from Challenger K-8, and Eloise H., from Winding Waters K-8.
"I love coloring, It's interesting and creative," said Eloise.  Eloise, who loves to color and draw, said she took a 'beachy but Christmasy' approach to her card art.
Catalina, age 8, also had a merry method in mind when creating her winning artwork. "I used colors that reminded me of Santa and Christmas," she said. "And I colored the sky and water different, from lighter to darker blue."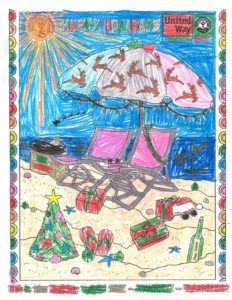 Sai, age 9, says that he hopes to apply his artistic skills to a career as an architect. "Entering art contests helps me improve my skills," said Sai. "I did a lot of shading in the sky of the picture."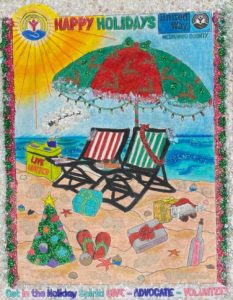 Alexis, age 11, said she was happy to win the coloring contest. "I colored Christmas colors like red and green on a tropical beach," she said.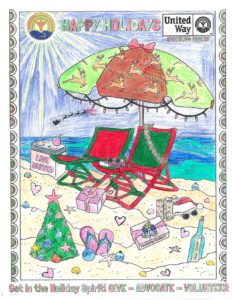 Makenzie, age 10, particularly welcomed the opportunity to color a  beach scene. "I haven't been to the beach in a long time," she said. "I colored the sunset on the ornaments and the sand."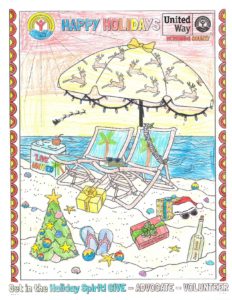 Lila, age 10, says that she feels happy for the "rare" opportunity to win a coloring contest. "I like to draw and paint," she said. "I put a lot of color into this picture. I was happy with the outcome of my effort."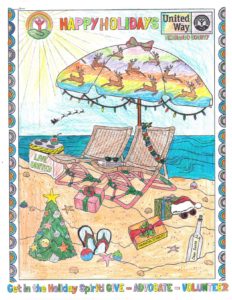 Kira, age 10,  hopes for a future as a painter. "When people see my card, I want them to feel happy," she said.