In the championship match of the basketball tournament hosted by Weeki Wachee last week, the Weeki Wachee Boys Varsity Basketball team (5-5) fell to the Lecanto Panthers (9-2) by a score of 74-51.
Coming into the matchup, both teams were riding waves of momentum. The home team had taken four of their last five contests while the visiting Panthers were on a seven-game winning streak. Since both teams cannot win, though, what would it take for either squad to claim the tournament victory?
When asked how his team performed on the evening, Weeki Wachee Head Coach Steve Boyett stated, "I thought we did alright. I mean I wouldn't say we played great. I thought Lecanto's very, very good – tough to guard. They hit shots when they needed to hit shots and we didn't."
While that may sound obvious, an important distinction to be made is the type of shots that were taken by either side. A short breakdown will show how Lecanto was able to build its 23-point lead.
Despite a slow start for some of the first period, Weeki Wachee kept it close and trailed 20-14 at the end of one. Into the second quarter, some game trends began to emerge. Many of the Hornet's attempts came from beyond the arc or from the free-throw line. Unfortunately for the Green and Black, Lecanto was able to match them shot for shot and made critical steals for points when the Hornets threatened.
The scoreboard read 34-22 at the half. The Hornets were slipping, but they were still in striking distance. Then the second half started.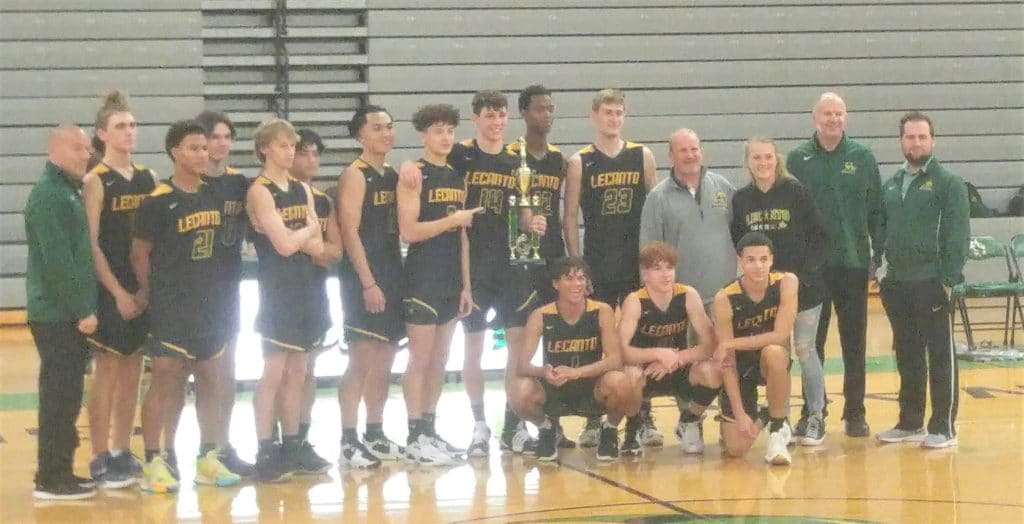 Weeki Wachee came out and defended the glass hard, but a quick seven points for the visitors following an early technical on the Hornets opened the gap between the two teams. Six straight points for the home team, five of which were scored by Senior PG Charlie Marsh, would prove to be the closest the hosting Hornets would come to Lecanto for the remainder of the evening.
For the rest of the third period, Weeki Wachee would attempt to knock down shots from downtown, but the shot selection was not always there. Often during that span, the Panthers were prudent in taking the higher percentage shots in the paint to go along with punctual passing. As it was, few of the Hornets' shots managed to fall and Lecanto's lead grew to 17 by the end of the third. Weeki Wachee managed to score a game-high 20 points in the final frame, but it proved to be too little too late.
Weeki Wachee's Charlie Marsh received honors after the game while Lecanto Senior Preston Koehler was declared the tournament MVP.
Despite the Hornets' struggles against Lecanto, Coach Boyett is optimistic about the growth of his team throughout the season. He will certainly be looking for continued progress when his squad faces Gulf High School at home after the new year.
"So, right now, we're in the middle of the season," Coach Boyett said. "We're .500, you know. So, the program's turning the corner. We feel good about where we're at and we're trying to make a play for the districts."