Two Hernando high school bands marched to victory at The Florida Marching Band Championships, with one band establishing a march milestone at their home school. The championships took place Nov. 20 at the World Equestrian Center in Ocala.
For the first time in school history, Weeki Wachee High School's Sound of The Hornets Marching Band made the finals of the championships. In Division 1A, the 45-member band placed seventh in a pool of 160 bands. "This is a special group of kids," said Director of Bands of Weeki Wachee High School, Jared Benyola.
Appropriately enough, the theme of the students' performance was "This is for the Artist" with songs ranging from "I Am the Doctor" from Doctor Who, to "August Rhapsody", to "Fight Song" by Rachel Platten. Their artsy costumes were handmade, every prop and piece carefully curated to fit the theme.
"I've been playing the clarinet for 4 years, and have been in the Weeki Wachee Sound of The Hornets program for 3 great years. Since day one we have been working so hard to achieve everything we can. From our hard work to pay off and make finals for the first time in our school history was a feeling that I wouldn't trade the world for. Mr.Benyola along with our other staff members have encouraged us along the way and keep doing so. They told us to never give up and to keep pushing. I'm so grateful for this program. It has kept me going and thank you to all my friends, family, and staff for believing in us!" said Heather Loui, Junior Clarinet Section Leader.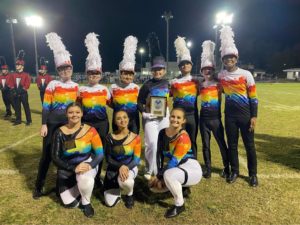 Gianna Otero-Cossio, a Hornets Color Guard captain, agrees. "I am one of the color guard captains of the Weeki Wachee Sound of The Hornets Marching Band. I've been doing color guard since my freshman year and I am currently a junior. Making finals this year was legitimately one of the best moments of my life. Standing on the field and sharing tears of joy with my friends and teammates is a moment that I will Cherish. Our band worked so hard for months and I could not be more proud of what we have achieved this season," she said.
Benyola said that students spent hours preparing for the competition, and faced a moment of great suspense when the finalists were announced. "They read the finalists alphabetically, and it took them a while to get to the W's. And when they did, there wasn't a dry eye in the house," he said.
Grace Jeffers, a junior at Weeki Wachee, plays Alto Saxophone, and is the current Drum Major. She shared, "When we found out we made finals, it was one of the best feelings I have ever felt. This band is my second family and I know how hard we have worked for this since day one. It also means so much to our show, 'This is For the Artist', which is about the stages of self doubt that any artist goes through in their career. Throughout 2020 many of us felt our flames begin to go out, but through perseverance and hope we overcame our battles and looked at the bigger and better picture. I hope that this is just the beginning for the Sound of The Hornets as we learn from our mistakes and improve everything we do."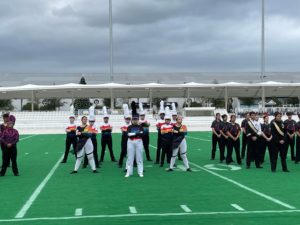 Benyola thanks Color Guard Director Bridgit Judson, Percussion Director Victoria Durrance, Katelyn Taylor who is a current music education major at the University of South Florida and alumni of the WWHS band program who assisted in teaching music and marching basics, Tylor Wood who is the youngest staff member and another WWHS alumni, who helped both the color guard section and the winds section this year, Aaron Stone who has been writing visual formations since 2018 and the visual caption head at Timber Creek High School, Kaitlin Hynoski who is an art teacher at WWHS and designed the gradient for the uniform and also the "This is for the Artist" show shirt, and Christopher Creswell and Justin Robards, who arranged the musical book this year.
Also celebrating was the Springstead High School Eagles Marching Band, which placed fifth place in the finals of the 2A Division of The Florida Marching Band Championships.
"Our theme this year was 'What Happens in Vegas…'," said Richard Dasher, band director of the 58-member Springstead High School Eagles Marching Band. In accordance with this theme, students performed songs such as "Fever, Luck Be a Lady" and "April in Paris", dressed as they were as casino dealers, showgirls and Vegas entertainers. Their vibrant centerpiece took the form of a custom made slot machine. "We had flashing lights and money coming out," Dasher explained.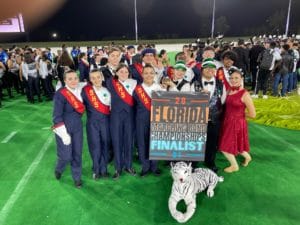 Also on the money, Dasher said, are his top-performing students. "The kids did so well, really good," he said. Brooke Starz, an Eagle drum major, takes pride in the band's victory. "I have been involved with the band all 4 years and previously marched tenor sax. Making finals is amazing, but making finals when you're leading the band is a whole different experience. Hearing our named called as one of the top bands in the state filled me with pride for all of the hard work that this band put in to make this year as great as it was," shared Starz.