Students respond
At the March 8th School Board meeting, Student Representative Brooke Culp gave some updates on Hernando County schools.
D.S. Parrott Middle School is finalizing the establishment of its first-ever BETA club. Chocachatti elementary school is finishing out the year strong with their theater performances. On March 8th, the Solar System saga was brought to the stage. "Broadway Babies" is also coming up on April 20th and the musical theater program is putting on "Shrek" on April 27th.
One question that student delegates in Hernando County answered was, "What is one thing that you want people to know that goes on in your school?" A student from Explorer K-8 stated, "Our student council is hard at work every day doing everything we can to improve our school and the student experience it provides."
A student from Spring Hill Elementary stated, "Our school is beaming with school spirit. This week we are celebrating Dr. Seuss week with different themed dress-up days each day of the week."
A student from Fox Chapel Middle School stated, "We love to celebrate student achievements. Next week we will be throwing a celebration for students who improved and excelled in their NWEA testing."
A student at Nature Coast Technical High School stated, "If there's one thing we have at NCT it's school spirit. We are always looking for ways to dress up, come together, and celebrate. Leading up to prom this Friday, we are celebrating spring spirit week with different dress-up days and themes every day."
Update on the Half-Cent Sales Tax Accountability Committee
The Half-Cent Sales Tax Accountability Committee meets before the school board quarterly. During the March 8th School Board Meeting they gave an update. For this fiscal year-to-date, which would be from July through December of 2021, they collected $6.6 million in sales tax revenue. Also for this fiscal year, they have collected $2,400 in interest income. They have allocated, through the beginning of the collection of the sales tax, $59 million for projects. Of that, they have spent $52 million and the other $7 million is allocated for projects that are currently in progress. For the calendar year of 2021, they have averaged $1.26 million a month in collections. Committee representatives were happy to relay that last quarter, once again, there were no questionable expenditures.
School Buses receiving Wifi
Earlier this month, the school district began the installation of wifi routers on Hernando County school buses. The project includes placing wifi vehicle routers on 142 buses.
According to Karen Jordan, school district Public Information Officer, "The intent of the wifi project is to assist Hernando's disadvantaged students, including both financially disadvantaged as well as those who live in areas where wifi is not available." The idea is for students to use the mobile wifi for classwork during their bus commute to and from school with the same security measures, approved channels, and limited internet access that is currently available in schools.
Work is being done by Premier Wireless, and the project will cost just under $200,000 and is funded through ESSER (Elementary and Secondary School Emergency Relief) grant funds. These federal ESSER funds were provided to the state and distributed to school districts to go toward the safe operation of schools, and include expanding opportunities for students who need it most, particularly those most impacted by the COVID-19 pandemic.
Principal named for Winding Waters K 8
Veteran educator and school administrator Cari O'Rourke was chosen to be the next principal for Winding Waters K 8 (WWK8). The current principal, Janet Cerro, announced her retirement earlier this year. O'Rourke begins her tenure in June and will be the third principal to lead the district's second-largest K8 school since it opened in 2011.
O'Rourke is currently an assistant principal at Challenger K8 and has been with Hernando Schools since 1995. She started in Hernando Schools as a third-grade teacher at Westside Elementary and also taught at Chocachatti Elementary. In 2013, she became assistant principal at Chocachatti.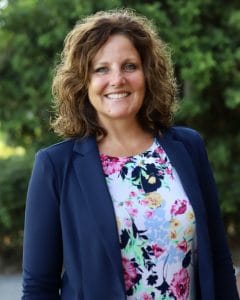 According to a district announcement, "Over her nine years in school leadership, O'Rourke has earned respect among her colleagues for creating and leading school teams toward increased student learning gains with focused use of achievement data. In addition to supervising and supporting faculty and students, she has collaborated on developing and monitoring school improvement goals, accountability systems, and instructional practices. She was also named the school district's first Assistant Principal of the Year for 2019-2020."
"Winding Waters is a high performing school. The staff are dedicated, the parents are involved and the students are proud of their amazing school. I'm so excited and honored to be part of the Yellow Jacket family," O'Rourke said.
"It is obvious to anyone who meets Cari that she leads with enthusiasm and heart. Her career highlights point to her expertise in effective instructional practices, her ability to bring stakeholders into the process and to create a school where students and staff thrive," Superintendent John Stratton said. "With her signature blend of energy and enthusiasm, Cari will be a great principal for Winding Waters."