Twenty illegal immigrants were taken into the custody of U.S. Customs and Border Patrol personnel after the driver accused of smuggling them into the state was arrested by the Florida Highway Patrol (FHP).
According to the FHP report, at 5:30 p.m. on April 14 Troopers pulled over a Ford E350 van at mile marker 303 on I-75 in Brooksville on grounds that the vehicle had illegal dark, non-transparent tint on its windows. The van also had a cracked windshield and the rear of the vehicle was sagging possibly due to overloading.
The van's driver Jean Yanes-Blanco, 25 produced a Honduran passport but had no valid U.S. driver's license. According to the report, Yanes-Blanco had a black bag slung across his chest later found to contain more than $2,200 in cash. He told Troopers that he and his passengers had come from Houston, Texas, and were en route to the Kissimmee /Orlando area.
Further investigation revealed that 20 adults were contained inside the van. None was able to produce a valid driver's license from any U.S. state or any luggage or money of their own. All were determined to be from Mexico or other Central American countries. A U.S. Border Patrol Officer at the scene confirmed that they all were in the U.S. illegally.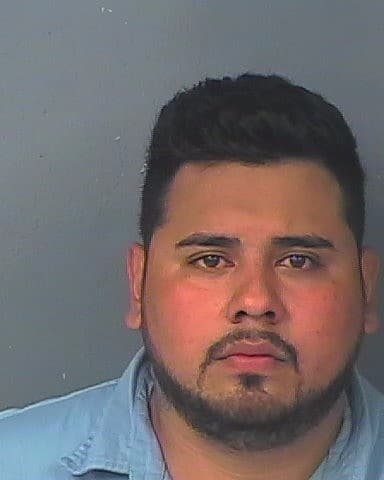 FHP Troopers arrested Yanes-Blanco and charged him with one count of operating a motor vehicle without a valid driver's license and 20 counts of smuggling an individual into the state.
He was booked into the Hernando County Detention Center where he is being held on a $201,000 bond.
His passengers were all put into the custody of the U.S. Border Patrol and transported to the Border Patrol station in Tampa for processing.