Trash is on the table again. Well, not literally.
With the contract between Hernando County and Republic Services expiring on December 31, 2025, the BOCC discussed options on how to proceed with securing trash collection services. Hernando County Utilities Director Gordon Onderdonk presented information on the matter. This presentation during the April 26, 2022 Board of County Commissioners meeting was for informational purposes and discussion, and no decisions were made on this day.
This discussion is the first on the topic. Commissioner Wayne Dukes questioned during the meeting that since the initial problems have been resolved by Republic, why the county would "start all over again." "Unless there's something really jumping up and biting us from Republic, why would we try to start all over again with someone we don't know?"
Chairman Steve Champion responded, "No matter what, we get some kind of bid. I think the public's going to want that. When those bids come in, and they're astronomical, we can say (the lowest bid) is the best deal… I'm confident Republic will come in the lowest anyway."
The Request for Proposal (RFP) will be a sealed-bid process where none of the bidding companies will know of competing proposals.
County Administrator Jeff Rogers summarized that decisions will need to be made about mandatory areas and service level agreements prior to renegotiating Republic's contract, or publishing requests for proposals.
Onderdonk reported that the cost of trash collection is increasing nationwide. Currently, residents in the Universal or Mandatory area pay $14.23 monthly, and Subscription or non-mandatory areas pay $14.47 monthly. These rates are expected to increase based on the service provider and other contractual specifications. Hernando County residents pay lower rates than neighboring counties. Citrus county residents currently pay $39.91. Pasco's rate is $16.81.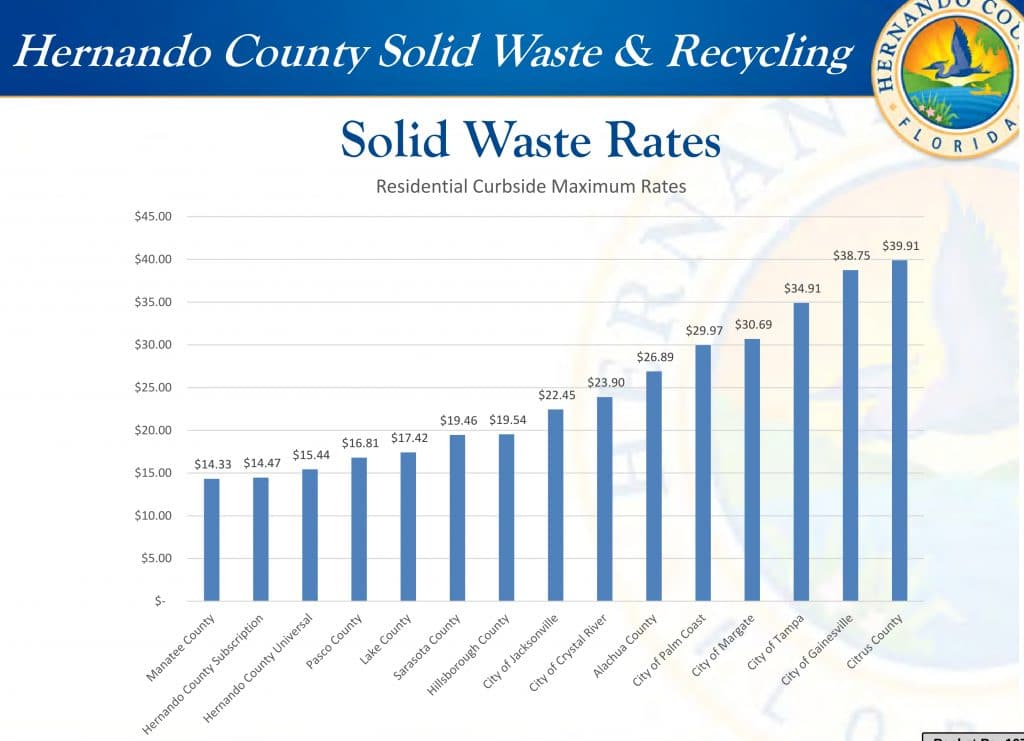 The mandatory area is currently bordered by SR 50 to the north, County Line Road to the south, Commercial Way / Route 19 to the west, and portions of Anderson Snow Road to the east. The board is discussing the expansion of this area to potentially include Royal Highlands, Hernando Beach, and areas east of Brooksville city limits. Commissioners also discussed the inclusion of requiring mandatory service for any property zoned residential, or having a small lot size.
City of Brooksville residents pay $19.53 per month. Champion added later in the meeting that Citrus County's steep price is due to multiple providers servicing the county.
Hernando County residents currently have trash collected twice per week, and their wheeled trash cart and two recycle bins are provided by Republic. Recycling is collected once per week. Yard waste is collected on one day every other week. Additionally, county residents are allowed four bulk items per year, such as furniture. Onderdonk posed the question if this service level should be increased or decreased.
The yard waste collection schedule has created confusion as to which weeks were collection weeks. This has resulted in increased "missed pickup" reports, and additionally have been reported erroneously as reports of missed trash pickup. Onderdonk reported that the confusion has created customer dissatisfaction and resulted in yard waste left at curbs for extended amounts of time.
If curbside yard waste service is eliminated, the increase in usage of convenience centers will result in increased costs for transportation to the landfill, and add $250,000 per year for disposal, about a 50% increase. At this time, the West Hernando Convenience Center is overcapacity.
The blue carts used in the mandatory areas currently are owned by the county, so if another hauling company were to be contracted, it is expected that residents would use the same containers. "So that won't be the debacle it was last time," Commissioner John Allocco commented, referring to the initial delivery problems of the county-owned containers in 2019.
However, in the subscription areas, the carts are owned by Republic Services.
Republic currently has four franchise collection districts within the county. More homes per district results in a lower cost of service.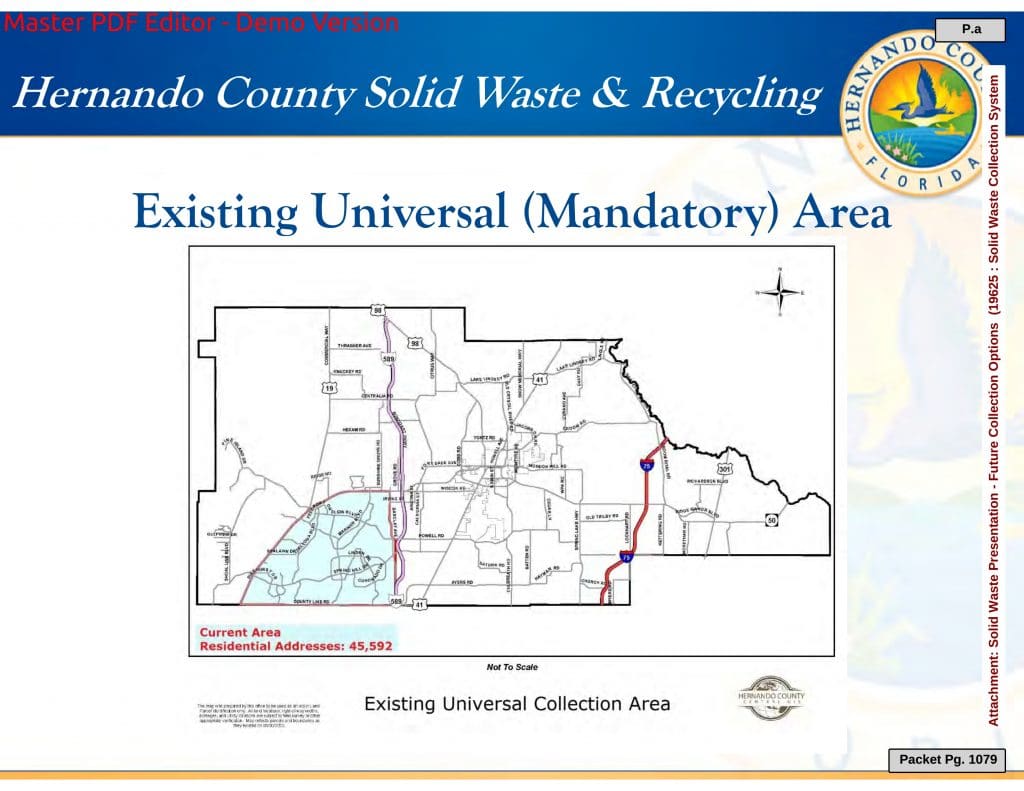 Allocco considered the number of new housing developments coming to the county, questioning how those homes would be served. "It's concerning when we have large developments coming in, when they're in a subscription district, that poses a significant problem when you're dealing with the density." He went on to say that it will be important that those types of developments should be considered by lot size, rather than the density of development.
Champion said, "The worst neighborhoods in the county for code (violations) — all of them are subscription. All of them have trash in the yard … these lots are 5000 square feet, they're tiny, and they don't have mandatory trash (collection)." Champion added that a residential neighborhood with lot sizes under 1 acre should have mandatory trash collection.
Also to be considered is the number of collection districts in the county. Currently, the entire county is one district covered by Republic. The benefit to having one district is a lower cost, however, only one hauler covers the county. More districts would allow for more haulers, but at an additional cost.