The vision for a Cowboy Church came to David Hope while he was cowboying some time ago. "I just began to believe while I was working cattle on 4G ranch that with my call and my gifts that I could begin a cowboy church in my hometown. And initially, I just began to know that the cowboy church is agriculture," Hope said.
Eventually he would come to formalize the connection between the church and agriculture within the young church's mission and values statement.
"While we exist to promote the gospel, we also exist to promote agricultural education in our community to all people groups," Hope stated.
"So it's written down that this congregation, this church exist for a dual purpose… I've combined the two… promoting agriculture is a spiritual responsibility as well."
The seed of Stable Faith Cowboy Church was planted four years before the first church service took place in 2013. It was just Hope and his wife Sandee in 2009 when Hope says, "all this was sort of incubating, you know, inside my mind and heart. I was bouncing ideas off of other people during that period of time."
The very first Sunday church service was held on February 18, 2013 at the fairgrounds. There were four people. "And the next Sunday there were 24. So you know, that's four times 6. And it has never cease to grow, you know, from the beginning."
"Yesterday, it was 263. So, that's almost times 10, right?"
Hope notes that without his wife Sandee, neither he nor Stable Faith would be where they are today. He acknowledges the pressure and challenges facing the family members of a minister. "She's an unsung hero," he said.
While the number of parishoners grew, the church repeatedly outgrew their accommodations. Their first gathering place was the cattlemen's room at the fairgrounds, then the Jackson Building at the fairgrounds, the McKethan Auditorium followed by Saint Louis Missionary Baptist Church, the Mining Enrichment Center and Jerome Brown Center. There is a story Hope tells for each location, as to him they are not just accommodations but deep connections to the people and community he serves.
"The first one was the old cattlemen's room, I always called it. The cattlemen's room was where they served steaks during the fair when I was a boy. So it was nostalgic for me in a way to be in that room. It was, you know, white knotty pine walls and a big grill in the back."
"The Jackson building at the fairgrounds- named after Henry Jackson, who I was honored to officiate his funeral. So, I always looked at that sign when I went in and remembered him with fondness- meeting in this room named after a guy that I always looked up to as a boy. They were important to me: Henry and Virginia Jackson. I always served as a minister of their family, for decades, way before we ever began Stable Faith."
Hope recalled the story of how they moved from McKethan auditorium to Saint Louis Missionary Baptist Church.
"I'll never forget one Sunday Jimmy Stewart from the tree service came in 2014.
I just officiated a funeral service at graveside at Brooksville Cemetery. That was Richard Cockrell's service and Robin, his wife wanted me to wear a camouflage tie. So, it was probably the last tie I ever wanted to put on, but I did, and the pallbearers all had on camouflage shirts. Not t-shirts, but button-up shirts with camouflage and I said something nice about Richard and one of the pallbearers said: "Hell yeah."
But loud enough that everybody heard it and there was like this silence. Almost like, "What's the preacher you're going to do?" I looked over at him and winked and said, "Hell yeah, is just a redneck Amen."
And so everybody cracked up, including Jimmy Stewart and he hit me up right after that finished and said, where do you preach at?
I said, "I started the cowboy church."
"Where do you meet at?"
I said, "At the fairgrounds."
"What time?"
I said, "10:30."
He says "I'll be there" and turned and walked off.
And he was. He was there and then he's adopted this as his home church and he really could see that we're struggling with all this space.
He negotiated a lease with the Saint Louis Missionary Baptist Church across the street from where we are now."
The little church itself was down to four people and they were having a hard time paying the bills, said Hope. "And the pastor was Willie Hopkins, who I fell in love with over time, and he's passed now, but there was a lot of history there," he recalled.
Stable Faith provided a $500 a month income for them and then put in about $15,000 worth of improvements to the property and the buildings and a new water system. Hope said that they improved the facility to make it comfortable for their congregation but also to leave it better than when they got it.
Suddenly Stable Faith's numbers shot up. "We broke the hundred mark and people were packing into this little bitty thing. I mean, you know, like 90 people fit inside there on Sunday, without anybody outside. It was apparent that was going to be too small because people were on the steps and down into the grass with fold up chairs and the front doors left open."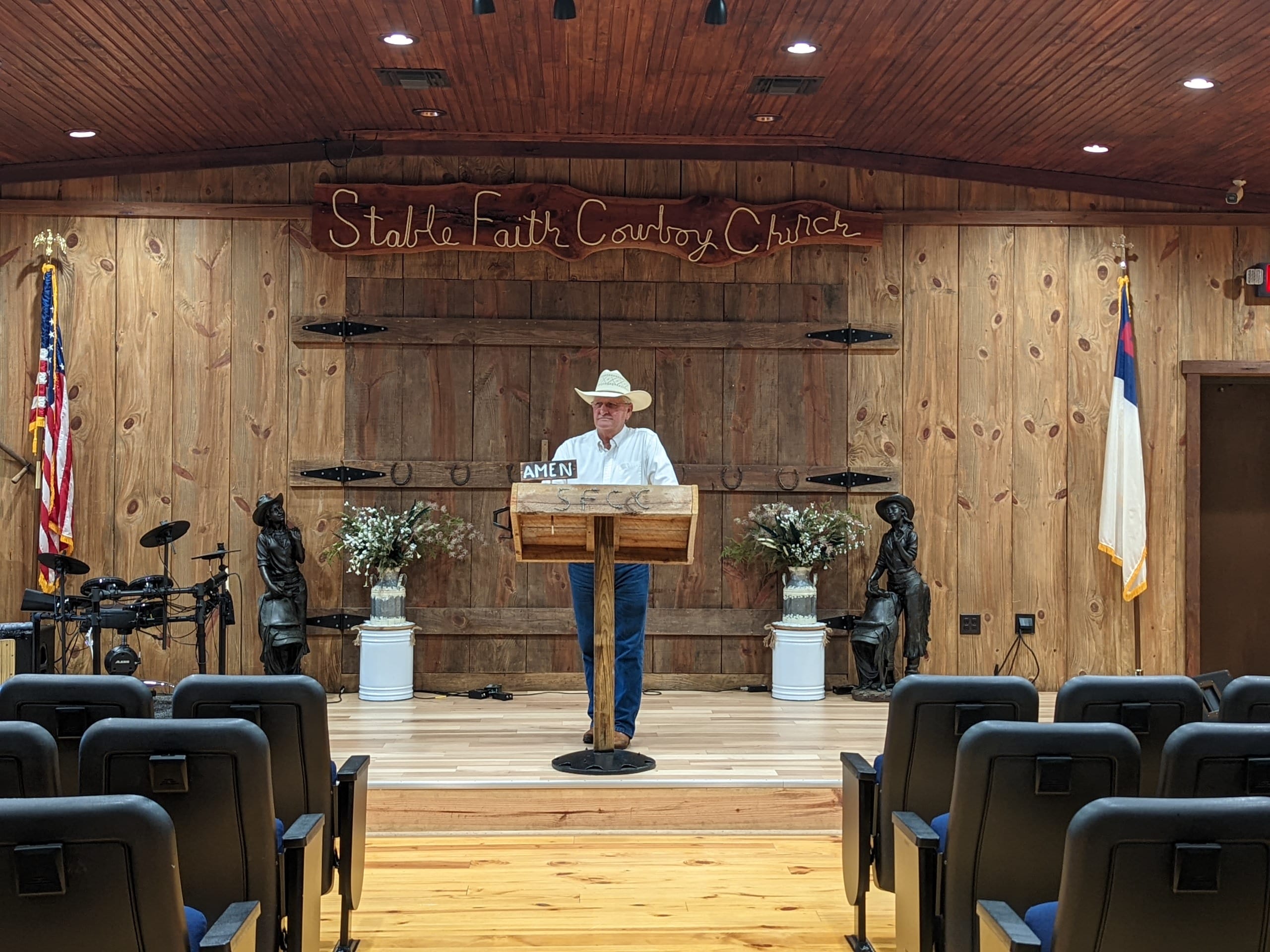 Fortunately, an old truck repair business with a house across the street from Saint Louis Missionary Baptist Church came available. They purchased the house and property, held a lot of fundraisers, renovated the house and built a barn style church.
Around this time Hope met Valerie Ansell, a woman he describes as "so well known in the agriculture community around the state of Florida that she could break down on the highway and there would be somebody she knows within 20 miles, no matter where she broke down in Florida." Hope said that he actually heard that description from someone else, but it really is true.
Ansell is the Florida Farm Bureau Women Committee District 5 representative. She grew up in Pasco, where she was a 4-H member and eventually served as a 4-H Club Leader. Hope didn't have anyone else on staff at the time and the Sunday morning service was doing rather well. During the week, he was on the road working for Hydra Engineering and Construction and he was only home on the weekends. There was some room in the budget so he approached the Board of Directors about hiring someone to help.
When most churches get to a certain point, they hire an associate pastor, a youth pastor or a worship leader in order to provide more services to a growing congregation. Hope would take a slightly different path.
Hope explained, "I didn't want to hire somebody to do what I can do. I needed to hire somebody that could do what I can't do. And I knew that person would be connected to agriculture."
Ansell got the job and she has created some very successful programs for the church such as the Annual Agriculture Tour and an Ag Literacy program.
Hope says that other churches have food drives to serve the homeless and hungry populations, and they do not wish to replicate that service. Instead he says their call to service is "promoting agriculture throughout the world and taking practical steps to always eliminate the needs and the wants and the pains and the hurts of families who raise and produce our food."
"They're real families and they really need help." Ansell has facilitated the incorporation of agriculture into their Wednesday night prayer meetings where they learn about a specific farm in the state of Florida as well as what their challenges are through a short video.
"And as soon as that video ends, I step up and lead the congregation in a prayer, using their specific names and the specific needs they mentioned as part of 'Our Daily Bread,' as part of our prayer. That's just been so enriching to all of us that we're able to pray specifically for our farmers and our ranchers in the state of Florida and she brought that to our attention."
After Hurricane Ian, those prayers are in high demand as many farms have been destroyed. In addition to prayer, Stable Faith collected and delivered supplies for farmers and ranchers in Hardee County.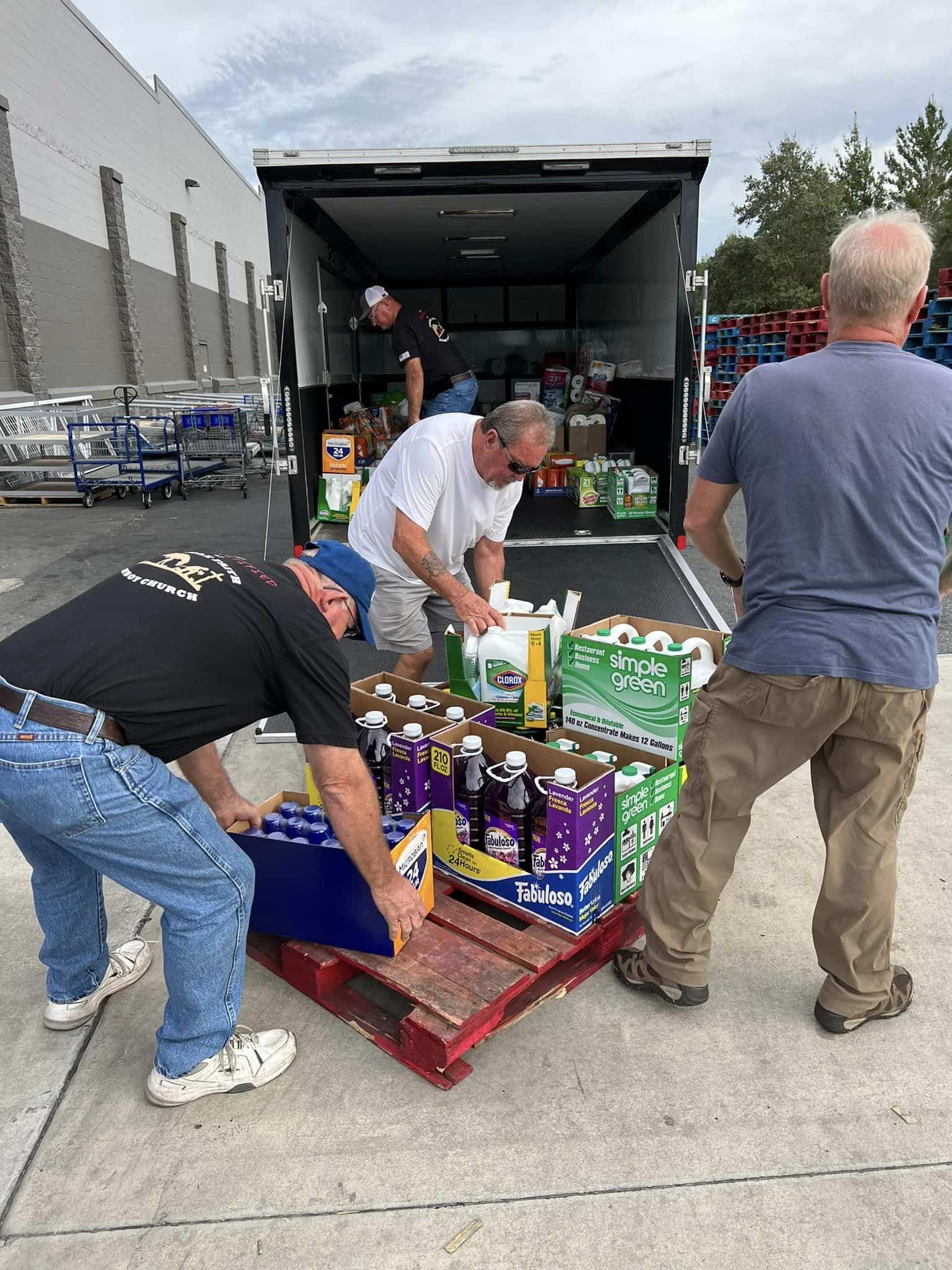 The list goes on. When a young church member graduates high school, he or she will receive a Stable Faith belt buckle. The church is a meeting place for Hernando County Cattlewomen and a new 4H Club called Ag Life. They sponsor and/or host community events like the Annual Squirrel hunt.
One of the first projects Ansell started was fundraising for contributions to the sale of 4-H and FFA youth livestock at the county's annual Youth Livestock Show and Sale. Money raised by the church went towards add-ons to the sale price of the market animals. The first year they had enough to add-on five dollars to the sale price of each animal.
"Step forward a couple of years and last year, we were able to donate just over $25 per animal and all of that just comes from our church family and their hearts and wanting to also get behind and promote agriculture and helping," said Ansell.
They recently finished a fundraiser for the 2023 Youth Livestock Show, raffling a cowhide rug that was displayed in "the barn," what they call the church building. "We refer to the building as a barn. That's what it really is. That has a spiritual significance too. But you know, it's that informal. It really is because I don't see sacred places as things that were made with human hands. Only God can make a sacred place, and that's what our hearts are. He's living there and that's a holy place," Hope expressed.
Stable Faith has a 'come as you are' mentality, explained Ansell. People wear cowboy hats, baseball caps, dresses, jeans. "And there's no judging," she said.
"I always say blue jeans and a little bling bling," quipped Hope. Yet for Hope, cowboy hats are not about fashion.
"I've had people challenge me on Facebook about us wearing hats in church. And so I've had to explain to them that the church is your heart. That's the truth at least from a New Testament perspective."
Head coverings in places of worship are rooted in the Old Testament. "In the Old Testament, if you were a priest, there was a prescribed lid. It was prescribed the way it was wrapped- the linen and then the jewels that went on it. If you read that from Leviticus,it's amazing. Then you had to wear it or you could possibly die," explained Hope.
He continued, "But here, this building was dedicated to this work, the Cowboy Church. And we literally see it as a barn. If the spiritual thing means anything, we learn that head covering became symbolic of the wearer's point of view that their identity was secondary to the Lord's presence."
"You know that we're in the Lord's presence in that temple and being in that temple meant we we're not important, but He is. So I wear a hat here and I can always say, it's not about me. My identity is not important but His is."
Stable Faith Cowboy Church recently added a third service option on Wednesday evenings. Sunday Service Times are 8:30 am and 10:30 am.
For the children, Stable Faith offers Wrangler Church and Buckaroos. Wrangler church is for ages 4 to 11, while the Buckaroos are two to three year olds. The kids meet in the classroom space next door to the Barn. If you're thinking about checking out Stable Faith, "Just come on Sunday," said Ansell. They are located at 12077 N Broad St, Brooksville, FL 34601. Find them online at https://stablefaithcowboychurch.com/.