Homelessness and panhandling are gaining a foothold in Hernando County. Motorists commuting on Cortez Boulevard, U.S. 19, Mariner Boulevard, or Spring Hill Drive on any given day might come into contact with panhandlers using insufferable props, such as half-starved dogs, baby carriages (hopefully) carrying dolls, and various signs designed to extract hard cash from empathetic targets.
Homeless people do not always clean up their encampments when they decide to move on, and this is as true in Hernando County as it is in San Francisco, just on a far smaller scale. For example, Mcdonald's restaurant patron Hector Rivard said it "looks like a bomb went off" on an empty lot behind the fast-food restaurant on 10319 County Line Road, where a homeless man lived among a stand of trees for many months. The encampment adjacent to a gated community, multiple fast-food restaurants, and close to the busy Mariner Blvd/County Line Road intersection is littered with fast-food packaging, strewn clothing, shoes, and miscellaneous trash he left behind.
"I come here (to McDonald's) for my coffee on the way to work probably three times a week. He'd sit on that transformer box over there and wait for people to give him a bag of food or some money," said the golden arches patron. "Once in a while, there was a woman with him. Some mornings they'd hang sheets in the branches around that mess – for privacy, I guess," he added. Rivard described the man as being "30-something."
Homelessness and panhandling, societal mainstays that have long plagued cities in underdeveloped countries, have become the norm in some large American cities like San Francisco, New York City, and Los Angeles. According to a recent report by the U.S. Council on Homelessness, on a single night in 2021, roughly 580,000 people were experiencing homelessness in the United States. Six in ten (61 percent) were staying in sheltered locations—emergency shelters or transitional housing programs—and nearly four in ten (39 percent) were in unsheltered locations such as on the street, in abandoned buildings, or in other places not suitable for human habitation.
However, with the country's ongoing border crisis raging, no one in our government seems to know how many illegal and undocumented migrants live here or how many of them are components of various homeless encampments in large U.S. cities. The government has reported there are approximately 11.4 million undocumented migrants here; however, that number has hardly changed in 15 years. During that same time frame, the government has recorded millions of undocumented people from all over the world crossing our borders and millions more crashing the border via human smuggling or by simply wading across the Rio Grande. This begs the following question: How would the same government that doesn't know how many millions of undocumented migrants are in the country know there are about 580,000 homeless people on any given night?
Americans are decidedly generous people. We have private and government social programs that offer money, food stamps (SNAP), subsidized housing, clothing, free cell phones, and free health care. Beyond that, taxpayers are funding enough sundried social programs to support a small nation.
Meanwhile, what Rivard called "the mess" is still there. Apparently, "the homeless man has moved on," he said, pointing at the clutter of clothing scattered around among the trees. "I haven't seen anybody over there in a month."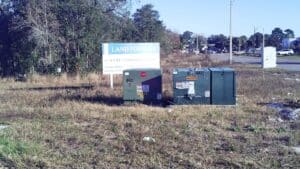 Larry Clifton is a freelance writer and author of the book, Martin's Secret, which is available on Amazon in print and digital versions. A lifelong Florida resident who currently resides in Spring Hill, Clifton is NAUI certified in scuba diving and is an FAA-certified drone operator.