Article and Photography by Alice Mary Herden
Since 2004 the Central Football program has struggled to produce wins, but despite the low numbers on the winning side, the Bears have not struggled to keep a positive mentality.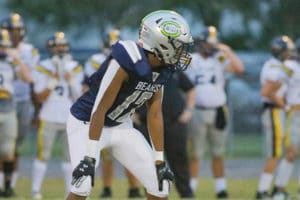 Central has beaten Lecanto more than any other program over the last 16 years. The Bears have competed against Lecanto fifteen times since 2007 and defeated them seven times. In 2017, the Bears beat Lecanto in a blowout 50-0. However, Coach Jim Pusateri says the past really isn't important. It's keeping the players motivated and continuing to move forward. "If you don't let the past negative bring you down, you'll be OK," said Pusateri.
For Coach Pusateri, with 30 years of coaching under his belt, rebuilding this team begins with attitude, an honest game-changer, if you will.  "I think that culture shift has begun. Even some of the players and seniors that have had a few different coaches in the last few years are very leery of everything that you are saying," Pusateri said. "I noticed that they are starting to believe that they can compete with other teams and they can get better."
The Bears are competing against some skilled teams during their 2021 season, but really, according to Coach Pusateri, that's quite alright. "It fits into getting better. We have played some tough teams, but we are not going to duck from tougher teams. They (the players) are realizing that we can go out on the field and play with these guys just like anybody else. We may not be at the level of execution that we need to be, but we are getting there. The scores don't concern me. What concerns me is their effort. If I can see they are getting better, their future is going to be bright," he said.
The game against Land O' Lakes on Friday night, September 17, was indeed another tough defeat for Central. "Everything that could go wrong went wrong in that (first) quarter, but they kept playing, and they finished the job. They didn't let up any points in the second half, and that's a win for the day," Pusateri said.
While it's common for high school teams to have a change in their coaching staff, sometimes every two to four years, Coach Pusateri isn't going anywhere anytime soon. "In my mind, this is my last job. I plan on being here for fifteen years," Pusateri said. On Sept. 24, Central travels to Anclote High School to take on the Sharks on their home field. The game starts at 7:30 pm.