Article and Photography by ALICE MARY HERDEN
On September 18, the Weeki Wachee boys and girls swim team competed against Springstead at Hernando YMCA. The swim teams gathered together, cheering loud to show their team spirit. Parents, family, and friends sat in their travel chairs that surrounded the pool's outer edge to cheer and show support for their kids. 
"It was a good meet on both sides," said Kara Mance, head coach for the Eagles swim team. "Weeki Wachee had kids cheering the whole time. It was great, and it was a good competition for our kids."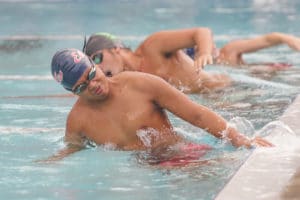 Springstead has been excelling throughout the season. The girls are leading the way, winning all five of their meets, and the boys have won two meets but unfortunately lost against Crystal River and Citrus High School.  
Mance is going into her second year as head coach as she guides her swimmers to reach their ultimate goal.
"Our big goal is to get as many kids as we can to regionals, and hopefully, that should happen this year," Mance said. "We have a great group of kids. Every day they come to practice, they work hard and it is starting to show."
Swim meet scores 
Boys
Springstead 91 and Weeki Wachee 54
Girls
Springstead 115 and Weeki Wachee 54
Springstead boys fell to Citrus High School 85-58 on Sept. 30, while the Lady Eagles came away with a win over Citrus 128-37.  The ladies also beat Lecanto 90-89 on Sept. 24.
Springstead's upcoming meet is October 9th against Nature Coast Tech at Hernando YMCA, and Meets begin at 6 pm.