Hastings resident Nancy J. Fitzgerald, 82, passed away Sunday, November 7, 2021, at Homestead Assisted Living, Hastings, NE.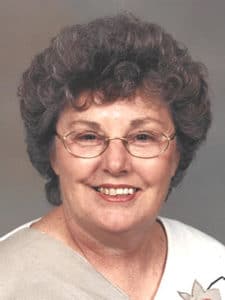 Rosary will be 7 p.m. Friday, November 12, at Butler Volland Chapel. Mass of Christian Burial will be 10 a.m. Saturday, November 13, at St. Cecilia Catholic Church in Hastings with Father Christopher Kubat officiating. Burial will be at Parkview Cemetery in Hastings. Visitation will be 3-7 p.m. Friday with family present 5-7 p.m. at the funeral home and one hour prior to the service at the church. Memorials may be given to the family to establish a memorial at the Immaculate Mary Queen of the Divine Will – Lay Carmelite Community in Spring Hill, FL. Private condolences may be sent to the family at www.lbvfh.com. Livingston Butler Volland Funeral Home & Cremation Center is serving the family.
Nancy was born July 29, 1939, in Glendale, OH to Wilbur and Harriet (Whittington) Kramer. The family moved to Athens, GA, and then to Clinton, IA where Nancy graduated from St. Mary's Catholic High School in 1957. In August 1959, she married her high school sweetheart Timothy Fitzgerald. Together they raised five children.
In 1973, Nancy graduated from Clinton Academy of Beauty, afterward opening her first salon with a friend in Clinton. Her family moved to Trumbull, NE in 1976, where Nancy opened a salon in her home and then a small store and hair salon on Main Street in Trumbull. Nancy was passionate about singing and during this time was active with St. Cecilia Catholic Church Choir in Hastings and the Sweet Adeline International singers.
Nancy and Tim moved to Hastings in 1995, followed by retirement to Alma, NE in 1997. Tim passed away in 2007, after which Nancy moved to Brooksville, FL to care for her mother. While in Florida Nancy discovered a Lay Carmelite community at her church, St. Frances Cabrini Parish in Spring Hill, FL. She studied for four years to enter the group. Becoming a Lay Carmelite and entering service to her Lord was a great joy as her faith had given her many moments of peace throughout her life. Nancy returned to Hastings in 2018, allowing her to be closer to her children and grandchildren.
Nancy was preceded in death by her husband, Timothy; son, Michael; parents; brother, David; Tim's parents; sister-in-law, Patricia Ronsman; and niece, Deb Ronsman.
SURVIVORS:
Daughters: Kimberly (Phillip) Grothen – Juniata, NE
Kristine (Pike) Osborne – Hastings, NE
Sons: Todd (Christy) Fitzgerald – Kearney, NE
Daniel (Jackie) Fitzgerald – Kenesaw, NE
Grandchildren: Ron DeVries – Kittery, ME
Will Locke – Kittery, ME
Jessica (Christian) Peterson – Beatrice, NE
Jamie (Curtis) Aue – Auburn, NE
Declan Osbone – Hastings, NE
Payton (Reece) Slansky – Hastings, NE
Pike Osborne Jr. – Hastings, NE
Courtney Abbott – Hastings, NE
Kyley Osbone – Columbus, NE
Kenadi Fitzgerald – Las Vegas, NV
Shane Hollars – Las Vegas, NV
Mikala Fitzgerald – Dallas, TX
Kelly Allison – Lincoln, NE
Hayley Fitzgerald – Kenesaw, NE
Great-Grandchildren: Emma Peterson
Cate Peterson
Creighton Aue
Carter Aue
Kingston Osborne
Bella Osborne
Jaxson Osborne
Keelah Osborne
Sister: Darlene (Jim) Platter – Lakeland, FL
Brother-in-law: Jerry Ronsman – Round Lake, IL
Nieces & Nephews: Cindy Ronsman
Laura Ronsman
Joe (Peggy) Ronsman
Jeff Ronsman
Bill (Tracy) Ronsman
Michelle (Mark) Sowell
Jimmy (April) Platter