Hernando County is a great place to fish, with a mixture of fresh brackish water to the wide-open Gulf. Anglers can enjoy casting off at Jenkins Fishing Pier, Linda Pedersen Park and Bayport Park. These areas are also fantastic spots for nature photographers to capture those scenic sunsets and Great Egrets flying over the marshland.
There is a favorite spot that I like to go to photograph. It's a quiet little place with a variety of wading birds; pleasant for early morning walkers and bicyclists. This place is on Bayou Drive in Weeki Wachee, FL.
You can take some great photographs of well-known residents like the Little Blue Heron, Anhinga, Double Crested Cormorant, Ospreys and one popular Great Blue Heron whom local fishermen have named Charlie. There is also a beautiful marsh inlet with a cluster of limestone rocks where many of these birds like to rest.
One day while reviewing my photos, I noticed something out of the ordinary. I zoomed in closer and noticed that there was fishing line wrapped around this Great Blue Heron's lower bill and reviewing more photos I could see the fishing line was not only wrapped around its lower bill but completely around its tongue.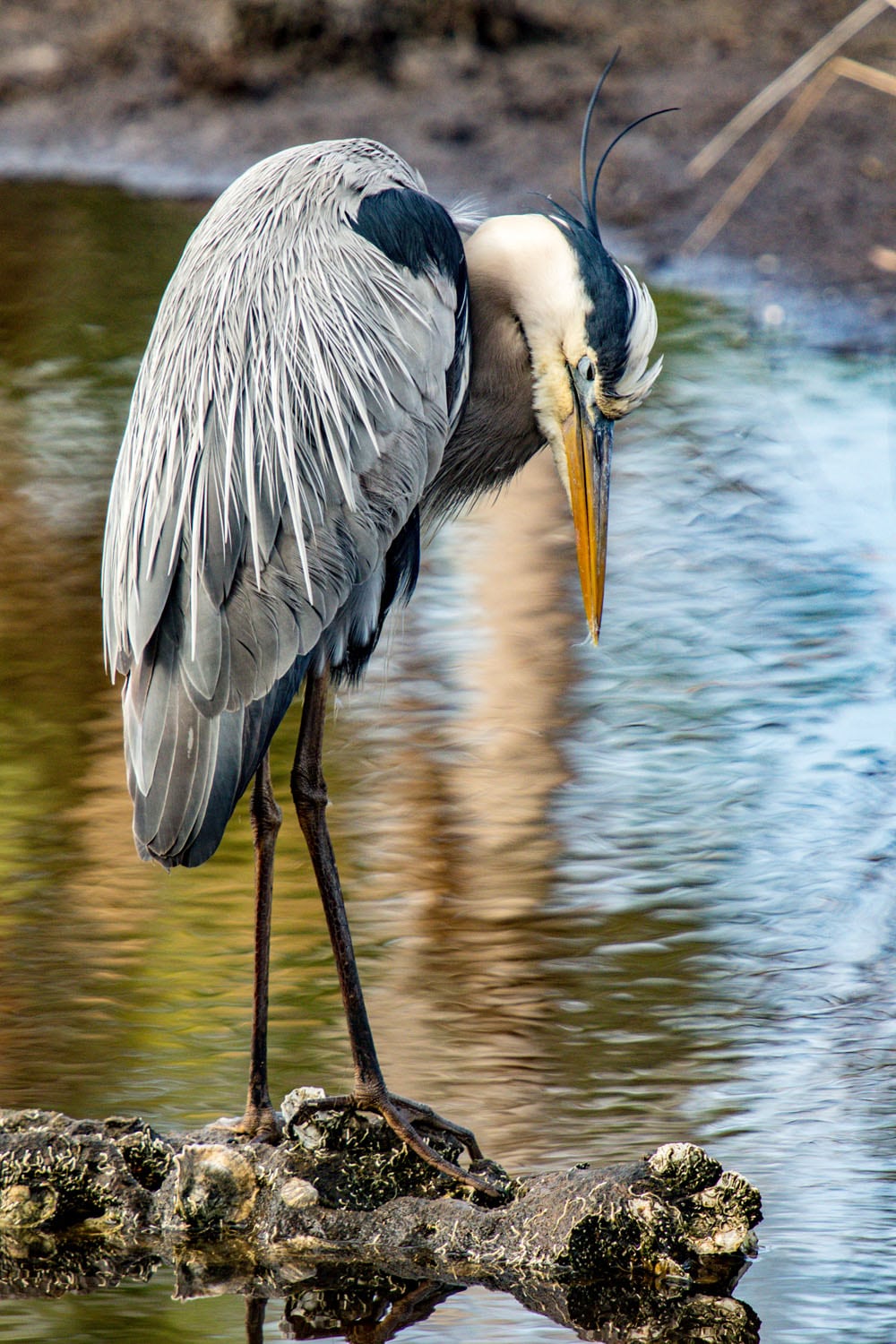 Extremely concerned, I contacted all the appropriate people; however through the entire month that I was following the Great Blue Heron, I named Bay, there was no resolution towards removing the fishing line. After days without seeing this beautiful heron, in my heart I knew the heron did not survive.
A massive amount of fishing line was entangled on the powerlines near the bridge on Bayou Drive as well as above the marsh inlet. All that fishing line must have been there for years and years and some of the line had hooks and bait still attached. After years of being exposed to the Florida weather many of those lines began to weaken and decline. This made it even more life-threatening for birds flying below the powerline where they could easily become entangled. How would anyone be able to save them? So now the concern was how to remove all this line and who was going to do it?
With a few phone calls, the answer was the electric company. Powerlines are the electric company's property. I contacted Withlacoochee River Electric and a work order was placed. On March 23, 2018, the Withlacoochee River Electric Cooperative came out and removed all the fishing line from the powerline that was near the bridge; as for the fishing line above the inlet, it is still there.
I soon became aware of how much discarded fishing line that was just in this little area. Bayou Drive isn't even a half of a mile, I can't imagine how much is discarded in the mangroves, and we are not just talking fishing line, we are also talking about abandoned crabbing line and bait.
Hernando County residents Linda Pederson, Rose Kundrith and John Dougherty formed Keep Hernando County Beautiful in 1994, unfortunately it only lasted for three years, but because of organizations like these throughout the state, they began the movement for public awareness.
"We work with those programs (like Keep your County/City Beautiful) that started a monofilament recycling type effort, and recently within the last couple of years the program was full on adopted by FWC (Florida Fish and Wildlife Conservation Committee)," said Thomas Vatter, Coordinator for the Monofilament Recovery and Recycling Program.
The Monofilament Recovery and Recycling Program (MRRP) is a formative statewide effort to educate the public on the consequences of monofilament line left in the environment. The program encourages recycling by providing a network of recycling bins and drop-off locations, as well as helps promote volunteer cleanup events.
On July 16, I had left home earlier for an assignment just to visit my favorite little spot on Bayou Drive again and to my surprise I noticed that there were monofilament recycling bins that had been placed by the bridge and one by the marsh inlet.
This was exciting…overwhelming to be exact and hopefully those that fish or crab in this area know two things. First, people are noticing the careless act of leaving fishing line and second, those who use the bins to recycle fishing line know the importance of protecting and saving wildlife.
"All Floridians are available to request material from us," Vatter said. "If I get a request in (for bins), I make sure that there is someone that can monitor it and has a viable location."
The Sea Grant Program in partnership with Fish and Wildlife Marine Debris Program have installed monofilament recycling tubes around Hernando County, areas like Bayport, Jenkins Fishing Pier and Linda Pedersen Park.
Brittany Hall-Scharf, Sea Grant Agent for Hernando County is the Monofilament Recovery and Recycling Program Coordinator and received the two recycling bins that were to be placed on Bayou Drive.
"I have seen pelicans hung on the line and hanging off a light post or near a marina. I have seen turtles come in with it. I have gone through fish stomachs before and found lures and monofilament in there," Scharf said. "You will see them sometimes when you're snorkeling around artificial reef. A lot of people like to fish around artificial reefs. Monofilament will get snagged and it will snag things that live underwater."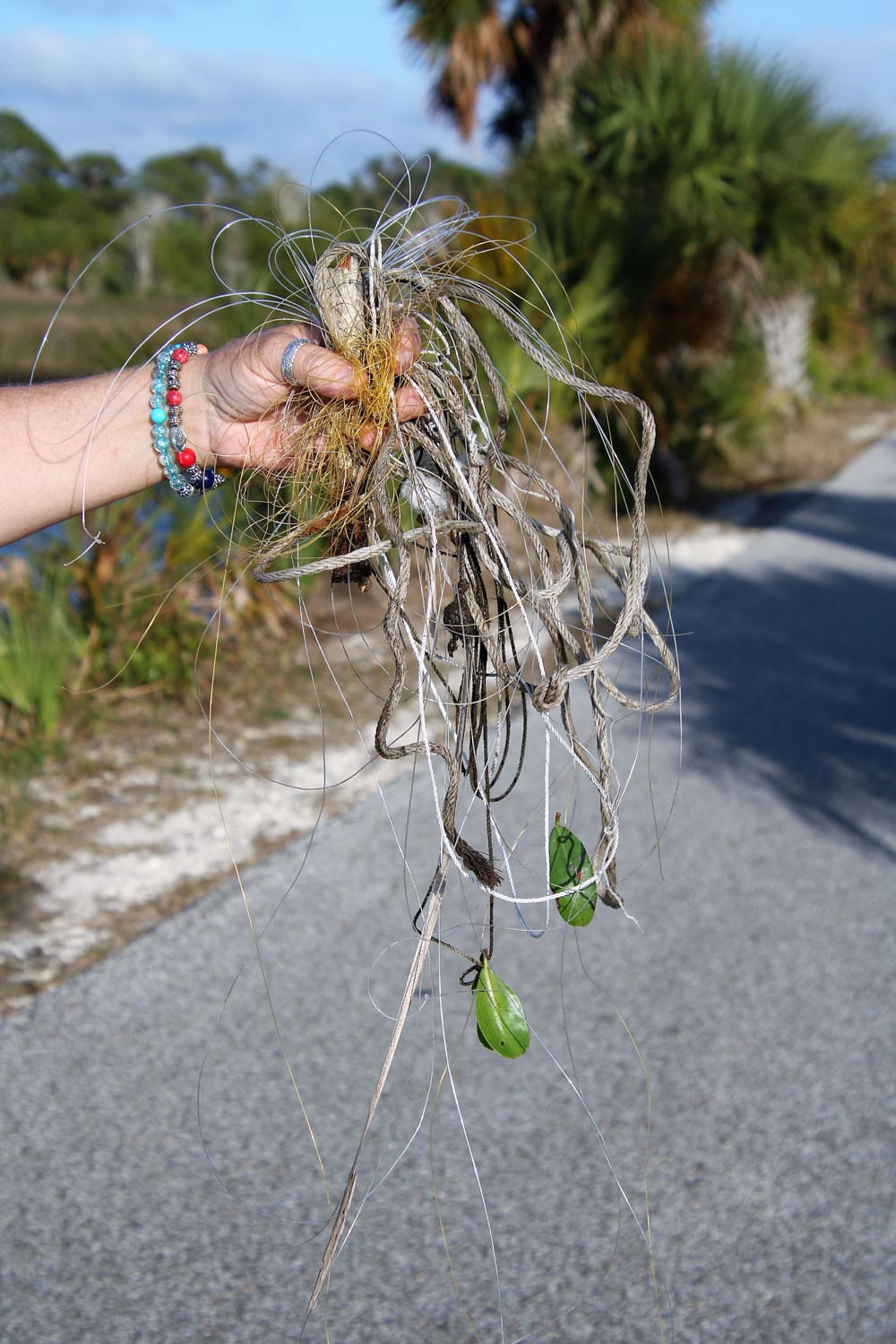 The monofilament recycle programs rely on dedicated volunteers.
"We appreciate those volunteers because unfortunately not everybody puts just monofilament in there, we get diapers, water bottles, half eaten sandwiches," Scharf said.
Suzanne Young and her husband Rob have lived in Hernando County for thirty years and bike routinely on Bayou Drive.
"We saw you out there photographing the bird and we stopped," Suzanne Young said to me. "You told us about the lure in his mouth, and that you have been trying to feed him and coax him in and you were trying to save him."
(For many weeks my goal was to photograph the Great Blue Heron's tongue. Since the fishing line was wrapped around its tongue it was constricting any blood flow and in order to show wildlife rehabbers the intensity of this situation, the only way for the heron to open its mouth was to toss the heron some fish or shrimp.)
Suzanne continued, "I was walking through the Swamp Fest and saw the booth (UF/IFAS Extension; Sea Grant) and started chatting with Brittney about what she was doing and told her about the bird [Bay, the Great Blue Heron]."
Suzanne explained that they stayed in contact with Brittany and when the recycling bins did come in, Suzanne and her husband placed them where they knew the highest fishing activity was.
"Use them for the monofilament, put your garbage in the garbage can and respect this area," Suzanne Young said. "I love this area."
When the monofilament is collected from the recycling bins, it gets shipped out to Berkeley Recycling based out of Spirit Lake, Iowa.
Volunteer Success Story from Sanibel Island
In Sanibel Island, members from the "Ding" Darling Wildlife Society began recognizing that there were tackle tangled in vegetation and realized that could harm and even kill birds, reptiles and mammals. The members started a program in 2008 to clear tangled tackle from mangroves in the J. N. "Ding" Darling National Wildlife Refuge on Sanibel Island in Florida.
Volunteers would go out in kayaks on Fridays – when the refuge is closed to the public – to 'clear gear' by collecting tangled fishing line from mangroves and wherever possible. Later on the group of volunteers would be known as the "Monofilament Busters."
In July of 2018 Monofilament Busters became a 501(c)(3), which helps them to seek grant funding to develop educational materials that show how to avoid the problem and how to solve the problem, should it occur. Currently they are in the process of designing a "clear your gear" activity book for kids that is funded by Lee County Electric Cooperative. Their next project will be a video of a well-respected fishing guide demonstrating how to cast correctly in order to avoid tangling tackle in vegetation, as well as what to do if tackle does get tangled.
The Monofilament Busters down in Southwest Florida has done an amazing job of raising awareness through local and social media outreach. They have set a great example of how a group of volunteers can come together for a greater cause.
"The bins are out there for the public to use and to also be mindful that you are only putting monofilament in there and not your wrappers or half eaten sandwiches," Brittany Hall-Scharf stressed. "There is a whole bunch of them around the county in popular fishing spots."
For more information, request recycling bins or to host a coastal clean-up, visit: Monofilament Recovery and Recycling Program (MRRP) http://mrrp.myfwc.com/home/