District play is arguably as important to high school athletes and coaches as divisional play in the NFL: you can have wins in the conference which can affect playoff seeding, but those wins against teams in your division is so much sweeter, because these teams see each other frequently, and as such are more familiar with schemes and play calling tactics. Such is the case between the Nature Coast Sharks and the Central Bears, who came into Friday's first district game in two completely different areas of the spectrum: NCT riding their usual brand of offensive production, and Central in a rebuilding phase.
It's unfortunate though that this game was over before it truly got started. The Sharks won the coin toss, and on the opening kickoff, Hernando transfer Shemar Lawson took a squib kick and raced it 70 yards for a touchdown, and the Sharks never looked back en route to a dominating 55-0 victory over the Bears. The victory marked the 10th straight win for the California Street gang after losing the first five games in the history of this in-county rivalry.
The Sharks (3-1) thoroughly dominated in all aspects: total yards (424-86), first downs (11-4), and red zone efficiency (NCT 5/5, Central 0/1). Nature Coast was led once again by senior Mike Weston, who carried the ball 22 times for 183 yards and three scores. Weston was complemented by Fabian Burnett (five for 63 yards), Isaac Edwards (45-yard score on his only carry of the game), and JV call-up Anthony Treppon had 50 yards and a score on only three carries. Burnett had a nice run to setup one of Weston's scores, scrambling for 20 yards like his inspiration, Panthers quarterback Cam Newton, usually does to opposing defenses in the NFL.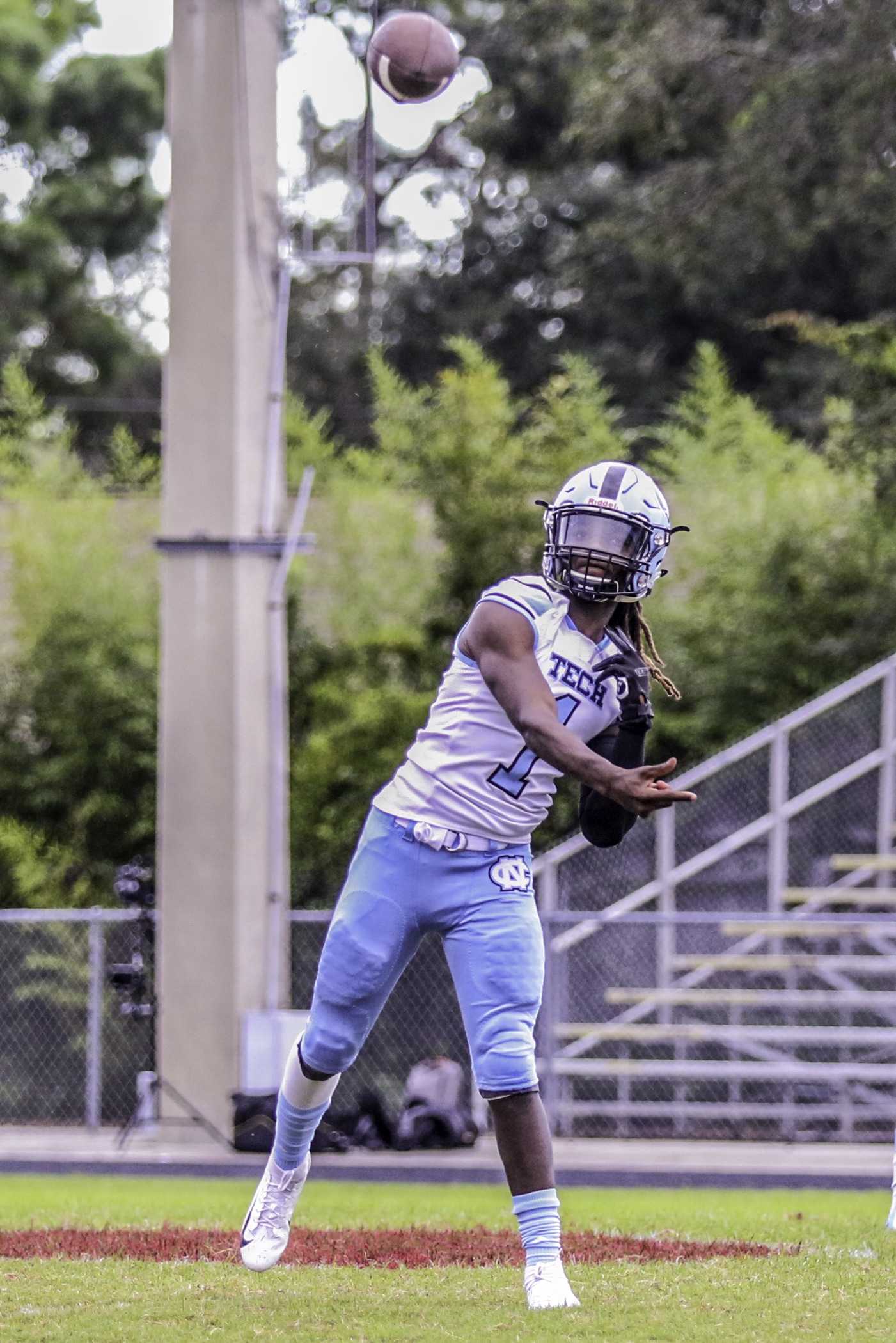 Head coach Cory Johns, who improved to 10-4 overall in regular season contests, wasn't happy with the first half: "We didn't play our best ball in the first half punting twice, but we got better in the second half." When talking about the Bears offensive game, Johns played man throughout the game, adding: "No offense to (RJ Harrington), but he's not a quarterback, he's like their Mike-Mike, so there's really no reason to play anything other than man coverage if there's no passing attack."
The Sharks didn't just beat Central with the run, but also the pass game. Burnett went 5/10 from the air, gaining 83 yards and a pair of touchdowns to tight end Cai Teague. A third score was in range for the duo, but the pass was short and bounced off Teague's hands. Despite this, Burnett wasn't shaken, but was confident in his ability: "That connection is going to be way better, not just with him, but all the receivers. We're known for running the ball, but the execution in the passing game will come."
Both teams have their second game in district play coming this Friday night, with the Sharks going north to face the Crystal River Pirates, who beat Citrus 20-7. Nature Coast defeated the Pirates last season 19-7, but the Pirates are considered a favorite in the district with NCT and powerhouse Hernando. As for Central, they will host the Weeki Wachee Hornets in the Battle of Hexam. The Hornets are the current defending champions in this rivalry, winning last year's matchup in a classic 34-33 final. Both games are slated to begin at 7:00.