Whether it's Binky, Blankie, Blinkie, Lovey or Silky in your home, every child has their favorite baby security blanket.
But what happens when it's lost? Gone? Disappeared?
"My grandson, Austin, lost his Spider-Man security blanket, said county resident Debbie Kelley Lee. "He called it "Spidey and he was devastated when it got lost."
"We checked everywhere — every room in the house, kitchen cupboards, the car, the garage and even phoned Walmart where we had been shopping, but we couldn't find it."
Lee's grandson, Austin, who is autistic and now almost 11 years old, became increasingly upset as the days passed without his "Spidey." It was "Spidey" that comforted him and helped him go to sleep each night.
Austin's grandparents tried to locate a new blanket or a secondhand blanket on eBay to no avail. Eventually, they placed an ad in the local newspaper to see if anyone had one they would sell."
Desperate, they searched the house again and, incredibly, they found "Spidey" crushed and hidden down in their sofa upholstery. They were ecstatic and were just about to let Austin know when Antonio Hernandez, a Weeki Wachee resident, called them — literally just moments after they discovered "Spidey."
Hernandez told them he had seen the ad and how could he help?"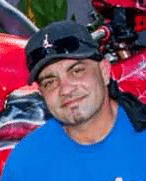 Hernandez is a motorcycle enthusiast and Weeki Wachee resident. He performs at charity events and poker run fundraisers as Spider-Man, along with his wife as Spider Gwen. His unique, hand-painted motorcycle and car are his key elements in all his fundraising efforts.
The grandparents told Hernandez they had at that very moment found the blanket and that it was kind of him to call. But Hernandez had an idea and came up with a plan just for Austin.
He asked Austin's grandfather to meet him nearby and bring "Spidey" the blanket with him. His plan was to deliver Austin's newly found "Spidey" dressed as Spider-Man, driving his Spider-Man car.
Hernandez' Spider-Man car and motorcycle are works of art — completely air-brushed by Hernandez. Equipped with musical horn and spiderweb down lights, Hernandez and his wife have been delighting children at their many fundraising events across Florida.
"We are trying to make kids forget that they are sick or in the hospital and going through these tough medical issues," said Hernandez.
"It was a magical moment," said Lee. "Austin saw Spider-Man's car pull up on the driveway and he started doing flips in the living room. He was so thrilled."
Hernandez presented Austin with "Spidey" and then took him for a short ride in the Spider-Man car.
Debbie Lee said, "Antonio is a wonderful, wonderful person with a big heart. I can't thank him enough for his kindness and the memories he has made possible for Austin."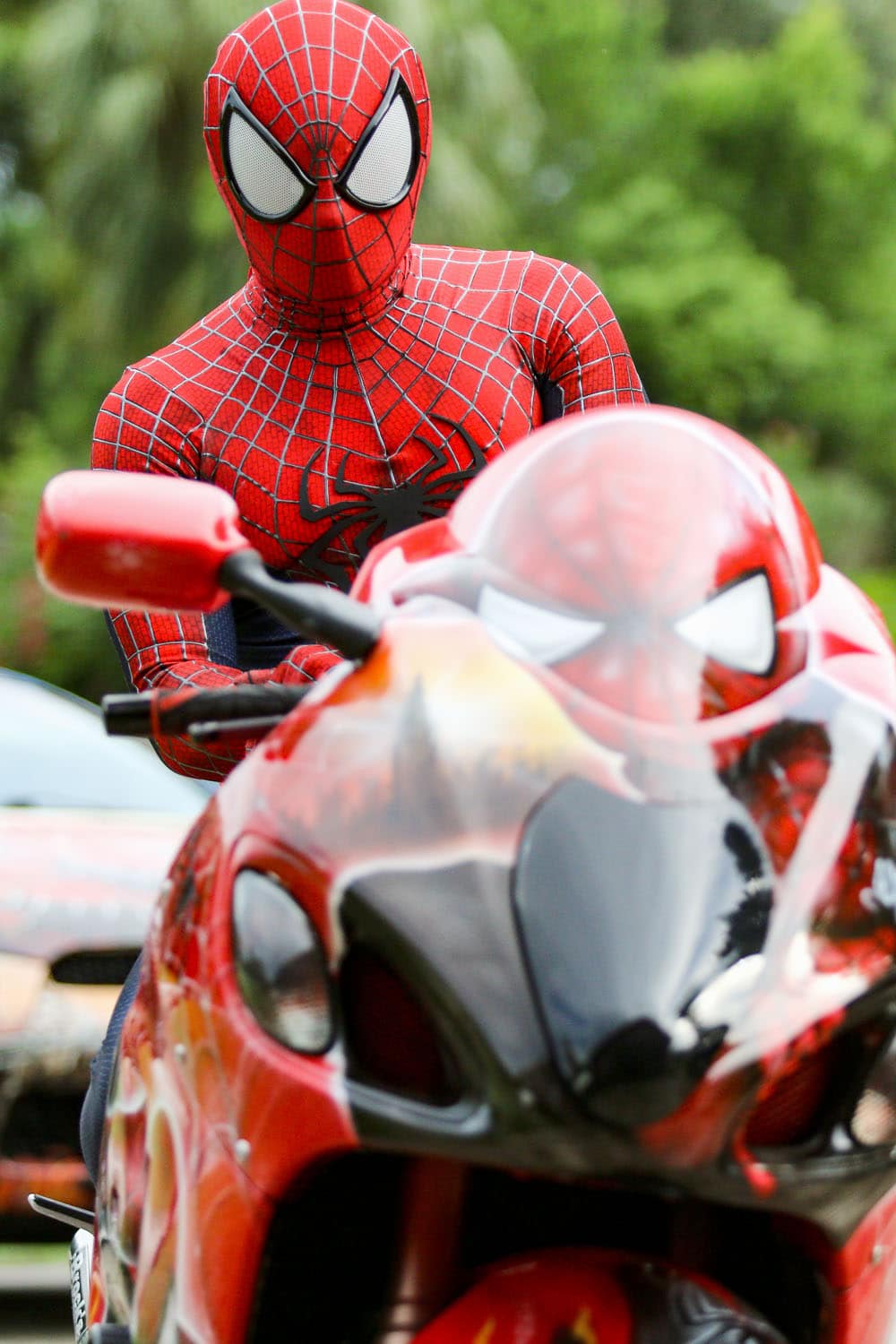 Apart from captivating children dressed as Spider-Man, Hernandez also works in conjunction with the M.U.C.H, Foundation located in Clearwater.
"M.U.C.H. is an acronym for Makers United for Children's Hope," said Zachary (Zac) Hurst, its founder and executive director. "Our mission is to help as many children and families get through some really difficult and trying times."
Hurst explained that through the M.U.C.H. Foundation's hospital, charitable, military and home visitation programs, we identify their areas of personal need and then help children and families get through their struggles with disease, financial hardship or disability.
"The Foundation arranges hospital visits, provides custom prosthetic limbs and wheelchairs and assists families both financially and mentally during a very emotional and hard times in their lives," said Hurst.
Hernandez met Hurst a couple of years ago while both attending a gala fundraising event in the Tampa Bay area and has been volunteering with the M.U.C.H. Foundation ever since.
"Antonio is invaluable with fundraising and public relations," said Hurst's fiancé, Katherine (Katie) Heffner. "We identify what's needed with a particular child and family and he almost magically makes things happen — like making a young girl's dream to swim with mermaids come true." she said.
That young girl was Amelia Collins.
Amelia is a courageous 9-year-old girl who has been fighting high-risk leukemia since she was five years old. She has been in remission for almost a year now and her dream to swim with the Weeki Wachee mermaids came true last year, thanks to the M.U.C.H. Foundation and Antonio.
Her mom, Kathryn Ockerman-Collins said, "I attended a literacy event and was introduced to Antonio and I told him about my daughter Amelia."
"I was so moved by Amelia's bravery that I arranged to introduce Amelia's mom to Zac," Hernandez said. "Then, together, we all made Amelia's dream come true," said Hernandez.
"Antonio and Zac and the Foundation are doing such groundbreaking work," said Ockerman-Collins. "I can't say enough about both of them."
Hurst explained the concept for the foundation came to me after he met skilled engineers and scientists who were creating elaborate costumes for movies.
"It touched my heart to know that some of these very talented people were also wearing their costumes to local hospitals to share their superhero creations with sick kids," said Hurst.
"Who among us didn't wish we were a superhero at some stage of our childhood," he said. "Well, now my foundation is using those childhood dreams to support kids with cancer."
Hurst, along with his fiancee Katherine Heffner, are totally committed to the Foundation and have extended their services far beyond their initial concept.
"We are now operating on three continents and developing medical services to children and families in Manaus, Brazil, the U.S. and southern India," said Hurst.
"I took this concept using all the technologies and emotions that can make a moment a sick child will never forget," he said.
Hurst and his attorney fiancé Heffner and other board members are expanding the foundation even further to help kids overseas.
"I got so many enquiries from overseas that we explored helping children in Brazil," he said. "So now we're not only giving kids a special moment, we're also looking at supplying barges full of diagnostic equipment to bring medical help to villages along the river."
"I'm proud to have started the foundation here in the U.S. but now we are taking it globally starting in Brazil and India," he said.
"There are a lot of children in the world that have terrible injuries and serious medical issues," said Hurst. "It's what I and the M.U.C.H. Foundation want to do to help as much as possible."
The M.U.C.H. Foundation is funded by personal and for-profit donations. For more information, or to make a donation, call 727.251.7007.
"I am so proud to be a member of this foundation and to continue inspiring children and families through tough times," said Hernandez.
Watch for more stories about the M.U.C.H. Foundation in future editions of The Hernando Sun.