By JULIE B. MAGLIO
The Hernando Sun's series on the homeless population within Hernando County and the various organizations helping to mitigate the problem begins with a feature on the Nature Coast Community Services Foundation, directed by Ellen Paul.
Nature Coast Community Services Foundation (NCCSF) is a 501c3 organization which operates through the Unitarian Universalist Church in Weeki Wachee. There is a core group of volunteers including Ms. Paul: Mary and Bob Tokar, Rose Beal, Evangeline Reid and Dennis C. and Gunnell Perez.
The foundation provides services and basic necessities for homeless individuals and indigent children and families including:
Food, clothing, shelter, medical care

Identification credentials

Counseling and literacy

Job training/transportation

Dental and vision care

Access to benefits for homeless veterans
Ms. Paul stated that the homeless population in Hernando County is much greater than state authorities admit and unfortunately that has funding ramifications when organizations like Nature Coast Community Services Foundation apply for grants.
Specifically, she said that according to state authorities, there are 93 homeless people living within the county because that is how many beds there are available in local shelters. She remarked that this is a gross underestimate as it ignores the hidden homeless—the people living in the woods, in cars, in abandoned hunting blinds, and in utility sheds as well as people who are "couch surfing" with friends and family.
Ms. Paul explained that Hernando County residents are largely unaware of the extent of the problem in part because residents do not wish to see the problem and homeless individuals, in turn, do not wish to be seen and instead try to blend in.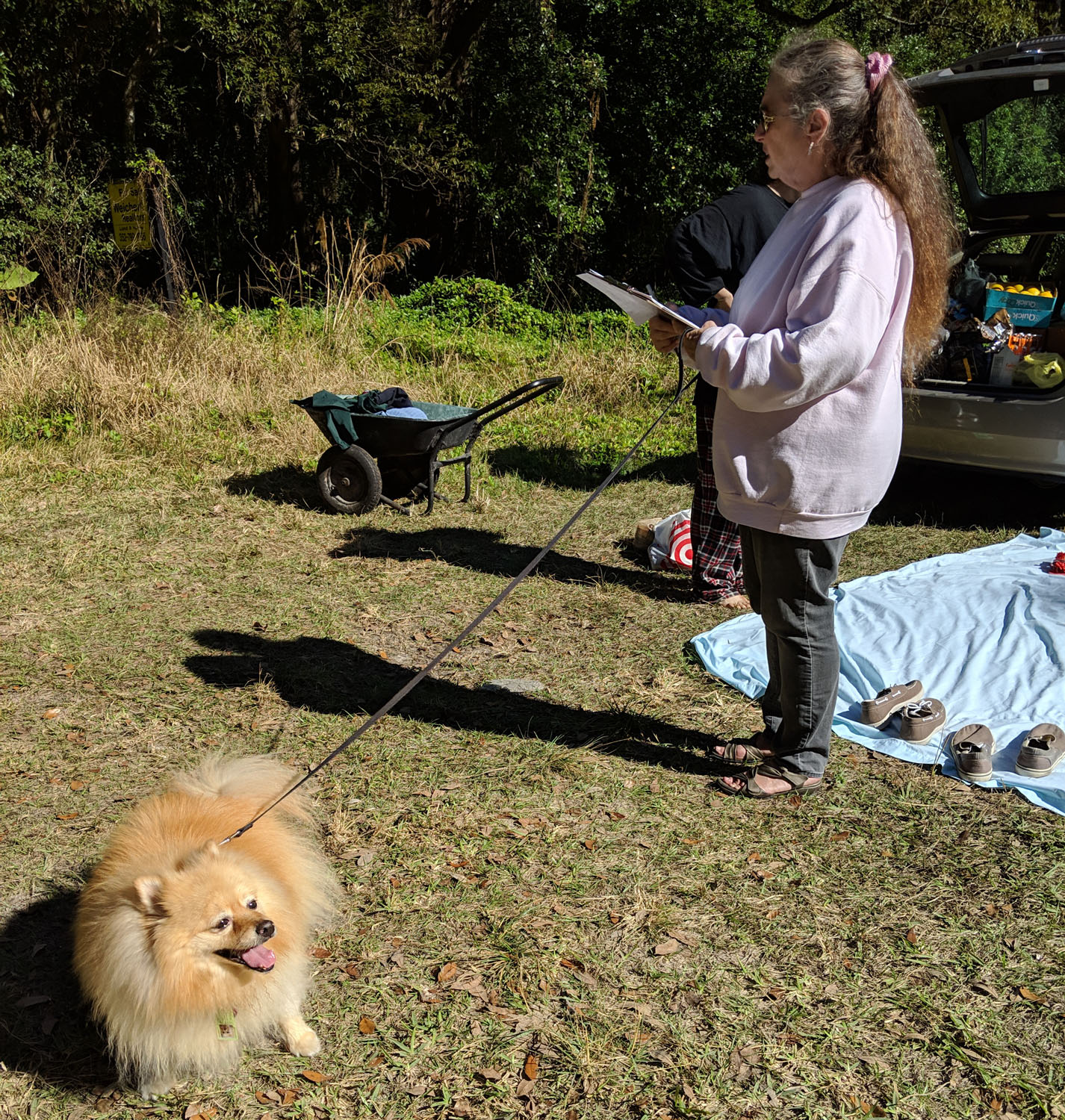 They live in wooded areas throughout the county sometimes in encampments with other homeless individuals and sometimes by themselves.
On January 22, 2019, Nature Coast Community Services Foundation participated in the National Homeless Headcount organized by the mid-Florida Coalition for the Homeless. The goal of the count is to get an accurate figure to report to the state. We hope to bring our readers information garnered during the headcount in a future article.
Ms. Paul's group works with up to 40 homeless individuals each week in various encampments around the county. She noted that one encampment of 12 individuals was recently destroyed when someone shredded their tents with a knife and scattered about their meager belongings. Her team is searching for the most at risk of that group: a pregnant woman about to give birth, a woman suffering from intermittent hemorrhaging due to injuries sustained during a rape, and a gentleman who may have lymphatic cancer.
And therein lies the problem- keeping tabs on these individuals in order to provide assistance. The homeless by definition are itinerant. They encamp on private property – sometimes with permission of the property owner and often without. If they do not have permission to be there, then they are usually evicted by the Sheriff's Office. Their lives are unstable and they move around, so it is difficult to measure how large the problem is in a certain area.
Ms. Paul's organization provides some stability on a weekly basis by bringing supplies and providing the services mentioned above. The goal being: "to get them out of the woods" and into a permanent housing situation.
In a phone call, Ms. Paul provided an overview of the NCCSF program for the homeless and many of its challenges.
"Life handed these individuals something they could not recover from- whether it be divorce, abusive spouse or illness. They do not want to be in the woods," she remarked.
The question is, she asserts, "How do we get them out of the woods?"
They cannot get jobs because 80-90% of them do not have identification and as there is no address on the Florida State Homeless ID, she said, it is useless for cashing checks. The process to get them identification can often take several months.
Ms. Paul remarked that the reason for their lack of identification often has to do with the trauma they sustained which put them in the woods in the first place. She referred to one of the individuals she is currently assisting in which an abusive partner burned all of her possessions from family photos to eyeglasses and identification.
In order to solve the myriad of problems the individual is facing and get them "out of the woods," NCCSF partners with other community organizations.
People helping People regularly supplies food.
The Lions Club of Brooksville assists with eye exams and glasses. NCCSF drives the homeless individuals to the High Point Community Center in Brooksville, where Lions Club volunteers determine need, and a week later they get a comprehensive eye exam. One week following the eye exam, they receive their glasses. In November, 2 individuals received glasses, in December, 3 individuals received glasses and 6 will receive glasses in February.
"This isn't a frivolous thing we are doing- they can now read a job application again," said Ms. Paul. She stated that she loves to hear the words, "I can see again!"
During a recent visit with Ms. Paul to one of the encampments, one thing that struck me is that many of the homeless are young adults. Lark, a tall young man with a wide grin sauntered up to Ms. Paul's arrangement of goods for the week. He cracked jokes and spoke lightheartedly. He wore a slightly worn Parrott Pride t-shirt. Ms. Paul informed me that Lark has very mild cerebral palsy and chooses to live in the woods because he prefers that to living at home.
Another obstacle is dental. Many individuals have serious issues with their teeth, affecting their self-confidence and ability to find a job.
Many people dismiss the dental issues of the homeless as caused by drug usage, but Ms. Paul asserts that is not always the case. Two individuals she works with are in need extensive dental work, but have never used drugs. One destroyed her teeth overusing a tooth gel whitener and the other individual was never educated about proper oral care.
"That lack of teeth is keeping them from rising above their circumstances," Ms.Paul said as both individuals have asked "Who would hire someone who looked like me?"
"Getting them teeth is more than aesthetics- it is a confidence builder," said Ms. Paul. "It is a way to get out of the woods and back into society again."
Unfortunately, many homeless individuals are veterans suffering from PTSD. There is federal funding available to help with housing, tied to the county in which the applicant lives. However, Ms. Paul explains, it's difficult to find housing in Hernando County that meets the VASH requirements.
For instance, one of the veterans she works with was awarded $600 per month last fall, but after searching extensively, he is unable to find anything in that price range that meets VASH requirements. VASH requires that the housing be a separate living facility like an apartment, house or camper van with electricity and running water. VASH does not allow for renting a room in someone's home.
While VASH is still a conundrum, one of NCCSF's successes has been negotiating an increase in food stamp dollars. Prior to NCCSF stepping in, Ms. Paul stated that several of the homeless individuals she currently works with received $92 per month in food stamps. Now they receive $196 per month. This sum is the individuals' only income.
Like many families, several homeless individuals have pets. Ms. Paul says about 50% of the homeless in the woods have pets. NCCSF works to make sure the pets are taken care of as well. She brings dog and cat food as well as leashes, collars, and bedding on her weekly supply drops. Sometimes even her own fluffy dog Scones- who is a rescue of course—comes along for moral support. The pet food is donated by Walmart via Dave Ramponi.
NCCSF coordinates vaccination, spaying, and neutering of homeless pets with PetLuv in Brooksville. The day I tagged along, Ms. Paul picked up a kitty to be spayed. She says the kitty is doing well and is being treated for worms.
She recalled the first day when she came to the woods with dog food. After receiving her food supplies, a woman by the name of Tami reluctantly came forward. Ms. Paul asked her if there was anything else she could do for her. Tami asked Ms. Paul if she had dog food for her dog Luke. Tami had not been able to feed Luke in a couple of days and Tami's heart was breaking. Out of desperation she had taken Luke to the pound that morning, but could not leave him. Tami prayed for a miracle. When Ms. Paul told her she had a whole trunkload of dog food, Tami burst into tears.
Ms. Paul recounted, "She told me, 'You are my angel. I have been praying for you.'"
"I was able to preserve her family. With dog food! This kind of miracle happens all the time," said Ms. Paul.
She explained that the homeless really have no one else in the world except their pets. "They
love their animals because the pets are loyal, they give them love and protection. Often their human families have given up on them and the larger community doesn't see them, so their pets are all the homeless people have and their most cherished companion. The pet becomes their family in every sense."
A disabled veteran, Jim has a dog named Chance. But in September Jim contracted MRSA and Sepsis and had to remain in the hospital for weeks. Ms. Paul fostered Chance while Jim was hospitalized. She remarked, "It saved Chance's life by saving Jim's life. These little miracles are happening all the time in the woods."
She explained,
These people are homeless but not without hope- they have a dog or cat that loves them. It's Jim and Chance against the world… And the world does not see them. The world thinks they are homeless by choice or because they are drug addicts or crazy. They are "not me"- they are the 'other,' and they make me uncomfortable, so I look away. I refuse to see them or their pain.
Ms. Paul is most passionate about the relationship between the homeless and their beloved pets. She is writing her second Master's Thesis (Capstone Project) on the subject, entitled, "Homeless but not Hopeless–A Community of Two" She is enrolled in the Meadville-Lombard Theological Seminary in Chicago working toward a degree in Lay Leadership. She received her first Master's degree in English from the University of Maryland.
The Nature Coast Community Services Foundation invites you to a family-friendly fundraiser on Feb 23 at the Olive Grove (15016 Rester Dr, Brooksville, FL) 1-5PM. The Greek-themed event has activities for everyone including an appearance by Aesop telling his fables, visits from Greek gods and goddesses, races and relays, panning for fossils and jewels, making jewelry and crafts, balloon bounce, live music, karaoke, Family-Feud style competitions, and education in olive oil. And of course, food! Lots of food. Tickets are $45 per family of four or $15 a person.
To contribute to this work on behalf of the homeless, send a check to the Nature Coast Community Services Foundation at 7401 Heather Walk Drive; Weeki Wachee, FL 34613.
Other reports in our series on homelessness:
https://www.hernandosun.com/article/faith-based-group-transforming-lives