HERNANDO SUN STAFF REPORT – The first public budget hearing for the school district was held on July 30, 2019. At this meeting the following tentative millage rates were approved unanimously as well as the proposed budget.
The proposed total tentative millage of 6.163 mills approved at the first public budget hearing is more than the Rolled-Back rate by .88%. The millage and revenues earned from the millage are broken down in the charts below.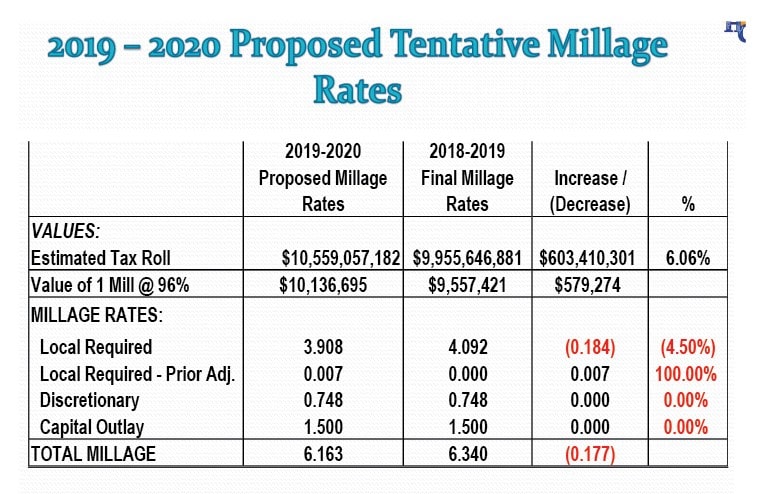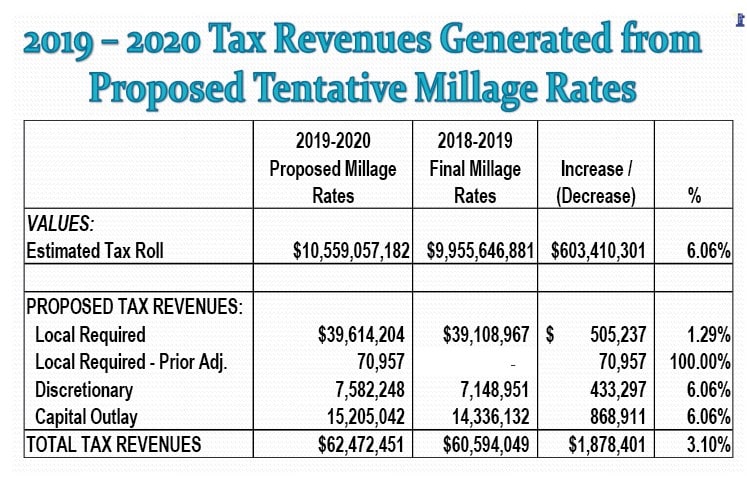 The following Executive Summary from the school district provides information pertaining to the FY 2019-2020 budget:
"The 2019-2020 Tentative Budget for all funds (including other financing sources and transfers) is $286,470,312 an increase of $7.0 Million more than the Fiscal year 2018-2019 budget.
"General Operating Funds: General Fund revenues increased $9.6 Million, which is the result of increased FEFP (state of Florida Education Finance Program) funding and property taxes.
"The General Fund budget for Fiscal Year 2019-2020 is $200.4 Million. Of that, $174.0 Million or 87% is appropriated directly to schools. District departments that indirectly affect students comprise $7.8 Million or 4% of the General Fund budget. The remaining $17.6 Million is for fund balance and transfers out.
Debt Service Funds: The Debt Service Funds budget is $16.97 Million.
Capital Project Funds: The Capital Project Funds budget is $36.5 Million.
Special Revenue Funds: The combined Special Revenue Funds budget is $32.5 Million."