The Hernando County Sheriff's Office (HCSO) began law enforcement operations in the City of Brooksville (City) June 1st, 2018. On Sept. 16th, 2019 Lt. John McMurdo, HCSO, presented a review of the first year of service to the City. Lt. McMurdo expressed gratitude toward Mr. Kutney, City Manager, for his role in the smooth transition. Following this, Lt. McMurdo explained that the data to be presented had been collected through the sheriff's office's Computer Aided Dispatch (CAD). The CAD system electronically records the nature of the calls received, and the officer initiated occurrences such as traffic stops. Lt. McMurdo next presented a summarized comparison between the HCSO and the Brooksville Police Department (BPD) service and arrest statistics. The data sets being compared range from June 1st, 2017 to June 1st, 2018 under the BPD and from June 1st, 2018 to June 1st, 2019 under the HCSO.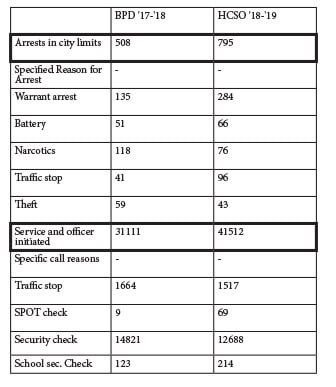 The full data table from the HCSO is available within the Sept. 16, 2019 City of Brooksville Regular City Council Meeting agenda. The agenda is available online as a PDF at the below address. Navigate to "Agendas & Minutes" then to "City Council Agendas."
http://www.cityofbrooksville.us/
Within the PDF, the Tables can be found on pages 10-21 of the PDF, corresponding to pages 3-14 of the agenda.