By JULIE B. MAGLIO
[email protected]
Pine Brook Pharmacy is a notable business in the county that has recently opened its fourth location at 14111 Cortez Blvd, Brooksville, FL. Gautam Thakkar, RPh started the business just 10 years ago and thanks to his business prowess and great customer service, Pine Brook Pharmacy's four locations are thriving even with tough competition from supermarket and chain pharmacies.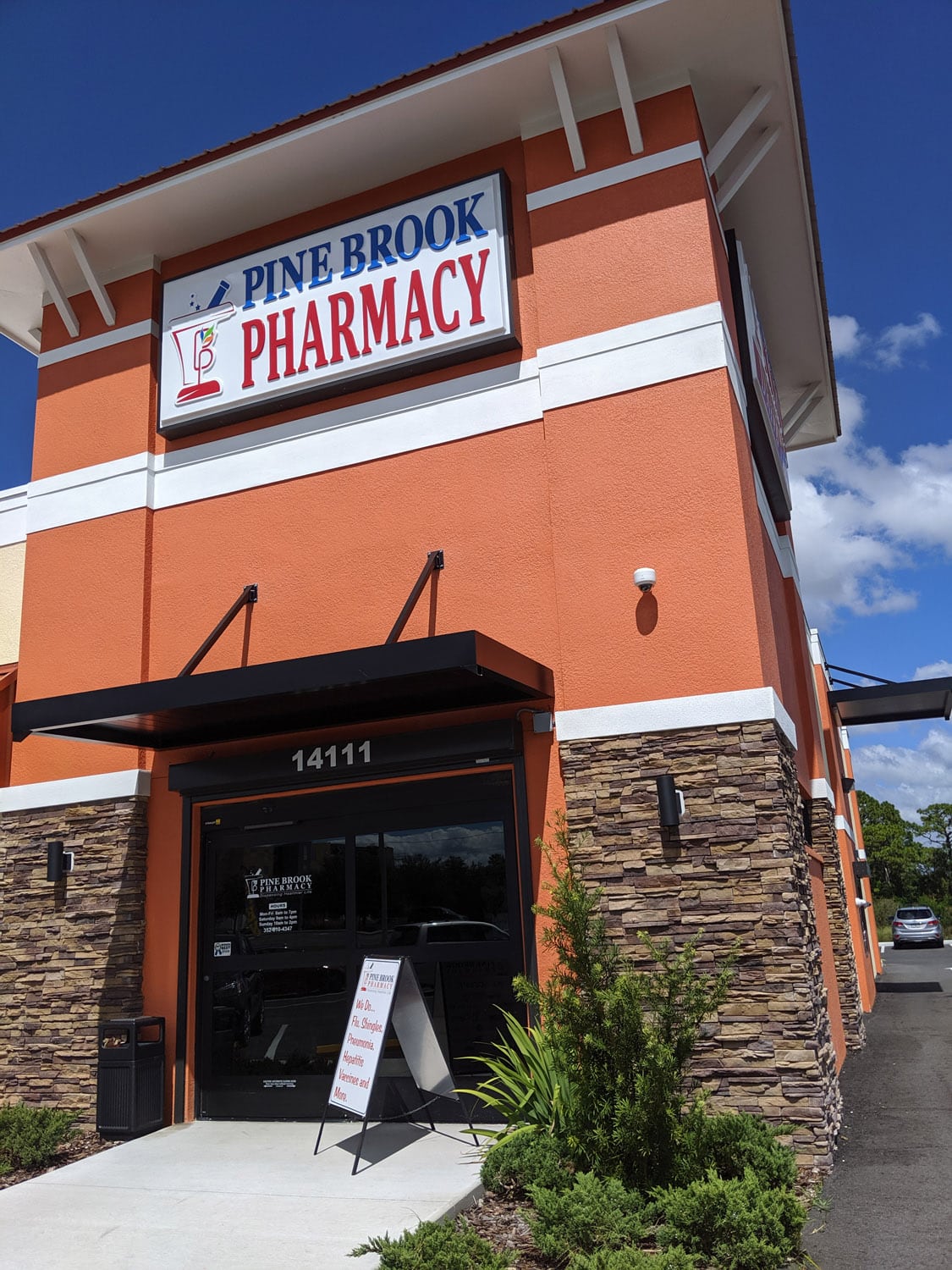 Before beginning Pine Brook Pharmacy, Gautam worked the night shift as a pharmacist for Walgreens in Tampa for ten years. He was notified that his location was closing and he had the option of going to Orlando to work at a location there, or taking severance pay. Instead of making the long commute on I-4 from his home in Tampa to Orlando everyday, he decided to take the severance and go out on his own with the encouragement of his wife Hina, a physical therapist.
"I saw that there were a lot of things at Walgreens that I couldn't do," said Gautam. He explained that if a customer didn't have five or ten dollars to pay their copay, he couldn't lend them his own money to pay for it.
If someone couldn't pick up their prescription, he couldn't bring it to them.
"There were so many things I wanted to do but couldn't because there were rules to follow," he said.
"I always have a passion to go above and beyond for the people."
A doctor friend suggested he look into starting a pharmacy in Hernando County, so he made the drive up on numerous occasions, scoping the area for possible locations. There was a spot for lease next door to Great Life Church on 50.
Ten years ago on March 26, which happens to be Gautam's birthday, he signed the lease for his first pharmacy location. About six months later after completing renovations and acquiring all of the necessary licensing and insurance, Pine Brook Pharmacy was ready to open, but Gautam had some doubts and kept postponing the opening of the store.
"My wife asked me, why are you not opening the store. In the back of my mind I said 'Man once I open if I don't have customers – then what?' "
It was tough at first Gautam explained,
"First day- no customers."
"Second day- no customers."
Soon, though business started to trickle in. His wife Hina came to work with him and began marketing the pharmacy.
"She would go out to doctors offices and into communities and she let everyone know that we are the best."
She would tell doctors to send them their toughest patients to prove their worthiness.
"I always think about how I would like to be treated if I were at the other side of the counter," said Gautam.
In the early years, 99% of his customers came in by word of mouth.
The services they offer set them apart from the big chain pharmacies. Pine Brook offers home delivery of medications and they will pick up the prescription from the patient if necessary. They use an ingenious packaging technique for the medications and have a willingness to price match. They also offer genetic compatibility testing which will tell a patient what medications they should avoid.
The way they package the medication makes a lot of sense. It doesn't just come in a bottle. They package your medications by dividing them up into a blister pack with 28 individual blisters. Medications for each day are separated by the time of day you should take them: morning, afternoon and evening.
Gautam explained that doctors don't always indicate on the prescription what time of day you should take the medicine. He explained that for many medications, time of day it is taken is important. He gave the example of cholesterol medication which should be taken before bed because your body produces cholesterol at night. So if you're taking the cholesterol medicine in the morning, your body has been metabolizing it all day and by the time your body starts producing cholesterol at night, there is not much medication left in your system to reduce cholesterol production in the evening.
Then your doctor may increase the dosage because the medication isn't as effective as it should be.
By law, the pharmacist cannot add anything to the prescription label not indicated by the physician, but by packaging the medicine by time of day, then the patient knows exactly when to take the medicine. Also, it is easy to tell if a patient has missed taking their medicine and exactly when they missed it.
Each individual cell has its own prescription label printed on it and it can be easily removed to take with you if going on a trip or out to eat. Having the prescription information on each cell is important because you are able to prove that the medicine has been prescribed to you if it's ever brought into question by law enforcement.
In addition to Pine Brook's newest location on Cortez Blvd adjacent to the Brookridge community, there is a Pine Brook Pharmacy at 10507 Spring Hill Dr, Spring Hill ; a location next to Access Healthcare: 5340 Spring Hill Dr in Spring Hill and a location that serves Oak Hill hospital patients with bedside service:11373 Cortez Blvd, Brooksville.
Pine Brook has bedside service contracts at Oak Hill Hospital as well as Bayfront Brooksville and Spring Hill. This allows patients to leave the hospital with their prescriptions already filled if they so choose. Otherwise patients often see delays in filling their prescription when they leave the hospital.
Pine Brook Pharmacy is also happy to help coordinate with the physician on potential generic medications which can be a big cost savings to the patient.
For patients with multiple prescriptions they synchronize when refills are needed so that patients can pick up their medications all at once.
Other services include:
– Immunizations
-Health Screenings
-FREE Diabetic Test supplies on a monthly basis, support and education
-Oral and topical compounding
– Flu and Strep testing
Pine Brook's motto comes from a statement by Mahatma Gandhi, which Guatam first came across at his bank back home in India.
"When I was very young I read it and I loved it so much. It has a lot of affect on my mind and my heart. It says, 'A customer is the most important visitor on our premises. He is not dependent on us. We are dependent on him. He is not an interruption of our work. He is the purpose of it. He is not an outsider of our business. He is part of it. We are not doing him a favour by serving him. He is doing us a favour by giving us the opportunity to do so.' "
For additional information on Pine Brook Pharmacy go to:
https://www.pinebrookpharmacy.com