By Andy Villamarzo
Hernando Sun sports reporter
Photography by Joe DiCristofalo
SPRING HILL- When Springstead entered the gymnasium on Thursday night, the Eagles were coming off their first loss of the season to Crystal River. So it was a bit understandable that Springstead was looking to take out its frustrations on New Port Richey Gulf when they took the court.
With the Eagles heading in at 1-1 after two games, Springstead brought themselves back above the .500 mark once again. Springstead used a huge first quarter and a big performance from Unique Torain, as the Eagles rolled to an easy 75-55 victory over the Buccaneers. Springstead plays again Friday night when they take on Weeki Wachee.
Matt McGarry's group has high expectations this 2019-2020 season after making some good strides last year. Springstead has a couple blowout wins over Gulf and Dade City Pasco this year and that's provided the Eagles a good spark to kick things off.
"I do believe we are playing some good basketball," McGarry said. "Starting off the season 2-1 is always good. We needed a loss like the Crystal River… When there's a solid team like Crystal River, we have to do all the little things well. We have to beat all these good teams we have on the schedule."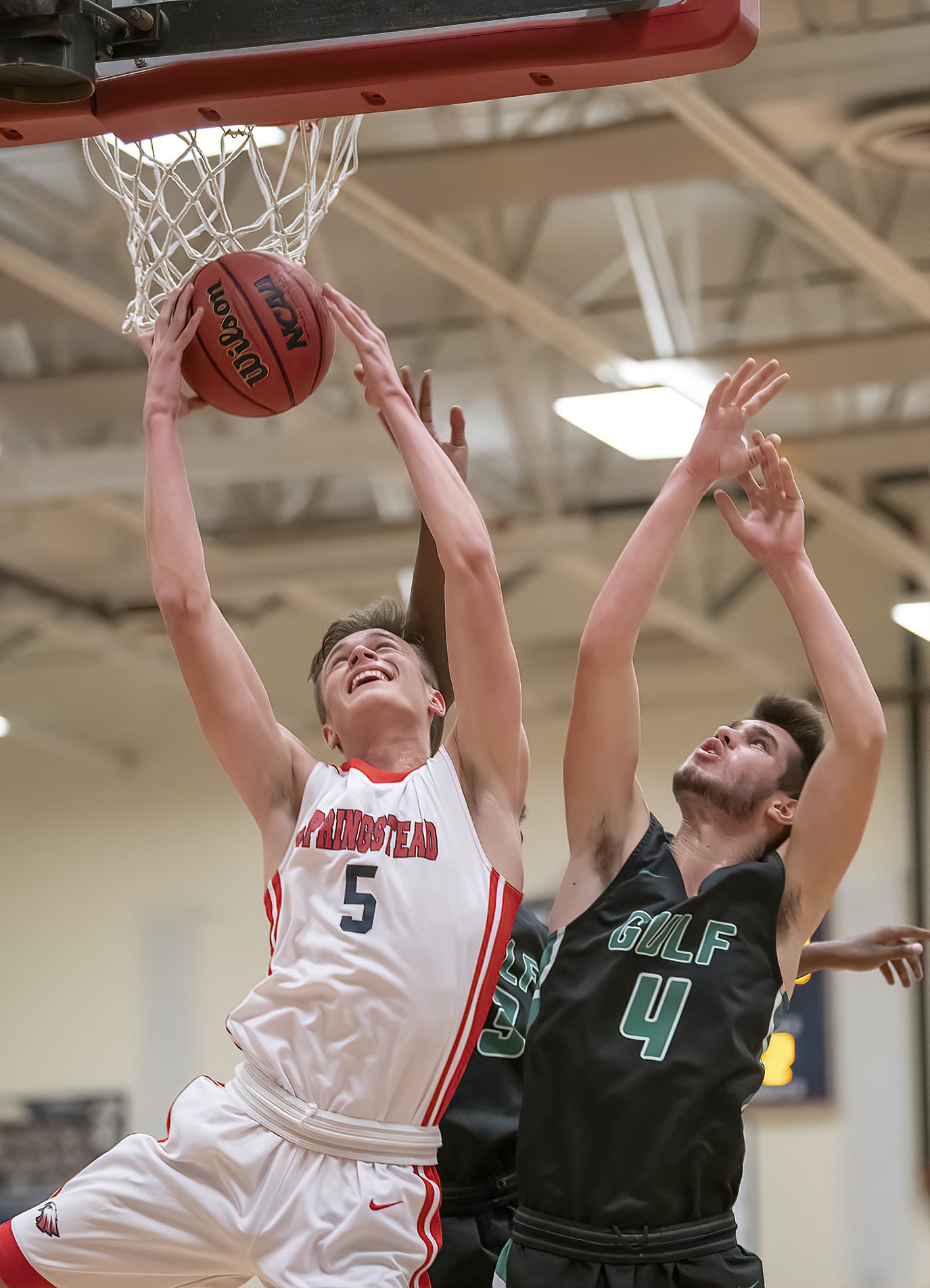 This season is unlike year's past, as Florida high school basketball will reward spots in the postseason to district champions and then to others based on a points system. The importance of game to game is much higher now, with Springstead now knowing they must pickup quality wins all throughout the year. The Eagles will have no shortage of good teams they will be facing, with Land O' Lakes and Nature Coast both on the schedule.
"This year is the first time I'm really just focusing on us and we will reap the benefits of it," McGarry added. "Being good in the county is great. Being good in the tri county area is great but we are really just worried about exactly what we are doing. (Points system) definitely makes every game important. There's no more worrying about the district tournament. We have to be ready to show out everywhere we go."
Defeating Gulf soundly was on the checklist to start the season and Torain showed up big. Torain scored a game-high 32 points and added two assists and three rebounds. Fellow teammate Kurt Carlson had himself a nice night, scoring 14 points and notching 14 rebounds. Springstead rushed out to a 31-10 lead in the opening quarter and never looked back. The Eagles went into halftime with a comfortable 58-30 lead.
"We came out with some really good pressure and bad scenarios," McGarry said. "The second quarter got away from us a little bit. We came out a lot better in the second half."
Andy Villamarzo can be reached at [email protected] and follow him on Twitter @avillamarzo.