Standing in the office of Marshall Pease, owner of MP Cycles Bike Garage off Cortez Boulevard, and holding a 12 pack of Natty Lite under my arm, it began to dawn on me just how crazy I was, and whether or not my plan might work.
I had no idea how Marshall would respond to me. I even have to admit I had my fingers crossed. I can write 'til I'm blue in the face. That's the easy part. But doing the field stuff, interviews and taking pictures, that's a whole other ball game. Especially when it's your first time doing that kind of thing. You have no one to teach you. You are on your own. You learn as you go. Scary.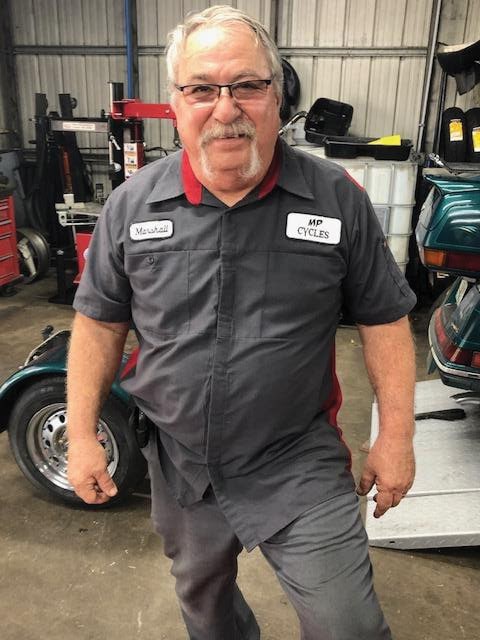 I realized right then I might actually break into a sweat. This was scarier than my first kiss. I had never done interviews like this, I thought to myself, just after asking Marty if he and his friends would be willing to do one apiece. How would I do this? What was I thinking? Will this even work? Eventually though, the man I just asked my first question to decided to speak.
"Sure," he said, kindly and a tad enthusiastically, looking directly at me. Right then, a warm, inviting smile climbed up his mustached face, "we can all do interviews for your article."
Imagine my relief.
Just to clarify, he meant "we" as in: he, his secretary Joanne, and Frank, the owner of a biker school right down the road, all of whom were convened in his office.
"We'd be glad to answer some questions. How we gonna go about doing them, though?"
Next, I told them I'd call both Marty and Frank (Marty being the guy who owns the shop) and get a dialogue going over the phone, which I'd audio record sometime during the next few days. So, afterward filling them in on how his would go down, I shook some hands, made my exit, and began happily strutting to the parking lot.
"Yes!" I almost screamed as I made my way to my car. Whoever would have thought that a case of Natty Light could go so far? The coolest thing about Marty and Frank was that these two pillars in the community were willing to put up with some recently transplanted journalist just for a few cans of the good stuff. Nothing is free in this life, I think we all realize at an early age. Still though, you have to admit, when you're paying people with suds instead of dollar bills, you know you've struck gold in terms of finding the right resources.
~~~
I don't think a single person reading this article has ever driven through Hernando County and not noticed the extent of its motorcycle scene. No matter where you travel through Brooksville, you will most definitely see at least a few on the road. Clearly, to residents, visitors, and people just traveling through, this quiet little place is obviously a city populated by riders of the "iron horse." You see them when you pass by bars, you notice them when you drive into town on Broad St., you stand in line behind them when you are paying gas, and maybe most of all, you hear them rev their engines while stopped and waiting at a red light. It's undeniable – Brooksville is a major locale for choppers and those who dare to ride them.
For the sake of properly portraying the steel-horse cowboy in this feature, I began to focus on the different kinds of bikes one sees in Brooksville. While I may refer to our little town as Harley Haven, you have to realize that Harley-Davidson bikes are not the only choice of motorcycles in Brooksville. Triumphs, Yamahas, Indians and more are abound. This town has an eclectic group of bikers that call it home. And a variety of different types of riders in addition to their rides. In fact, any motorcyclist will tell you, they may have their favorites, but they're not picky.
"There isn't a bike I don't like. If it's got a motor, I'll probably like it," said Frank, owner of a school called Suncoast Rider Training, a school for all sorts of riders that also grants endorsements, as well. "The feeling of the power and the control," he went on, "That's the important thing. Not the insignia on your gas tank."
"So," I began to press, "what do you think it is that makes people want to ride?" I asked.
"Well, first of all, you're not locked up in a jar. Then there is the way other people in their cars look at you. Girls like 'em. To me it's also the way you get around. I don't enjoy being in a car. I don't think most riders do. I ride a motorcycle much better than I drive a car. I've been all across the country – it's just the way I like to get around."
When I asked him about the biker community in Brooksville, he had this to say: "They're friendly! Most everyone you run into here in Brooksville is a good person. I've never met a bad person on a bike. Nobody tries to be that tough guy like you see in the movies."
If you're scared of bikers in any way, that's probably where it comes from. "The movies." It's not an understatement to say choppers are misrepresented in American culture.
However, not here though. You'll hear anyone say that Brooksville is indeed, a Harley Haven.
"They just come in, ride around, and make their presence known. They're not in this town to hurt anybody," Said Merryl, a cashier at a local grocery store. "They kind of, add flavor to our little community. It's always a treat to see them riding around town, in groups or one at a time. A sense of pride fills up in you – that they like it here enough to cruise our neighborhood streets."
But, what about biker gangs?
Well, biker Clubs are fairly popular in this county, and as any rider will tell you, they are in fact hard not to notice. Such clubs as B-Vila Stunnas, The Wolf Pack, and The Enforcers. Even Ann Williams, a member of her own MC, noted their presence in this town, specifically about their impact on Brooksville. She had this to say, "As for illegal Biker clubs – like the Hell's Angels, for example – well, they may pass through our county. But that's all they really do. No one holds what's called 'territory' in Brooksville." The difference between Brooksville and other biker towns is that none of the clubs in this city are considered outlaw clubs. All the gangs here are intended to help the community, to serve it someway and somehow. Each club is dedicated to a cause. That's what they're proud of, anyway."
There are also some cool biker bars in town, too. Places like Rebar, Dana's Crossroad, and the Sail Inn. You can drive by these little dives and notice bikes parked all over the place.
Finally, there are the biker shops. There are a fair amount of them. Certain garages, like ByPass Garage, P.C. Cycles, Tri-County Center, and Barney's of Brooksville, are shops at the top of their game. One of the best and most reliable shops is MP Cycles, owned and run by Marshall (Marty) Pease, as I mentioned earlier. Marty is a man who lives and breathes motorcycles. It's these kind of qualities that make him the best at what he does.
~~~
So, to conclude (and because you've probably already realized this), Hernando County is quite the Harley Haven, possibly more than most of Florida, or, arguably, possibly more than most of small town America. It's clearly a hotspot for bikers, their friends, and family. You can learn to ride and get your endorsement easily here. Not only do many clubs ride through the town, but additionally, many of them exist and operate out of here. Brooksville's biker scene has highly above average bike shops/garages. And lastly, for the sake of summarizing, it's safe to say that in this little community that we call Brooksville, there's a lot to offer for anyone who rides on two wheels.
As I sat at my laptop, finishing this article, it struck me that MP Cycles deserved a final round of appreciation, for all their help, their interviews and the general information that they had provided me. So with swift ado I got in my car, hit the local Dollar General and picked up two cases of Natty Lite – America's universal form of "thank you."
Cause like I said, sometimes beer is currency.