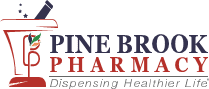 Pine Brook Pharmacy is proud to introduce their immunization program for 2020-2021. Get your flu shots as soon as possible plus any other immunizations you may need from any of our four convenient locations.
Flu shot vaccines are now available including the high dose vaccine for seniors. The CDC recommends getting your flu shot early while supplies last. Do not delay getting yours today.
You have two options: 1) Visit any one of our convenient pharmacies in our sterilized consultation rooms or, 2) By appointment in the convenience and safety of YOUR HOME. This is a free service to our current family of patients and new patients. Most insurance plans are accepted with little or no cost to you.
Call 352-596-1044 today to make your in-home appointment, or visit any of our nearby pharmacies. You can also go to our website: PineBrookPharmacy.com to learn more.