For the next couple of weeks, student-athletes will be focused on the upcoming fall sports preseason events. For Hernando High's head Coach Earl Garcia moving into his second season with the Leopards, it's about keeping things simple.
"We haven't changed the way we implement plays," Garcia said. "It's blocking, tackling, and some kicking, so we try to make the complex simple, not the other way around."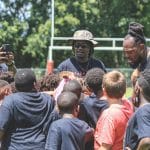 Moving forward into the season, every coach ensures that their players are where they need to be both physically and mentally to start the season, along with the support from their staff.
"[Our] staff has been tremendous thus far," Garcia stated. "We need to improve at the details and have to get good at the small stuff to play in November."
At times to help make those improvements, one voice can make a difference.  When the opportunity is available, high school sports programs may schedule special appearances from pro athletes. Successful pro-athletes can encourage student-athletes and help them understand that many obstacles can be overcome with perseverance.  Pro athlete and former NFL player Nigel Harris visited the Leopards football team for a weight room motivational talk in April.
"I was lucky enough to [have] coached Nigel a couple of years back at Hillsborough. Nigel is a great player and, honestly, a better human. He's had his journey, as a lot of us have, and every day wasn't clear skies and 72. With all the stuff he went through, Nigel kept preparing for football, and football was the main thing in his life. So he's a great voice for our kids," said Garcia.
Changes in the Staff
The coaching staff for the Leopards has changed for the 2021 season. New coaches bring new ways to implement skills.
Bronson Tafelski is coaching on the same field he played on in 2018. He is watching these players' every move during practice to ensure their performance will be ready for the upcoming season. After all, he's coaching the players who are now playing his position as well as his nephew.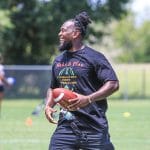 "I feel like I connect with these guys and a lot of them I know, so I am already on their level, and that foundation is laid; that's a great advantage to me," Tafelski said. "Since I am the same age and fresh out of high school, I feel that energy is still there, and I get to boost them."
Brandon Rooze has been coaching college football for the last four years at Ohio's Bowling Green State University as an Offensive Graduate Assistant.
"I really like everything that Coach Garcia was about and everything that he is trying to build here at Hernando," Rooze said. "With Garcia at the helm and everything that we are doing here, I think we got a good direction."
John Capel, former track coach for Springstead High, also joins alongside Rooze as offensive coordinator.
"I've always done them both, even in high school, I played football and ran track, so it was an easy transition," Capel said. " This is the love of my life, right here, football."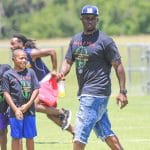 "I feel like that we've got a real special group here, that we can come together and play Leopard football. I see some exceptional group of guys that's finally starting to come together, so we've just got to play together, and I think we will be alright," Capel added.
But there is one particular coach that has been on the sidelines for years, 28 years to be exact, Coach Mark Griffin—within those years, he has seen many coaching transitions.
"I look at it as an opportunity to learn a different system every time, so it makes you a more complete coach because you have seen how offensive and defensive have evolved over the years," Griffin said.  "I look at everything as a learning opportunity."
There are still weeks left in the weight room and on the practice field before the Leopards travel to Riverview to take on Sumner in the Preseason Kick-off Classic on August 20th.
Their first home game is scheduled for August 27 against Wiregrass at 7:30pm.