When teachers welcome students back to school next week, two beloved instructors will not be there to greet them. Michael Cooper, a Civics teacher at Winding Waters K-8 School, and Colleen Fail, a third grade teacher at Spring Hill Elementary, passed away suddenly this summer. Parents, students and fellow teachers expressed not only shock and sadness, but also praised the two educators for their dedication, their skill and their love for their students.
Michael Roy Cooper started teaching in 2007 after careers in broadcasting, advertising and retail entrepreneurship. He loved children and was a history buff, so it was a natural choice for him to teach Civics. In his time at Winding Waters, Cooper oversaw the Beta Club, Brain Bowl Team, Chess Club, History Day and Student Government. He also served as a coach for Football, Basketball, and Softball. One event he looked forward to and was enthusiastic about was the annual History Fair and for several years he accompanied groups of students to the national finals in Washington D.C.
Outside of school, Michael spent a lot of his time volunteering with TampaPets.org, his wife's rescue charity. Cory and Michael had been married for twenty-nine years.
"Michael was always all-in and really lived by the saying 'If you love what you do, you'll never work a day in your life' and told that to the kids all the time. He wanted to bring joy and enthusiasm into everyone's day and had vast reserves of energy to make that happen," Cory remarked about her husband.
Neil Blumengarten, a fellow teacher at Winding Waters, wrote a moving tribute to Michael in the Facebook group that was set up in Cooper's honor – Celebrating Michael Cooper. It read in part:
"Michael took me and made sure we went around to each of the new teachers to welcome them.  Everyone he came across was worthy of attention," Blumengarten stated.
Both teachers were super-hero comic book fans and according to Neil, "Michael had a super-power, connecting with people, and using that connection led him to acts of service."
Damien Clark, met Michael seven years ago when they were both starting their
schools' involvement with Hernando County History Day.  Clark also had high regard for his friend and fellow teacher.
"We clicked right away as we shared a love of Geek culture and education. I am forever grateful I took our last phone call to tell him that he was a good man and how much I appreciated everything he did."
Cooper's students were devastated at the news of his untimely death and praised him as a teacher, mentor and friend.
"One of his outstanding qualities is that he was always an advocate and motivator for each one of his students, whether they still attended WWK8 [Winding Waters K-8] or not. There was not one student he did not care about. Another trait that I found admirable about him was that he carried himself with a confidence that was just encaptivating," recent graduate Miranda Mays remarked.
"Mr. Cooper always expected a lot of his students, whether that was in school or simply being a good human being, and that inspired all of us to work harder to meet those standards," Miranda continued.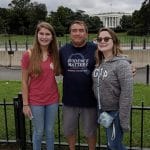 Kelly Lynne McNerney, a parent, had this to say about him, "He took the time with my daughter, Shayla, in his Civics class and stayed over countless days to tutor her. He brought excitement to the kids with teaching them ways to remember certain events that my daughter still recalls. His laughter and smile around campus, as I worked there too at one time, radiates all around."
Another parent, James Sapia, commented, "He helped our daughter, Maddie, transition to WWK8 and flourish in her two years there. He encouraged her to take on leadership roles, moving beyond her comfort zone. He even took an interest in our 3rd grader, Jake, and invited him to join the Chess Club."
A common thread goes through all the comments about Michael – his buoyancy, friendliness, concern for students… and his reputation for expounding in great length on almost any subject. I was honored to know Michael and noticed all these things about him too. Whenever he would call me to tell me about an event to cover or an interesting story to write about, I could figure on at least a half hour conversation, but it was never boring!
Although there are many wonderful teachers in Hernando County it's not an exaggeration to say, Michael Cooper was one of the best. In addition to hundreds of friends and students, as well as fellow teachers, Michael leaves behind his wife, Cory and his father, Roy.
Colleen Elizabeth Fail, a teacher at Spring Hill Elementary, passed away suddenly on July 3, at the age of thirty-three. Like Cooper, Mrs. Fail received accolades from everyone who knew her. Just this past November, she earned the Teacher of the Year recognition. 
On the occasion of this honor, Collen said about herself, "My inspiration for becoming a teacher was the challenging moments and knowing that I wanted to help students through them by building trusting relationships and instilling in them that they can do it. Learning new things can be hard, but having someone in your court every step of the way can change your mindset from an 'I can't do this,' to an 'I will be able to do this.' "
Her passion was reading and her goal was to instill in her students a love of books. Once, after she finished reading aloud a novel to her class, she mentioned that there was a sequel coming out and every student started cheering. They begged her to preorder the book so they could find out what happened next to the main character.
"This moment was so memorable to me because it was a turning point for many students that day. They saw reading as more than just something they had to do; it became something they could be passionate about," Mrs. Fail remarked.
Two of her students, Julian and Jacob Guerrier, had this to say about their teacher on the Spring Hill Elementary School Facebook page: "Thank you, Mrs. Fail, for being an amazing teacher. You always smiled! You took the time to eat lunch with us, you happily read to us daily and you constantly made learning fun for us."
Danielle Stoll, a parent of one of her students, commented, "You are truly a beautiful soul, one of a kind human being who will be so missed. Noah absolutely adored having you as his teacher and will make you proud in his future!"
Another parent, Kym Harris Williams, stated, "She was one of the best, encouraging, motivating teachers I've come across in a long time. She pushed those kids to do their best and wasn't having any of the slacking. She knew those kids' potential and she made sure they lived up to it."
Mrs. Fail's husband of eight years, Brandon, remarked, "She always put others first. She was the best mother to our daughter [15-month-old Hannah]; she loved her so much. I fell in love with Colleen because of her caring and compassion for others. She brought all of that into the classroom which is what made her a terrific teacher, team leader, and friend."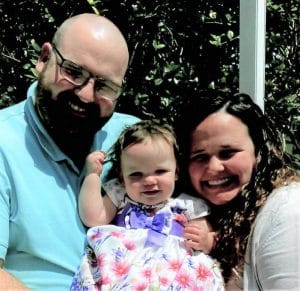 Collen Fail is survived by her husband, Brandon; daughter, Hannah; parents, James and Patricia; sisters, Tina and Kathleen; Tina's husband, Gary; and their children, Manning and Simone.
The grief of losing two wonderful human beings like Colleen and Michael will never go away entirely, but the fact that they impacted so many lives in so many ways will be their lasting legacy.
As the motivational writer, William Arthur Ward, said "The mediocre teacher tells. The good teacher explains. The superior teacher demonstrates. The great teacher inspires."
If you knew either Michael Cooper or Colleen Fail and want to write a tribute to them or read what others have written, go to the Facebook group "Celebrating Michael Cooper" and Spring Hill Elementary School's official Facebook page.