The Hernando Clinic location of CORA Physical Therapy, located at 944 E. Norvell Bryant Hwy in Hernando, will celebrate its grand opening 4-7 p.m. Sept. 28. A ribbon-cutting, overseen by the Citrus County Chamber of Commerce, will take place at 4:30 p.m. Yet already this location, one of the hundreds located across the nation and 125 in Florida, sees approximately 10 patients per day–with each receiving the personalized attention for which CORA is widely known.  Many clinic patients drive from Hernando County, Brooksville in particular.
"Getting Better Done Better" is the slogan of CORA, based in Charlotte, NC. And this is the corporate mission of Cindy Llanso, Clinic Manager/PT of the CORA Hernando Clinic, open since last December.
"We always pride ourselves on delivering a superior level of care," she said. "We work as a team to prepare the best plan of care for each patient."
"At this location, we most frequently administer orthopedic rehabilitation, post-op rehabilitation, and vestibular therapy," said Llanso.
These services are provided in a 1400-square-foot clinic featuring a therapeutic gym and a private back area. And, as the CORA website emphasizes, the service provided is also personal.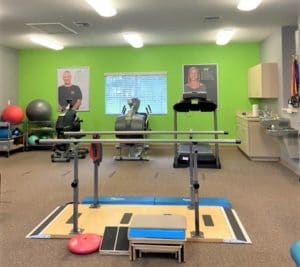 "We communicate. We identify and achieve outcomes. We respect costs. We grow. We share. And we laugh. (Not coincidentally, the best medicine!)," reads information found at https://www.coraphysicaltherapy.com/about/. "Our therapists are the most sought-after in the industry, and we keep them that way with continuing education and funding for advanced degrees and certifications."
True to this mission, Llanso does indeed feel that her job helps her play a vital role in the caring profession.
"When I was young, I went to therapy with my grandmother," she said. "I realized then that I wanted to spend my life helping people."
And that, she says, is what CORA is all about.
"When we help people get better," she said. "Then we feel more accomplished."
Call CORA in Hernando at (352) 341-1616.
—-
CORA Physical Therapy offers numerous varieties of therapeutic care:
AlterG
Hand Therapy
Aquatic Therapy
Kinesio Taping
Astym
Manual Therapy
Dry Needling
Neurological Rehabilitation
Fall Prevention
Orthopedic Rehabilitation
General Fitness
Post-op Rehabilitation
Physical & Occupational Therapy
Post-COVID Recovery
Auto Injury Treatment
Therapy in the Home
Pediatric Therapy
Senior Services
Sports Medicine
TeleHealth
Spine Care
Work Comp
FMS
SFMA
Graston