Article by ANDY VILLAMARZO, Photos by HERNANDO HIGH SCHOOL JOURNALISM
BROOKSVILLE- There are rivalries and then there are teams who just flat out don't like each other. The latter is probably what you can place a checkmark next to when you look at the Nature Coast-Hernando matchup annually. The Sharks and Leopards just don't have a lot of love for one another and for those in attendance, this past Friday night got to see it first hand.
The Leopards got a big performance on the ground from quarterback Blake Smith, who scored three touchdowns and led Hernando to a 27-21 win over Nature Coast at Tom Fisher Stadium. When the season started for Hernando, it may have looked bleak but the Leopards have now ripped off three straight wins. Hernando now improves to 3-1 and Nature Coast is 4-1 on the season. "We don't like them and they don't like us and that's okay," Hernando head coach Earl Garcia III said. "You don't have to like everybody and that's okay. We played about as bad as anyone could play when we faced Zephyrhills, but our guys have been resilient."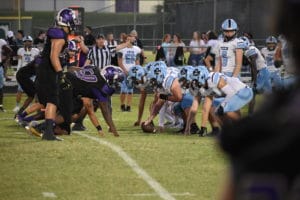 Fortunes have absolutely changed all the way since Hernando's season, opening a 43-2 loss to Zephyrhills. Since then, it's all been about winning for the Leopards. Hernando has reeled off wins over Dade City Pasco, Inverness Citrus and now Nature Coast. The Leopards didn't deviate too far from what led them to success last season and much of that was attributed to good defense and run game.
Smith made sure to keep Nature Coast (4-1) on their heels when it came to his team's legs. The game's opening touchdown was a 66-yard scamper by running back Brian Lewis (15 carries, 122 yards), giving the Leopards the initial 6-0 lead. It wouldn't last too long, however, with Carlos Mendez scoring on a reverse coming from tailback Christian Cromer, who was held to just 92 yards on the night. It's the first time Cromer has been held under 100 yards rushing this season.
Nature Coast went into halftime ahead of Hernando and seemingly found success in the ground game with Cromer, who ended up scoring two touchdowns on the night. One problem of the Sharks has been untimely penalties and that ended up being Nature Coast's undoing in the final moments. Up 21-19 with about 52 seconds left, the Sharks punted the ball to the Leopards and looked to hold onto a slight 2-point advantage.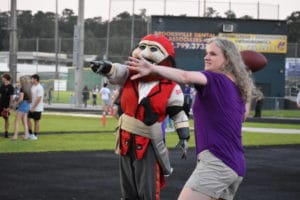 Hernando (3-1) got the ball back and went to work but their final drive was aided by two huge penalties that extended the comeback attempt. Nature Coast committed a personal foul face mask and a late hit out of bounds and it put Hernando at 1st and goal at the 8-yard line. From the 8-yard line, Smith only needed one play and ran in the go-ahead victory.
"Well, my blood pressure is probably one million over two million. The defense had been playing well all night and I knew we'd get the ball back one more time," Garcia III said after the game.
Andy Villamarzo can be reached at [email protected] and follow him on Twitter @avillamarzo.