Article and Photography by ALICE MARY HERDEN
For Central, volleyball matches against Hernando have been a challenge, but on Wednesday, September 22nd, Central got their first taste of a set win against the Lady Leopards since 2015.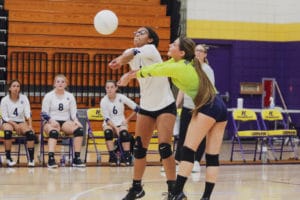 Maria Gebhardt took on the role of head coach for Central's volleyball team last season and continues this year. It has been a battle dealing with delays resulting in quarantines and injuries.
"It's definitely been a struggle," Gebhardt said. "Our center was quarantined for two of the games; one of the games… we had two of the captains out with knee injuries."
Hernando has a solid net presence which poses a challenge for Central when it comes to defending and blocking at the net.
"We are a tiny team, and I think that gives us a natural disadvantage; not having the height at the net that some of the other teams do," Gebhardt said. "Our defense is typically strong. (Senior) Gianna Karnow is just absolutely phenomenal. She is tiny and has more energy than the rest of the team combined. She holds our defense together."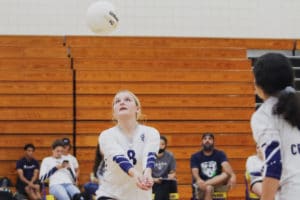 "I plan to stay and hopefully give the program the stability it needs. Volleyball has always been my life."
There were offensive plays during the Hernando game that seemed to be unrecoverable, but the Lady Bears just so happened to retrieve and hit the ball over the net on most of those plays.
Reflecting on previous games against Lecanto, "It was not a pretty game," Gebhardt said. "Then we played them again, and we won one set against them." 
Those little things that the players build upon, their ability to see and recognize those encouragements can often go a long way.
"What I need them to know is that there are so many people who doubt them, but at the same time, there are so many people that believe in them and know they are capable of accomplishing so much," Gebhardt said.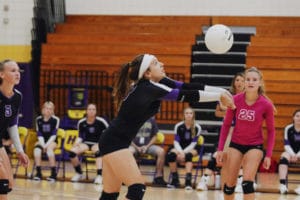 Adding to that belief is how these girls hold the team together, and one main ingredient is that they do not give up on themselves. 
"They have the confidence and even with all losses, knowing that they can accomplish so much," Gebhardt said. "They are capable, they're talented, and they are strong women and players. That's what gives them the drive to keep moving forward as a team and program." 
Central travels to Crystal River on Tuesday, October 5, and goes in for round two against Hernando on their home court Thursday night, October 7, 2021.
The Lady Leopards have obtained two wins this season with a 3-1 win over Central and a 3-0 win over Springstead. Next week they have a three-game run. Hernando will travel to Citrus on Tuesday, October 5, and Nature Coast Tech will host their match with Hernando on Wednesday, October 6.