By LISA MACNEIL,
[email protected]
October is Breast Cancer Awareness month. We spoke with Dr. Mary Li of Florida Cancer Specialists, who gave us some new and useful information on breast cancer prevention and detection. Bayfront Health Medical Group, also provided recent statistics and guidance.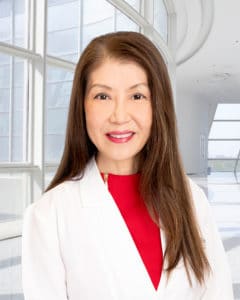 In honor of Breast Cancer Awareness month, several local imaging centers are providing free and low-cost mammograms to those in need. Dr. Li advises those who may qualify to contact the Crescent Clinic in Spring Hill for information. Florida Cancer Specialists works with patients who are diagnosed with cancer in an effort to make sure treatment is not delayed due to finances.
Everyone should be monitoring their breasts for changes. Breast cancer is not as prevalent in men, but the risk factors are the same. As in nearly every form of cancer, the key to remission and long-term survival is prevention and early detection.
"When screenings are delayed, diagnosis is delayed, and treatment is delayed," said Michael Baehr, M.D. with Bayfront Health Medical Group. "But the best chance for survival of any cancer is early diagnosis and treatment. Women should not be afraid to get a mammogram. Many stringent safety precautions have been put in place in our imaging center to protect everyone from COVID-19, there is no reason to delay routine care- if you've put off a mammogram, don't put it off any longer. Mammography is the best screening tool we have available to detect breast cancer in early stages."
Diet, exercise, and lifestyle choices affect so many facets of disease prevention. The mantras of "eat well, work out, don't smoke, limit alcohol" are still relevant for everyone. Women who have a menstrual cycle should perform monthly self-examination right after the cycle. This consistency makes it easier to detect changes. Post-menopausal women should set a consistent date each month for their self-exam.
Dr. Li recommends yearly mammograms for women starting at age 40. In the case that an abnormality is found, a CT (computed tomography) scan or MRI (magnetic resonance imaging) may be ordered to get a better picture.
Hormone Replacement Therapy (HRT) or estrogen replacement was commonly prescribed to treat various symptoms of menopause, primarily bone density loss leading to osteoporosis. Dr. Li advises that this is not standard practice anymore, and that estrogen replacement could be a risk factor for postmenopausal breast cancer.
Recent studies have found that two genetic mutations have been linked to the development of breast cancer, as well as ovarian, endometrial, colon, and prostate cancers. Dr. Li says it's very important to be aware that breast cancer related to these genes, BRCA-1 and BRCA-2 account for less than 5% of total breast cancer diagnoses. BRCA-1 raises the risk for breast, ovarian and endometrial cancers, BRCA-2 raises the risk for breast, colon and prostate cancers.
Men can pass along the mutation that causes breast cancer as well. Previous guidance for women was to assess their risk by how many close female relatives had a history of breast cancer. "Sometimes you can have a clear history on the mother's side, but the gene is on the father's side," Dr. Li said.
Breast cancer in men has about a 1 in a 100 incidence. In men, breast cancer is easier to detect, and response to treatment is good. Dr. Li said that men who are diagnosed with prostate cancer are tested for the BRCA gene, and have been responding to treatment that is also used for breast and ovarian cancer treatment.
The other 95 plus percent have no discernible cause, however, new information has found red wine to increase risk for breast cancer specifically. "One drink is ok," Dr. Li advises, "But don't go beyond that." Obesity is being studied as a risk factor since increased subcutaneous fat (the fat layer directly underneath the skin) causes the body to produce more estrogen.
The COVID-19 lockdown procedures resulted in many delaying early detection screenings such as mammography. Dr. Li told us that she has seen an increase in the number of patients over the year with advanced-stage cancer.
However, Florida Cancer Specialists has remained open. It's crucial that the patient receives chemotherapy regularly, so Dr. Li and her colleagues provided a safe environment with no days lost due to COVID-19, in spite of shortages of masks and gloves. They are still practicing safety measures to reduce exposure to the novel coronavirus.
Dr. Mary Li has been caring for cancer patients in Hernando County for more than 11 years. The author of numerous publications in neuropharmacology, Dr. Li continues her interest in DNA adducts and carcinogens. She maintains a keen focus on cutting edge cancer treatments and remains steadfastly involved in clinical research as an asset to her practice of oncology and hematology.