By Judy Warnock
October is often said to be one of the most thrilling months. With it comes the changing of seasons and shorter days, giving more time for darkness and heart-stopping frights. 
To top it off, at the end of this deliciously spooky month, on Wednesday, October 20th, we have a Full Hunter's Moon, also commonly known as the Blood Moon. 
The name 'Hunter's Moon' goes back to the 1700s, however, hunting by moonlight is nothing new. The Native Americans have used the moon's brightness to track game for thousands of years.  When the days grew shorter, they knew this indicated it was time to hunt and put aside provisions for the colder months ahead. Harvest season was over and crops had been gathered. Deer, foxes, and other animals would then come out at night looking for leftover grain.  The Native Americans were able to see them in the fields by moonlight. Can you imagine a time when you had to provide all the food for your family?  No grocery stores or mini marts; No quick trip to Wal-Mart or Target if you forgot something; No, you were on your own. Luck and skill in hunting would make all the difference between a good winter and a bad one. 
October's full moon rises soon after sunset. English people in the Middle Ages referred to it as the Blood Moon. What causes the moon to appear this red or copper rust color?  It is a phenomenon caused by the earth's atmosphere, usually when the moon is seen near the horizon. We may not realize it, but each day our atmosphere scatters sunlight.  Most of the time we see the colors of green and blue. Red is a difficult color to pass through. But there are times when the red remains and the blue and green scatter away.  When conditions are just right we are treated to an awesome Full Blood Moon.  
There are other things to see in the night sky.  One of the brightest and best-known constellations to catch our eye is named Orion, after a hunter in Greek mythology. Three bright stars in the middle of it form Orion's belt.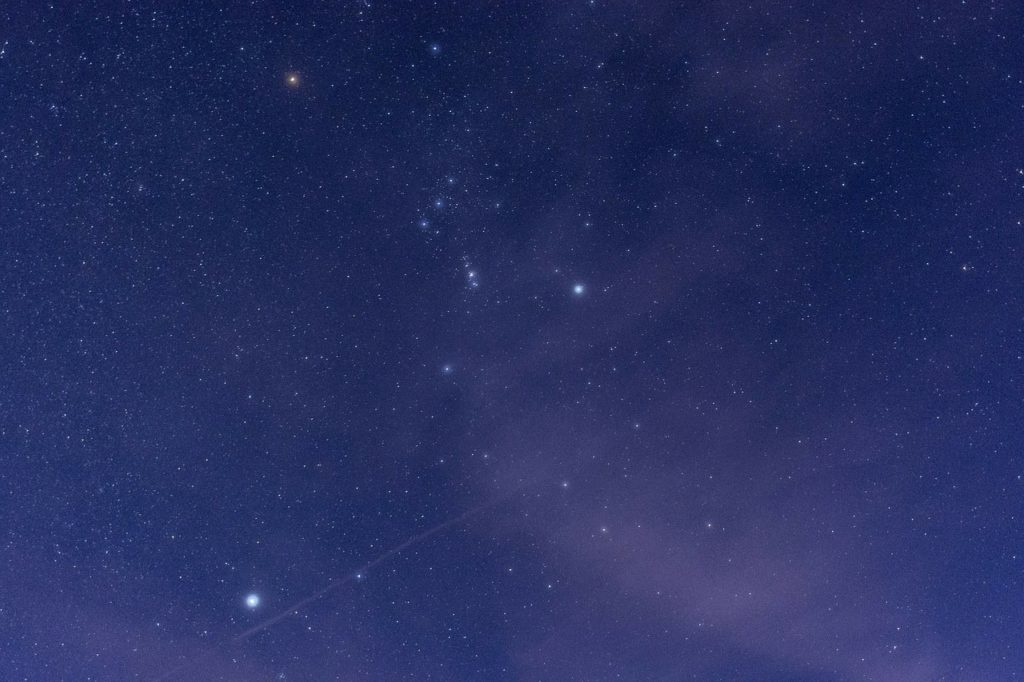 Each fall there is the Orionid meteor shower and this year it peaks on October 20. Too bad the timing of the best night coincides with our full moon.  The bright moonlight will wash out most of the sightings. Don't get discouraged though but keep looking for those up to 20 plus meteors per hour. They will be out there the entire month of October.  Getting up at 2 or 3 am some morning may reward you with a glimpse of those elusive shooting stars.    
Did you know there is a festival in Indiana that honors the October moon? The town of West Lafayette celebrates The Feast Of Hunter's Moon. They have been doing so for more than 50 years, since 1968. The event commemorates the early meetings between French settlers and the Native Americans.  The location is perfect, a historic park on the shores of the Wabash River.  On-site is a replica of an 18th-century military trading post called Fort Ouiatenon.  Thousands gather every year to see the military maneuvers and visit an open-air market that takes you back to the 1700s. 
Chinese people also celebrate in a special way; They hold a Double Ninth Festival on the 9th day of the 9th lunar month, this year their day falls on Oct. 14. They associate the number nine with longevity.  A time to recognize elders.  They show respect, love and care for older family members.  They may cook a special meal or take them on an outing. Many people take this time to visit an ancestor's grave and help clean and care for it. Chinese culture also places importance on nature, art, and poetry.  Climbing in the hills or mountains gives people a chance to appreciate nature. At one time it was thought that mountain air freed you from disease.  Now an outing at this time offers a chance to focus on good health and celebrate the outdoors before the long winter comes.  The chrysanthemum flowers also bloom around this time and it is widely appreciated for its beauty; Poems are written about it. The flower is also made into tea or wine to drink for the Double Ninth Festival.  Care and respect for your elders and beauty in nature is not a bad way to spend October, one of our nicest months.  
We do not hunt for food anymore but it is a good time to chase your dreams!   And a good time to be outside and appreciate a Full Hunter's Moon.