If you have ever visited a military cemetery, or even a public cemetery, around Christmas time you may have noticed wreaths adorning the graves of veterans buried there. As was pointed out by Stefan Brann, Ambassador for Wreaths across America, these are not Christmas wreaths. They are wreaths honoring the sacrifices of men and women who have served in the United States military. 
On Monday, October 11, the Wreaths Across America Mobile Education Exhibit came to Brooksville. Helping to explain the purpose of this organization and the exhibit were women representing the Winding Waters chapter of the Daughters of the American Revolution (DAR). Also on hand were Jennifer Merrill, another Ambassador, and Brann who drives the tractor-trailer housing the exhibit.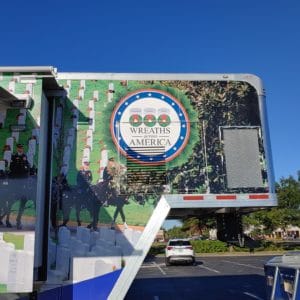 Wreaths Across America began in 1992 when Morrill Worcester, owner of Worcester Wreaths, had 5,000 wreaths leftover near the end of the holiday season. He came up with the idea of shipping them to Arlington National Cemetery to adorn the graves of the veterans buried there. Volunteers from the local American Legion and VFW Posts, along with members of the community decorated each wreath with red, hand-tied bows. A local trucking company, Blue Bird Ranch, Inc., provided transportation to Arlington. Members of the Maine State Society of Washington, D.C. helped to organize the wreath-laying, which included a special ceremony at the Tomb of the Unknown Soldier. Worcester and twelve volunteers laid 5,000 wreaths at Arlington in 10 hours' time!
The tradition continued quietly until 2005 when a photo of the stones at Arlington, adorned with wreaths and covered in snow, circulated around the Internet and went viral. Suddenly, the project received national attention. Thousands of requests came in from all over the country from people wanting to help with Arlington, to emulate the project at their national and state cemeteries, or to simply share their stories and thank Worcester for honoring our nation's heroes.
In 2007, Wreaths across America became a non-profit 501(c) (3) and, as they say, "the rest is history." The mission of the group is: Remember, Honor, Teach. 
"By 2012 it had grown from one location to 826 locations and we laid our one-millionth wreath at Arlington National Cemetery in 2012," states Brann. 
Other milestones include: In 2018 more than 9,000 wreaths were laid in Normandy, France, the site of the D-Day invasion. In 2019, 2.5 million volunteers laid 2.2 million wreaths in 2,150 locations in the United States and two locations overseas. Also, in 2019, volunteers took more than 14,000 wreaths to military cemeteries in Luxembourg and the Netherlands. Now there are twenty-four locations overseas. Last year, amidst the pandemic, Wreaths across America laid 1.7 million wreaths in 2,557 locations and saw an increase of more than 400 locations. 
Brann, the son of a Vietnam-era veteran, is especially passionate about honoring the men and women who served during that time. This military personnel did not receive the homecoming or the respect they deserved. One of the visitors to Monday's exhibit was Marva Braggs, the wife of a Vietnam army veteran. Brann presented her with a special coin commemorating the service of those men and women.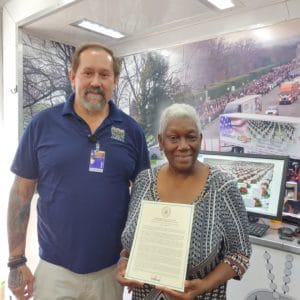 Mrs. Braggs was visibly moved and said, "On behalf of my husband, I thank everybody."
To give Vietnam veterans their rightful place among other veterans, President Obama signed a proclamation declaring March 29, 2021, Vietnam Veterans Day, marking the 50th-year anniversary of the Vietnam War.   "Today, we reaffirm one of our most fundamental obligations: to show all who have worn the uniform of the United States the respect and dignity they deserve, and to honor their sacrifice by serving them as well as they served us," states the proclamation. When Donald Trump took office, he re-signed that proclamation and added a component setting the date of March 29th as a day of national observance known as National Vietnam War Veterans Day. 
December 18, 2021, will mark the thirtieth anniversary of the wreath-laying. Besides the national military cemetery in Bushnell, Florida Hills Memorial Gardens
in Spring Hill also participates in this annual ceremony. 
There are a number of ways that someone can get involved with this worthwhile organization. You can donate money for the wreaths that are laid at the grave and even pay for one to be delivered to your home. You can purchase merchandise, such as tumblers, shirts, and Christmas tree ornaments, at very reasonable prices. You can also become a corporate sponsor or volunteer to lay wreaths. If you own a trucking company or business that has a fleet of trucks you can also volunteer one of your trucks to help transport the wreaths. More information can be found at www.wreathsacrossamerica.org.  

If you missed the mobile exhibit when it was in Brooksville, you have an opportunity to see it in Inverness at 268 North Apopka Avenue on October 18; at 3010 Saddlecreek Road, Lakeland on October 21; and at 10525 49th Street North in Clearwater on October 23 and 24.  The exhibit will also be in Riverview at 6919 Providence Road on October 25. For exact times call 207-230-4121 or email [email protected]. 
What started as one man trying to find a way to use up a surplus of wreaths has mushroomed into a worldwide movement. It just goes to show you that "All great things have small beginnings."