October 6th through 16th Brooksville held its annual celebration of history and heritage. This event goes back as far as the 1960s and possibly further. Festivities included tours of the local cemetery, concerts, lectures, unveiling of murals, games, a Breast Cancer Awareness Walk, contests…and, of course, food. Whether you are a long-time resident of the area or a newcomer, there was something to entertain, as well as inform.  
The purpose of this event is "to celebrate our roots and shared experiences and to educate on local history," stated Natalie Kahler, Brooksville Main Street Executive Director.  
This year's celebration had some added features not found in recent ones. They brought back the Beard and Mustache contests and added a mullet competition. They also added the Great Brooksville Games, consisting of such activities as an egg race, croquet and checkers. The historic building walking tour was launched at the beginning of Founders' Week and for the first time speakers were brought in to talk about Florida history.  A display of portable murals painted by local students and individuals kicked off the week.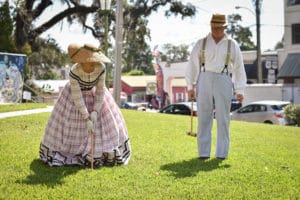 One of the more interesting and unusual events was the tour of Brooksville Cemetery – maybe not everyone's "cup of tea." Being that it was so close to Halloween and I'm a history buff, it was one event I didn't want to miss. 
Our volunteer tour guide was Kathleen Hudak, the historian of the cemetery. She conveyed the right atmosphere, dressed in a black hooped dress reminiscent of the Victorian era – despite the 90° heat. Ms. Hudak regaled the group of approximately twenty people with little-known facts regarding burial protocol, interesting stories of times long past, and histories of the prominent Hernando county families.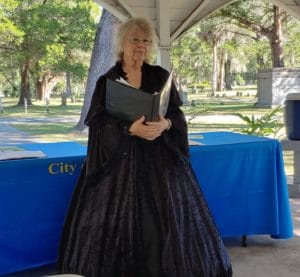 The first reported burial in this cemetery took place in 1842. The woman buried was Charlotte Wynn Pyles Crum who was killed by Native Americans. Descendants of Charlotte still live in Hernando County. 
Other prominent families whose members are buried here are the McKethans, Laws, Ayers, Cooglers and Snows. Oftentimes, several generations of a family are buried within an enclosed area. Bricks were used to mark off the boundaries of these family plots.  
In the 19th and early 20th centuries, certain funeral and burial protocols and traditions were followed. For example, a woman was expected to dress all in black for the first two years after her husband's passing.  Also, the way the headstones were faced indicated whether the deceased was a church-going person or one who did not follow any particular religion or no religion at all. If the headstone faced east the person was religious. If the headstone faced west, he or she was not known to have been religious.   
Most poignant were the graves of children. One is graced by a statue of a little boy, William Henry Varn, who passed away in 1913 at the age of nine from a ruptured appendix. 
Another interesting, if not macabre, feature of the cemetery was a mausoleum erected in 1916. Its first tenant was a Mr. Butterweck. He was buried inside the structure in a coffin with a glass lid. His widow would go inside the mausoleum and visit with him. When his wife died, she was buried in a coffin placed on the other side of him but at a higher level. Butterweck had planned it this way. 
"The purpose was that she had always looked over him in life and did everything for him in life; he wanted her to be able to look over him after death. They had the love of a lifetime," stated Ms. Hudak. 
A true case of a man putting a woman on a pedestal.  
Ms. Hudak gave detailed answers to the questions brought up by members of the attentive audience made up of all age groups−from senior citizens to children. 
Megan and William LeBlanc, who have lived in the area for about five years, brought their six-year-old twin daughters, Josephine and Grace. 
"We wanted the girls to learn the history of the area," stated Mrs. LeBlanc. "I liked learning about the parts everybody played. You know a lot of the names because of the streets."  
Josephine commented, "It was fun. Learning about this was interesting. I learned about the history of people that lived here."
Just south of the courthouse at 131 South Main Street, the Historic Brooksville Woman's Club held its annual tea in conjunction with Founders' Week. This year instead of a white gloves and hat affair, it was "Tea with a Twist." Because of the pandemic, the ladies had bottles of Arizona Iced Tea for sale, along with baked goods and a yard sale, featuring both vintage items and everyday "junk." They also held a Twist contest. For those of you younger than sixty, that was a popular dance in the late '50s and early '60s. 
The Woman's Club also had a ribbon cutting to celebrate acquiring the vacant lot next door. A local attorney donated the funds, $12,500, to purchase the lot. They plan to build a gazebo on the property that can be used for outdoor weddings and other events.  
At the ribbon-cutting, club president Wevlyn Graves stated, "I wish to thank all our current members and the past members that have gone on before us. Without the trailblazing they did, we wouldn't be standing here today." 
Ms. Graves added, referring to their anonymous benefactor, "I'm also thankful to the men who are behind us as we move forward." 
The organization's original clubhouse, dating back to the late 1920s, is in need of repairs and updating. Right now, the women are raising the funds to refurbish the kitchen and make other improvements. 
Overall, Founders' Week was a huge success, not just for the shops and restaurants that benefitted from the increased business in the downtown area, but also for the public that enjoyed a greater number and more diverse events appealing to all age groups. 
Several groups had a part in the Founders' Week celebration. Hernando County Fine Arts Council helped with Murals in the Park and the Historic Mural Tours.  Historic Hernando Preservation and Brooksville Main Street both hosted Florida Talks lectures.  The City Parks department hosted the Breast Cancer Awareness Walk and the Cemetery Tours. 
Brooksville is quickly becoming a popular destination for locals and out-of-town visitors. This is due to a number of factors, including one-way streets leading into and out of downtown to ease traffic congestion, ample free parking and pedestrian-friendly areas, picturesque old houses and churches, the colorful murals that grace many of the buildings, and the events that take place almost every weekend. The Main Street Organization and the cooperation among the Brooksville City Council, the County Commission, and the Greater Hernando County Chamber of Commerce have been largely responsible for this.