Treats of all varieties will be available for sale at the October 30 Orange Avenue Market, which will be celebrated from 4:30-6:30 p.m. in conjunction with the Downtown Trick-or-Treating celebration in Brooksville. Local art, handmade goods, and food and drink will be sold at the market.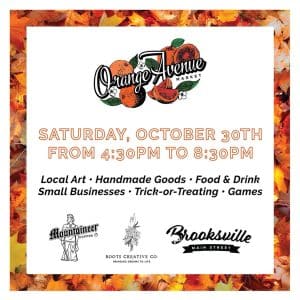 "Our fall market will be back at Mountaineer Coffee and it is happening the same night we are coordinating downtown trick-or-treating! I did this last year as well and it was amazing. The businesses all distribute candy and we will have our vendors do the same at the market. Orange Avenue is Roots/Mountaineer Coffee and the downtown trick-or-treating is Brooksville Main Street and a large number of businesses as well,"  said Allisa Babor, Founder of Roots Creative Co.
Babor promises an evening of fun and festivity at the market that has become a community tradition. "There will be tons of candy, a costume contest, and games spread out throughout the downtown area!" 
The market will offer other varieties of treats, in the form of exquisite handmade items for sale. "Our market will feature local talent with artists and makers from Hernando County and surrounding areas," said Babor. 
Market vendor Laura Bell aka The Steampunk Prospector has been participating in the market since its inception. "It has been the best thing for my hand crafted steampunk micro business. It was the first market I ever did in Brooksville and I have met so many wonderful people through it. I also really enjoy the sense of community it provides as well," said Bell.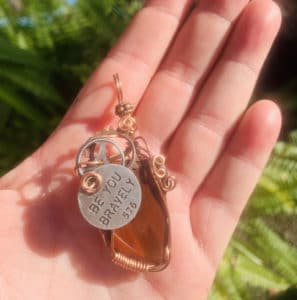 Alyssa Nienhuis, Online Thrift Coordinator of Jericho Road Ministries, feels that Jericho's presence at the market benefits the ministry. "Jericho Road Ministries is a huge proponent of supporting our community.  Orange Ave. is a great way to show that support. One way we have expanded our community is through our online store. We have been able to reach 39 states with information about our ministry through selling clothes! At this market, we will be featuring select pieces directly from our online store.  We can't wait to tell more people about our online store and our ministry to all those who come out," said Nienhuis. 
Rebekah Barr from The Ice Cream Barr feels that the market is a good place to sell her frozen treats. "We are excited to be a part of Orange Avenue Market because they support local artists and new businesses like us! Our goal as a business is to source as many of our products directly from Brooksville as we can. This market not only brings out a large number of people to give us a successful night, but it also encourages connections with other small local businesses which is invaluable to us. These kinds of connections are what keep us creative! We make craft style ice cream from the very best ingredients. We like to source as many as we can from Brooksville locals including Mountaineer coffee, Frazier's sweet corn, Bread Box Bakery and more," said Barr.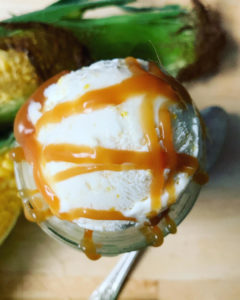 Jenesis Carlton of Formed and Fashioned feels that Orange Avenue Market represents a uniting of creative spirits.
"Formed and Fashioned recently participated in its first ever market. Last month at the Grove Market, we met so many fellow creatives. This is Formed and Fashioned's first Orange Ave Market. From past experiences, I can say that it is this perfect environment for artists and entrepreneurs to express and showcase their talents. The vendors that are selling alongside you aren't in competition with you, they are there to support you! I love these markets by Grove, because everyone who is there to sell, is also there for each other! You leave that market as a seller with so much encouragement, inspiration, and excitement for the next market event. These markets are the perfect environment for friends and family, as well as growing artists and small businesses. We are creatives, and we are family."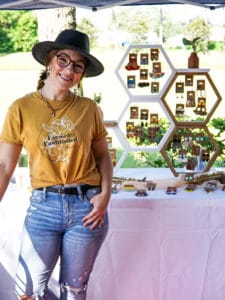 Babor feels that the Orange Avenue Market will indeed be a "treat" for visitors and vendors alike. "We encourage our vendors to dress up, pass out candy, and join in on the holiday fun! We'll see you on Orange Avenue," she said.