November 17th is National Take a Hike day. While there are plenty of places to go in Hernando County, there is one trail that can take you on a journey surrounded by decades-old oak trees and towering Swamp Chestnut oaks blended with a mixture of Florida sabal palms. Just a little over 8 miles west of North Brooksville lies this hidden gem called Fickett Hammock Preserve.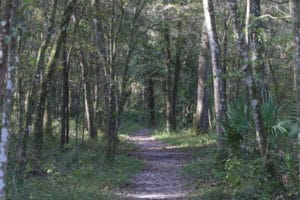 Take a Hike Day relates to getting more outdoor enthusiasts to discover and re-discover areas in their community. It's a way to encourage more people to enjoy the outdoors, not only for the scenic views but for their well-being. There are hundreds of research studies that conclude being outdoors can contribute to a healthier lifestyle. Fickett Hammock is one of the five Environmentally Sensitive Lands (ESL) properties in Hernando County overseen by Conservation Lands Specialist Mike Singer.
"At a quick glance, it might look like any other patch of woods, but if you slow down and take the time to see what's there, you can find many different species of flora and fauna," Singer said about Fickett Hammock. Four ladies joined me at Fickett Hammock to hike the preserve led by Mike Singer. This preserve is always a welcoming sight to revisit, and excitingly it was the first visit for some of the ladies.
Fickett Hammock is one area that really takes you back decades in time.  There are spots where you can stand beside oak trees that are hundreds of years old, and it would take four or more adults to wrap arms around the tree's trunk. And as I mentioned before, you will walk along the trail with massive Swamp Chestnut Oak trees beside you and see serpent-like saw palmettos in the landscape. 
Hiking this trail enables you to take that deep breath and open your eyes to something only nature can reveal. "It's something about being outside that is relaxing and peaceful. You forget about the hustle and bustle of everyday life. You can focus on the moment," Singer said. "It gives you the perception that things are bigger than you."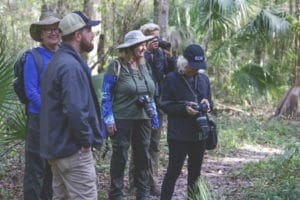 As our hike came to an end, I asked the ladies what they liked about hiking in nature; below are their responses.
"I love the serenity and peace I feel when I am hiking, and the appreciation I have for the endless biodiversity of the other living things I am so fortunate to share with this planet," said   Barbara Chancey.
"The best part of hiking at Fickett Hammock is seeing plants I never have seen before. I enjoy being with Alice, who can identify those plants and share her native and non-native plants knowledge. I also like photographing wildlife and looking at animal tracks," said Kathy Buchnowski. 
"I like the sense of going back in time to see, hear, and otherwise sense what this area was like before humans started changing it. I love spotting plants, insects, birds, lizards, frogs, deer, and more in their habitats and seeing signs of the cycle of life: snail eggs, grubs, tadpoles, nymphs, butterflies, rotting hollowed trees, and fungi,"  said Karen Salman.
"Hiking brings back fond memories from my youth. Every Sunday, my father and I would hike the trails in the parks on Long Island, NY. After the hikes, we would feed the Canada Geese and roast marshmallows on a grill in the picnic area. Such wonderful memories with my Dad. Today I find hiking as a great form of exercise. I find solitude and peace in the forest as I observe the beautiful artistry created by nature. It is also fun to hike with like-minded friends. We learn about flora and fauna within various habitats," said Betty Kolar.
The importance of being in nature is not only for the positive physical and mental well-being for us women over fifty; it is finding a path in nature that brings inspiration and curiosity to follow. Some of the ESL properties are in the process of updates. For more information about updates and other ESL properties visit www.hernando county.us.