On Oct. 20, 2021, a small gathering of concerned parents and community members met at the courthouse steps to talk about issues that students and families are dealing with at local schools. The gathering was organized by a fledgling organization called Moms for Liberty.
The Hernando County Chapter is now several weeks old and has amassed around 50 members, according to Chapter Chair Kara Floyd. Moms for Liberty has recently established chapters in Pasco and Hillsborough as well. The organization was founded by former school board members, Tina Descovich (Brevard) and Tiffany Justice (Indian River).
Kara Floyd explained that Moms for Liberty is a nationwide organization and individual branches act as watchdogs for local school boards. They wish to promote equal education for students as well as a safe environment for learning.
Moms for Liberty was formed earlier this year and started with just two chapters. Now there are over 142 chapters in 32 states as of Oct. 16, 2021, according to Kara Floyd.
.The organization's co-Founder Tina Descovich is a former Brevard County school board member from Indialantic, Fla.
"As moms, we know the most effective way to have an impact on the future of our country is to start at home, to start with education, to start local," said Descovich.
"It's really growing in the state of Florida. Moms and Dads, anyone who wants to support their children in the schools, stop government overreach in curriculum and research what our children are being taught. That's what we're here for to keep an eye on what the school board is approving and let them know we're not going to stand for some of the things they are teaching our children," said Floyd.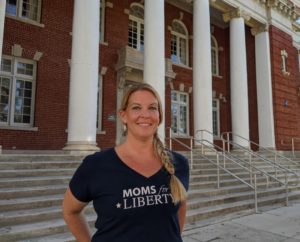 Being involved as a school board member in Brevard, Desovich saw firsthand how many parents didn't have a voice.
"We launched Moms for Liberty because we saw parents that didn't have a voice in the education system."
During the gathering on Oct. 20, the main concern of parents was overcrowded school buses.
Kara Floyd's husband, Monty Floyd, has heard a lot about the bus situation since declaring his bid for the school board in 2022. He's running for District 5, the seat occupied by Susan Duval, a longtime board member and former principal of Springstead High School. Duval and Pam Everett are running for this seat as well.
Floyd said that after he declared his candidacy for the school board, parents started coming to him with issues their children were facing in school and concerns that the school board was just not addressing.
One of the main issues brought to him was overcrowded school buses. Parents sent him photos and videos showing children sitting in the aisles for lack of open seats.
"The parents are the real heroes. They're sending me the information."
Monty Floyd explained, "With the pandemic, all the bus drivers got furloughed or laid off. All those bus drivers have since found other careers, so there is a shortage in Hernando and other counties."
"With the buses, our kids don't even want to go to school. They know it's not safe," said Tara Green, whose children go to Central High School in Brooksville. She said her daughter would rather stay home until the problem is fixed.
There have been widespread reports of bus overcrowding throughout the state fueled by the bus driver shortage.
On Oct. 26, 2021, during the school board's regular meeting, Ralph Leath, Hernando Schools Transportation Director was able to elaborate on the busing problems in the district.
"We know we have issues and concerns. We're working through it, maybe not as quickly as some would like, but we're definitely trying to address any issue that's brought to us," said Leath. The district is currently around 30 bus drivers short.
The bus driver shortage is so bad that they have some drivers driving four different routes, Leath says. He also stated that his bus mechanic team has been pitching in to drive routes. However, he plans to phase that out since they are needed to keep the fleet running.
There are certainly challenges for the drivers, especially the new drivers who may also be new to the area, which makes driver retention difficult. Multitasking is a big part of the job and the ability to deal with middle school-aged kids.
"If you've never driven middle school kids, I can promise you, they don't sit there and sing kumbaya and sit there quietly. They want to go home," said Leath.
Recently a new driver missed a stop. The video shows she called for assistance from dispatch, but the kids were so loud on the bus, she couldn't hear the dispatcher. By the time she dropped off the kids, an upset parent began questioning the new driver.
While the driver didn't resign, she may not be willing to fill in routes anymore.
The district's bus capacity guideline is 57 high school students per bus, although the legal capacity is more.
"We try not to go above that." Yet, "This is not a normal year," he added.
"We have two different size buses. We have a 77 passenger bus. We have an 83 passenger bus." (The 83 passenger bus has a slightly higher guideline.)
The shortage of bus drivers results in essentially a scramble. For instance, Leath may ask a bus driver that is at the 57 passenger guideline but under the legal capacity of 77 to fill in for an elementary pick-up stop because he doesn't want the elementary students to be waiting as some parents may not be able to stay with their children.
He said that the bus may end up with 60-65 passengers.
In this situation when it comes to fitting three students to a seat he said, "You have to kind of get creative by putting someone who's big and someone who's small in the seat. High school students may not be the most cooperative," he added.
Additionally, because the driver shortage is so great, when Leath has to adjust a route, it creates a domino effect of changes on other routes, which slows down the process of correcting the problem.
Leath also said a lack of information adds a level of difficulty to his job. Because of Covid, many people were out when they were conducting their 10-day counts, so he was unable to get accurate ridership numbers.
Additionally, in the latest situation, with parents submitting photos of overcrowded buses to the district, he only had photos, no route numbers or dates.
"Anyone has problems, I need a route number, a school, and the date AM or PM so I can pull the video. See what the issue is so I can correct it. I promise you this, I don't just not do anything. I try my best to correct issues when they come to me," said Leath.
"There are positions in our district to come out and help our children. Help us drive buses to school," said school board member Jimmy Lodato.
Further Details:
Hillsborough County pays bus drivers $14.87 per hour
Pasco pays under $14 per hour.
Hernando County pays $14- $15 per hour.
3 bus drivers were hired within the last week, 2 retiring within the next couple of weeks
115 bus drivers total, around 30 drivers short
Running 98 routes, normally there are 110 routes
Some bus drivers are driving four different routes.
Hernando school district has two bus dispatchers.
Six to seven utility drivers pick up 20-25 routes that don't have a regular driver.
In need of 8-10 attendants to help with special needs students
The guideline is to have 57 students per bus
Buses are 77-capacity or 83-capacity
Buses are inspected every 25 days
Hernando's fleet is older, with some buses over 300k miles
School Board will have the option to consider purchasing 7 new buses at the next board meeting
For the last five years, the district has purchased 7 new buses annually
Old buses go to auction or are used for spare parts
The maintenance cost for a new bus is two or three cents per mile. Older buses are $1.35-$1.50 per mile in maintenance cost because they are out of warranty.