Last year, Covid-19, not only hindered many students' academic progress, but also put a stop to enrichment activities such as art, drama, music and dance. For the students and the "Specials" teachers at Chocachatti Elementary, this was devastating. Thankfully, this year Chocachatti is back to all these activities that play such an important part in a child's education. 
The premiere performance of the year on Wednesday, November 10 honoring veterans was a testament to the teachers' hard work and dedication over a period of just six weeks working with students, most of whom had never performed before. The results also demonstrated the hard work put in by these second graders. 
The children expressed feelings of excitement, pride and confidence prior to the show – and not a hint of nervousness. They had learned about the meaning of Veterans Day and, according to 2nd Grade teacher Crystal Hyde, had even written letters to veterans and people in the military.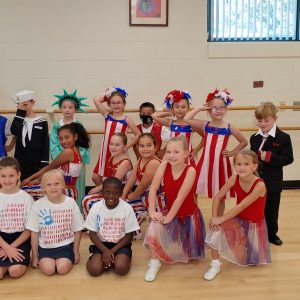 Many of the teachers who worked on this performance are "veterans" of these types of presentations, having assisted for many years with various shows. 
Susan Viola, another 2nd Grade Teacher commented, "I have been contacting the different Veteran groups and sending out invitations for at least 15 years."
In all, there were four "Specials" teachers that coordinated the show. Ms. Irmarie Kraft handled the drama portion; Ms. Rhonda Bowers was in charge of the dance performances; and Ms. Nancy Kraus arranged the music and directed the singers. In addition, the students in Ms. Marianne Poholek's Art classes drew pictures to decorate the stage and the P.E. teacher, Ms. Jennifer Flaherty helped with other aspects of the show. All the 2nd Grade teachers – Susan Viola, Crystal Hyde, Chantel Holmlund, Nicolette Minnie, Eric Tyree, and Christine Wilkerson – helped in the effort by teaching units on American History and Patriotism, as well as coaching the students on their lines and sending out notices to parents.     
  Bruce Wilkerson III portrayed a sailor and appeared on stage with a girl portraying the nurse in the famous picture taken in Times Square when World War II ended. 
"I got picked [for this part] because Mrs. Kraft thought I would be good. I might want to join the Navy. Being in the Navy means helping people live free," he stated.
"I play the part of a bugle boy [in the song "Boogie Woogie Bugle Boy"]. This one kid didn't practice so I got his part," remarked Brody McGuire. "Veterans Day means that people lived and died to give us freedom and spent time from their families and loved ones."
  Annabelle Delva was one of the children who was experienced. She tapped dance to several songs and has been dancing since she was four years old.  
Ayva Mouzakes along with several other children performed a lyrical dance to the song   "Welcome Home," a moving tune about military personnel coming home. The graceful movements combined ballet and jazz steps.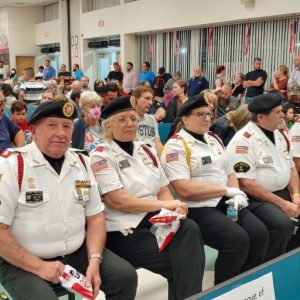 Another dancer, Clarence Clark, whose father served in the Air Force remarked, "The best part was getting to speak a line in the show." 
Ms. Irmarie Kraft, affectionately nicknamed "Drama Mama" by her students, made sure that as many children as possible who wanted speaking parts were able to have them. 
"I do a background information presentation that shows the kids pictures of the characters or people involved in the show. Afterwards, we read the script out loud for the first time. Based on their reading ability and willingness to memorize their lines, I assign kids the parts per each drama class. I also tried to include the children that don't come to my drama class due to getting special academic interventions during the 'Specials' time." 
She even gave a part to a boy on the Autism Spectrum whose father happened to be a Marine. "He did not seem interested in trying out. However, once I assigned him a part he was able to memorize it in a few days.  I printed out his lines for him to take home and practice and for his paraprofessionals to work with him during school."
As much as it was a learning experience and a fun activity for the students, the veterans and military personnel were impressed and moved by the performance and the recognition they received. Representatives of American Legion Post 186, the Polish League of American Veterans, K9 Partners for Patriots, and VFW Post 8681 were in attendance, along with other veterans and active duty service personnel. Prior to the show, the honored guests were treated to sandwiches, dessert and beverages. 
The show was a perfect blend of humor, history and poignancy. Deana Myrick with VFW Post 8681 seemed to sum up the feelings of everyone in the audience when she stated, "The children touched our hearts."