The preseason tournament at Springstead started with Hernando Christian Academy (HCA) on the court competing against Mitchell on November 10. Coming from a small school, 2A, HCA isn't accustomed to that style of speed on the court. "I've been coaching girls basketball since 2010.  We have won four district championships in that span, including the last two.  This year's team is less experienced than the teams of the past four years.  We have big shoes to fill after losing senior Esther Jackson to graduation. As you know, Esther was the fourth-leading scorer in Florida last year and holds all of the HCA scoring records. As a result, I am looking for girls to step up and fill that role.  However, it may be that two or three girls need to pick up the scoring. This year's team features just one senior, Emma Dedmon. So we are a rather young team as well," said HCA's Girls Basketball Coach Mike Drummond.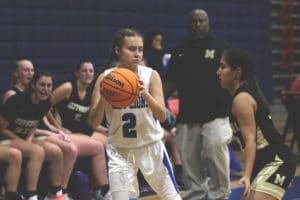 At the end of the game, Coach Drummond gave his team a great speech, and it wasn't about the numbers on the scoreboard. It was about how impressed he was that these girls kept up that pace. "We may be a bit outmatched at this tournament, but we are not shy to playing bigger schools.  We will use this tournament to gain experience and gauge what we need to work on to improve as the season approaches," Drummond said.
Returning for his third season as Springstead's girls basketball coach is Zach Anspach and Central's first-year girls basketball coach is Sharon Hoffman.  Springstead ended the event's first night with the Eagle's taking home a decisive win. Hoffman took over the Central's girls basketball team in mid-season last year and to her advantage, the team consists more of first-year student-athletes and sophomores. It is a way to learn and grow with the team. This tournament may help build those skills. 
"It helps get their (players') ability to start the season, gets them geared up, and gets them some playing time," Hoffman said. "Basically, I want them to learn their plays, learn how to pick up the pace, deal with the man-to-man because a lot of them have not done that."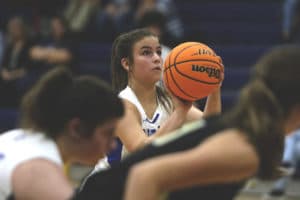 As most of her players are coming just out of middle school, it's a whole different style of play on the court than what these girls are used to. "They are finding out this year that it's a lot more faster-paced. They have to press and have got to go a lot faster and have to learn harder plays," Hoffman said. "It's a different environment than middle school, not just for them but for me. I feel it's a good experience."
Coaching over 12 years, Anspach has seen how basketball has changed over the years. But it's not just the players that have to adapt, it's also the coaches as well.
Coach Anspach said that one of the biggest changes of girls basketball is the game has gotten a lot quicker. Because of those changes, there were talks proposed to FHSAA implementing shot clocks for boys and girls varsity basketball games. But unfortunately, the organization turned down the shot clocks. "It's changed drastically, It's been really cool to watch this transition in the past seven or eight years," Anspach said.
As the preseason girls basketball games have ended, now the teams are ready for their regular season. But what it all boils down to is to learn the style of the game, adapt, and have fun. "I am just excited to get everybody in the gym and to see some sense of normalcy," Anspach said.
Hernando Christian Academy began its regular season at home on November 16 against The Villages Charter, and Springstead took on Lecanto. Central faced Hudson on November 15 and will play at Springstead again on November 19.